Paramount+ Mystery Series School Spirits Is a Ghostly Good Time
Photo Courtesy of Paramount+
TV
Reviews
School Spirits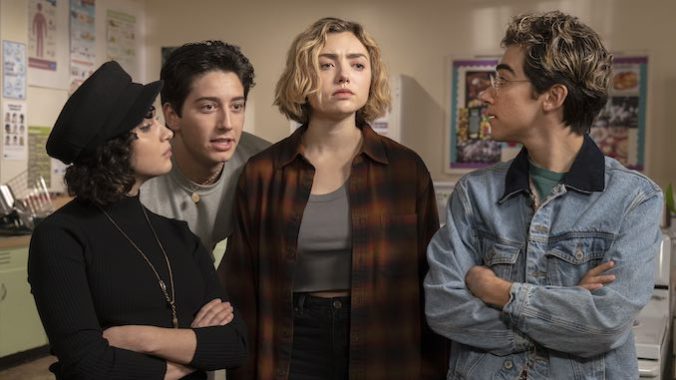 Since the dawn of young adult TV, teenagers on the small screen have been through the supernatural ringer—from teenage vampires to teenage werewolves, teenage witches and even teenage monster hunters, the youths of television are no strangers to the things that go bump in the night. However, Paramount+'s new series School Spirits takes the supernatural teen drama where it has scarcely gone before: the afterlife. 
Based on the upcoming graphic novel of the same name by series creators Nate and Megan Trinrud and helmed by Pretty Little Liars alum Oliver Goldstick as showrunner, School Spirits follows Maddie (Peyton List), a high school student who was murdered at school and is now trapped there for her eternal afterlife. The only catch? She can't remember how she died or who killed her, resulting in a murder mystery that finds its victim turning into one of the amateur sleuths attempting to solve the case. Aided by her friends Simon (Kristian Flores) and Nicole (Kiara Pichardo) from the land of the living, as well as a number of spirits from different eras stuck within the school as well—like '80s jock Wally (Milo Manheim), '90s nerd Charley (Nick Pugliese), and '50s beatnik Rhonda (Sarah Yarkin)—Maddie must confront her past in order to solve her murder in the present—all while trying to adjust to high school purgatory. 
On the surface, School Spirits reads like just another supernatural teen drama to add to the ever-growing list, but in watching the first three episodes available for review, it became clear that it is so much more than that. The series' first episode introduces the rules of the world in very clever ways, including the caveat that, since Maddie died at the school, she cannot leave, and will be sent right back to where she met her end every time she tries. Maddie watches her school put on a rally and a candlelight vigil, complete with cheerleaders who don't even care enough to get her name right and middling enthusiasm from students who didn't acknowledge her when she was alive, as she attempts to come to terms with existence as an observer who cannot be seen or heard by any living beings. I was only half-convinced of the quality and effectiveness of this show until the last five minutes of the pilot episode: Simon, confronted ahead of the vigil by a teacher over his erratic behavior in the wake of losing his best friend, speaks his grief with so much heartache and pain in a wonderful performance by Flores, all while Maddie (an equally heartbreaking List) lingers in the background. It's an incredible scene of a boy attempting to deal with the loss of his best friend, and a girl coming to understand just how much her best friend cares about her, and it's only made better by the heartwrenching needledrop: "I Know the End" by Phoebe Bridgers plays in its entirety over the extended scene. After that, I was sold. 
In many ways, School Spirits feels a bit split down the middle, but not necessarily in a bad way. The hijinks of the Afterlife Support Group ghosts harken to the comedic tone of CBS' hit Ghosts, capturing a similarly heartfelt and hilarious look at numerous people who have been dead for decades attempting to simply find connection with each other and cope with the reality of death. The murder mystery other half, potentially bolstered by the presence of a PLL alumnus, is just as compelling, offering a handful of suspects—including Maddie's boyfriend, Xavier (Spencer MacPherson)—and many twists and turns to keep you on your toes. While these two halves, different as they are in tone, may seem incompatible, the undercurrent of commentary about grief, loss, connection, and love manages to marry them together, offering moments of levity and suspense bridged by the connective tissue of the show's larger messaging. 
However, School Spirits isn't perfect. The execution is clunky in some places, and there are diminishing returns on the numerous jokes about ghosts being perverts. Some of the more cliche teen drama elements also feel lifted from its peers in a way that feels a bit redundant, especially Xavier's Sheriff father (played by Ian Tracey), who even looks like Sheriff Keller a la Riverdale, and acts like most crooked cops do in young adult dramas. Additionally, and this feels a bit like a nitpick, this series' score is extremely hit or miss—when the instrumental is good, it's good, but when it's bad, it ultimately distracts from the scenes it's attempting to uplift. But where there are some flaws in the execution, other elements shine bright enough to outweigh those less-than-impressive quirks. As Maddie tries to piece together exactly what happened the night of her death, the series splits its time between the weeks leading up to her death and the present, with the flashbacks presented in a 4:3 aspect ratio, leading to some effective transitions between past and current events. The flashes of memory and dual timelines allows the mystery to unravel at an even pace—fast enough to keep the series' pace lively and engaging, but not too fast as to reveal the answers immediately. 
School Spirits is perfect for anyone looking for another engaging supernatural teen drama with a compelling central mystery and loveable characters, and also anyone looking for something akin to Ghosts with a murderous twist. It's addictive, it's funny, it's charming, and it's heartwarming, all the elements that make a teen drama worth watching. And dissimilarly to Paramount+'s other current supernatural teen drama Wolf Pack, this series feels a bit more rated for teens, with only a few choice F-bombs thrown in and significantly less gore. More than anything, School Spirits is a ghastly good time, and worthy of haunting your watch list. 
School Spirits debuts Thursday, March 9th with a three-episode premiere, with subsequent episodes airing weekly on Paramount+. 
---
Anna Govert is an entertainment writer based in middle-of-nowhere Indiana. For any and all thoughts about TV, film, and the wonderful insanity of Riverdale, you can follow her @annagovert.
For all the latest TV news, reviews, lists and features, follow @Paste_TV.