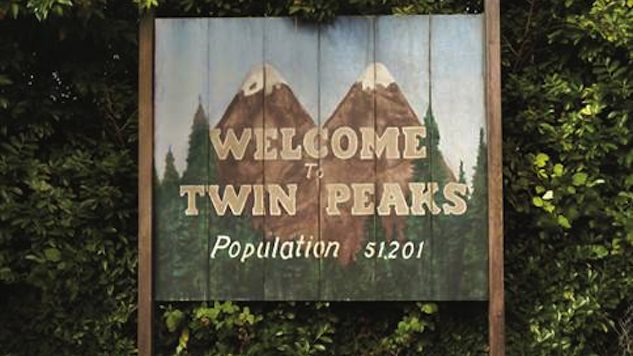 The only thing that matters on Showtime in May (nay, all that matters on Showtime this year) is the premiere of season three of Twin Peaks on May 21. That's it. That's the only thing we really need to discuss in this post.
Okay, yes, there is other stuff coming to Showtime next month aside from Twin Peaks. We've got the season two finales for both Billions and The Circus: Inside The Biggest Show on Earth, and the debut of Dark Net. Showtime will wrap up their HBO-esque limited series Guerrilla, and we'll get several new packs of themed streaming collections, including the "For the Moms" collection and the "Adults Behaving Badly" collection. All of these new additions (and we're sure some of them are good stuff, really) mean absolutely nothing to us. Let's get back to Twin Peaks.
The two-part premiere of season three of Twin Peaks will air May 21 at 9 p.m. EST/PST. After the premiere, subscribers will have instant access to the third and fourth segments via Showtime Anytime and Showtime on Demand. We don't know about you, but we're timing our Showtime free trial very carefully.
Any information about the forthcoming season has been kept under a pretty tight lid—the last teaser we got was just David Lynch eating a doughnut. We've been gearing up in all kinds of way,s from making googly eyes at Twin Peaks skateboards and accessories to eating killer cherry pie. We're ready. We're ready for May 21. It's exactly one month away, and we figure that if we've waited this long, we can wait another 30 days.
If you care about the other stuff coming to Showtime for some reason, you can check out the full list of forthcoming titles below.
Original Series
Twin Peaks – Series Premiere, Sunday, May 21 at 9 p.m. EST/PST
Billions – Season Two Finale, Sunday, May 7 at 10 p.m. EST/PST
Guerrilla – New Episodes, Sundays at 9 p.m. EST/PST
The Circus: Inside The Biggest Show on Earth – Season Two Finale, Sunday, May 7 at 8 p.m. EST/PST
Dark Net – New Episodes, Thursdays at 10 p.m. EST/PST
New Movies Streaming On Showtime In May:
Available 5/1:
Hardcore Henry
Breach
Charade
A Civil Action
The Insider
Jimi: All Is By My Side
The Land
Pet
Available 5/13:
Bad Moms
Available 5/16:
The American
Documentaries & Comedy Specials:
Available 5/2:
Jackson
Available 5/5:
Al Madrigal: Shrimpin' Ain't Easy
Streaming Collections
For The Moms Collection: Bad Moms, Helicopter Mom, Love The Coopers, People Like Us, Mother's Day, And More (available 5/12 – 6/8)
Adults Behaving Badly Collection: The D Train, Dirty Weekend, Don Jon, Fifty Shades Of Black, I Love You Phillip Morris, And More (available 5/12 – 6/8)
The Art Of Espionage Collection: The American, Breach, Bridge Of Spies, Casino Royale, The Fifth Estate, And More (available 5/17 – 6/13)
Another Teen Movie Collection: Alpha Dog, Blue Crush, Spring Breakers, Tiny Furniture, Girl On The Edge, And More (available 5/24 -6/27)