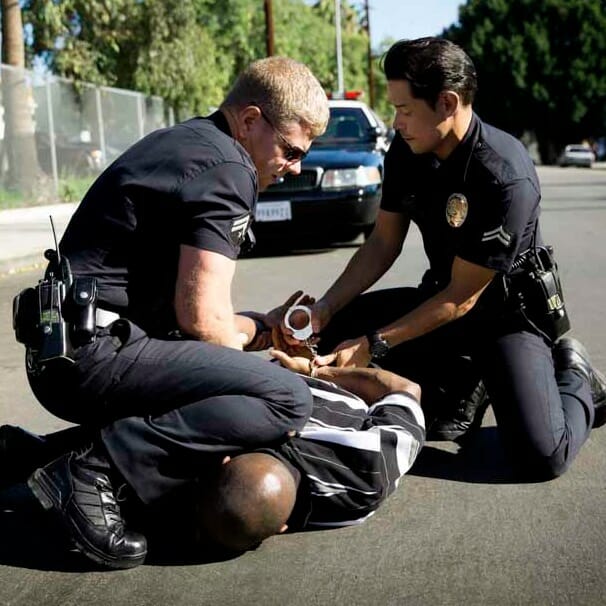 As the famous quote goes, "What we have here is a failure to communicate."
So many problems could easily be solved if people understood each other. But they usually don't. Communication was a big problem in "Babel." Dispatch is down. People don't answer phone calls. Officers and the people they are trying to help don't speak the same language.
One of the things I like best about Southland is that problems are never easily solved. Sammy (Shawn Hatosy) was in a bad marriage. He's going through an awful divorce. And the custody battle for his son is downright ugly. When his ex-wife Tammy (Emily Bergl) doesn't show up for their agreed-upon custody exchange and doesn't answer her phone, Sammy begins to fear the worst—that she's taken their son to Chicago. When Sammy finally tracks her down, words are exchanged, the confrontation becomes physical (she started it but Sammy escalated it) and by the end of the hour Tammy has filed assault charges against Sammy.
This all is unfolding as Sammy and his partner Ben (Ben McKenzie) go about their patrol and put their lives in danger. The show is clearly building towards something with Tammy and Sammy, and I fear there is no way for it to end well. Tammy is pretty horrible, but "Babel" made it clear that Sammy isn't completely innocent.
The other thing the show does brilliantly is build nail-biting, I-am-afraid-to-breathe tension. The officers don't know what they are walking into, and we don't either. When Ben and Sammy approach a room full of injured and dead people looking for the gunman, I feared for their safety. I know Southland is a series not afraid to kill off its characters.
After last week's debacle with his recruit, John has decided he's out of the business of training new officers. He's paired up with Officer Lucero (guest star Anthony Ruivivar), an experienced cop new to the division. Given that Ruivivar played a paramedic on the NBC series Third Watch, his presence on Southland has a distinct sense of déjà vu. Lucero tries to laugh at 99 percent of the job, and he's cracking jokes at John (Michael Cudlitz) from the moment they get in the squad car. After a day in the car with Lucero, John is cracking jokes too much to Dewey's (C. Thomas Howell) delight. Gerald McRaney also had nice guest star turn as John's former training officer, and my guess is that John will be back to training boots soon enough.
Lydia's (Regina King) story continues to be fascinating. Still reeling from her mother's sudden death, Lydia returns to work. Her first case is a college student shot to death. Lydia must inform a woman that her son has died. To her horror, Lydia learns the woman has already lost her other two sons to gunfire. Lydia empathizes with this woman in way she hasn't previously. As much as she's resisted it, motherhood has changed her.
Other shows often sugarcoat what is like to have a newborn, but Southland makes it exceedingly clear how tough things are for Lydia, especially as she struggles to fully embrace her new role as a mother.
Lydia is a smart woman who is excellent at her job, but she made a stupid decision in her personal life. She had an affair and a baby with Terrell, a married man. When Terrell's wife confronts Lydia at the station, Lydia learns that he's now cheating on his wife with someone else. So clearly this guy's a winner all around. The final shot of Lydia taking a picture with her baby was so poignant. You can feel her slowly coming to terms with motherhood. Like her partner Ruben, she wants to have baby pictures to share with her colleagues.
I also appreciate that Southland always manages to have moments of true humor amid all the tension and drama. I was particularly fond of Ben and Sammy's puppet show for elementary-school children and the little boy selling lemonade inadvertently spiked with poison.
I know we're only three episodes in, but this is shaping up to be the best season of Southland yet.