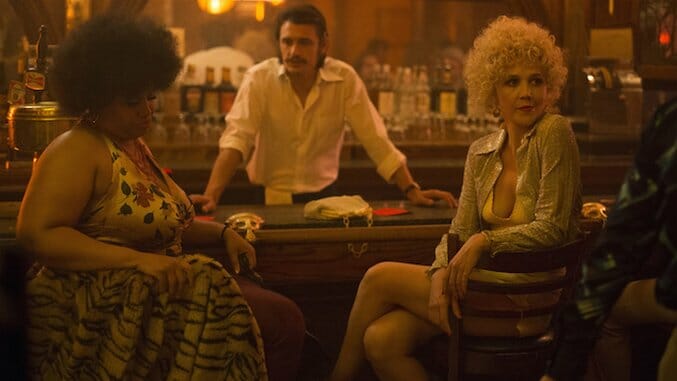 The very busy James Franco is about to get a little more busy, as his HBO show The Deuce will return for a second season. The 1970s Manhattan-set show also stars Maggie Gyllenhaal, and comes from The Wire creator David Simon and his collaborator George Pelecanos.
The Deuce follows the rise of the pornography scene in New York, with Franco playing two twin brothers trying to make it in the city and Gyllenhaal as a prostitute-turned-adult film star. Like Simon's The Wire, this show is a snapshot of a particular part of American history, this time focusing on the "world of sex, crime, high times and violence."
Also involved is Breaking Bad director Michelle MacLaren, who helmed the first and last episodes of the first season, which only began airing on HBO on Sept. 10. Naturally, the very busy and supposedly multi-talented Franco directed two episodes of the season, as well.
The Deuce received critical acclaim upon its premiere, and new episodes air on Sunday nights at 9 p.m. EDT on HBO. Find out more about the show here.