The Killing: "Ghosts of the Past" (Episode 2.05)
Photo courtesy of Carole Segal, AMC
TV
Reviews
The Killing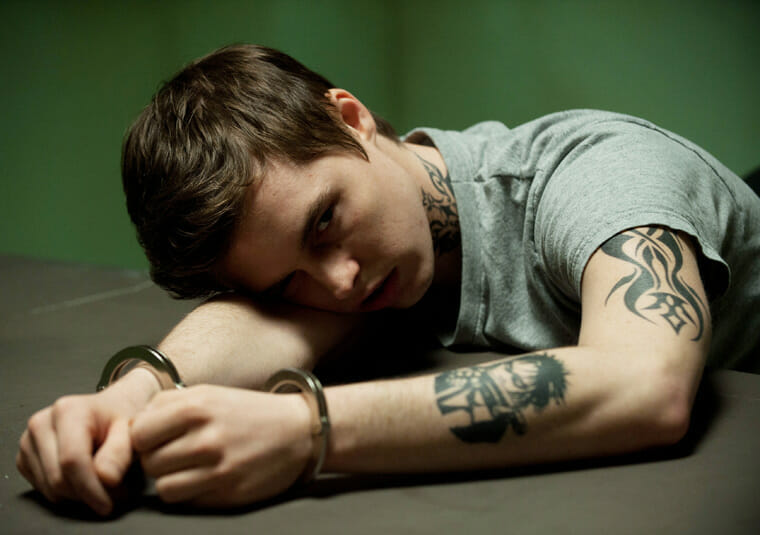 Huge revelations helped move The Killing along this week. Last week's main suspect, a young Alexi who lost his father at the hands of Rosie's father, helped unravel more of the building mystery surrounding the teenaged girl's death.
Of course we discover Alexi and Rosie were dating near the beginning of "Ghosts of the Past." In fact, he was with her the night she was murdered. He dropped her off at the ferry that took her to the casino every Friday night and that night she called him in a panic. She tells Alexi "saw him again." But who is he? Alexi is about to tell Linden and Holder when one of the mob's lawyers comes to pick him up. The two detectives know he'll be held there to be "deprogrammed" for quite some time.
If the mob is still a misdirection, then it is one hell of a misdirection. The question may still remain "who killed Rosie" but it is apparent that "why was Rosie killed" is even more important. She feared someone. We now know that, but what we don't know is why she had any reason to fear anybody. Could it be because of her secret life as an escort that has taken a backseat since the first half of season one? It looks as if it's going to come back to the forefront, which might prove that the show may have actually had a plan all along.
Last week I criticized the way the show was handling Rosie's mother Mitch. She is a shell of her former self. Sure, Mitch was always rather ghostly since her daughter was murdered, but this episode finally brings her emotional deterioration back into view.
She's been out of her family's life for almost a week and clearly is struggling beyond what most people could fathom. But with the questions surrounding Stan's past rising to the surface, it makes me wonder whether Mitch knew about how Stan got out of the mob, that he killed a man and put him in the trunk of a car found at the bottom of a lake. Regardless of the reason that she pushed herself away from her family, we've now received insight into her damaged soul. It has been more than heartbreaking to see the deterioration of a family, but it stings just a little more now knowing that Rosie resented her parents for some reason. We'll find out why eventually, but the nugget of information will build and build into what will most likely become a vital piece of information.
The show even did a decent job showing how Darren Richmond has unraveled from a confident politician to a fragile man with no desire to move forward with his life. The plot lulls throughout most of the episode, but there is a harrowing scene where he breaks down. Many might pass this off as a filler scene before Richmond is told by his campaign manager Jamie that there is proof that he was set up to look like Rosie's murderer by his opponent.
"Ghosts of the Past" lived up to the episode's title. A lot of mysteries are beginning to be solved, but new ones have opened up. There are a lot of questions that were raised in the final moments. In fact, there were almost too many to begin to sift through, but there is one that needs to be addressed now.
My red-herring twist explanation:
Stan Larsen wasn't Rosie's real father?
To be honest with you, I initially felt like I was punched in the gut. But there has to be some explanation, right? It sounds so factual that the only way this is a red-herring is if Alexi was wrong. Someone involved in Rosie's murder told the girl a lie about her father and she believed it. Either that or this show just took a leap of faith into a spiraling plotline.
Usually the scenes from the following week help me out with deciphering the final scene. Unfortunately there were so many fast-paced clips introducing and reintroducing characters that it makes me think one thing: The Killing is about to make a lot of doubters believe.