Jon Favreau Reveals First Details of Disney's Live-Action Star Wars Series, The Mandalorian
Photo by Kevin Winters/Getty
TV
News
The Mandalorian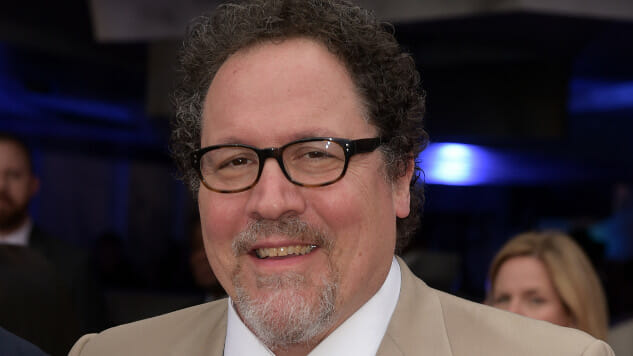 Jon Favreau has shared the first details on Disney's forthcoming first live-action Star Wars series, which he revealed is titled The Mandalorian.
Favreau shared a synopsis for The Mandalorian in a Wednesday Instagram post typed in the series' iconic yellow crawl font, and it looks like the series will fill in some unexplored spaces within the Star Wars chronology, though it won't feature Jango or Boba Fett, instead teasing "another warrior" from the planet of Mandalore.
The Mandalorian will follow "a lone gunfighter in the outer reaches of the galaxy far from the authority of the New Republic," and presumably far from the larger intergalactic battles of the main Star Wars canon. The series also takes place in between the fall of the Empire, which capped off the original film trilogy, and before the rise of the First Order, which is currently being explored in the sequel trilogy.
Under Favreau, who will be writing and executive producing The Mandalorian, the series should be a faithful piece of one of Disney's most valuable properties. Favreau has a decade-long working relationship with the company, having directed the first two Iron Man installments and served as executive producer on the Avengers franchise for Marvel, as well as helming live-action remakes like The Jungle Book and the forthcoming The Lion King for the main brand. Favreau isn't particularly flashy, but he's certainly a steady hand.
Hopefully, The Mandalorian fares better on that front than Solo, the franchise's latest film offering, which failed to draw Star Wars fans to theaters with its dutiful, if uninspired, take on the Han Solo origin story. Notably, this standalone series won't be going by the "A Star Wars Story" tag, which Solo's underwhelming box-office returns seem to have put on hold for now on the film side.
Favreau hasn't yet announced a premiere date for The Mandalorian, but we can expect it to arrive next year, sometime after the still-forthcoming launch of Disney's streaming service, where it will premiere.