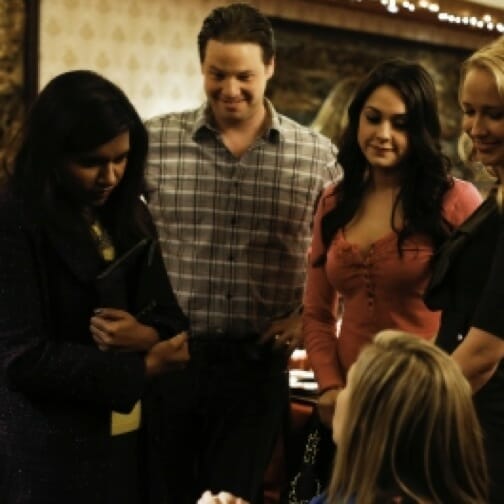 Since its inception, The Mindy Project has tried almost every possible permutation of characters and situations. There is a certain air of desperation as the show scrambles to discover what works. It's the primary reason the comedy's freshman year has been so uneven. Every week, The Mindy Project is a slightly different show. For "Mindy's Birthday," the show's first episode since being picked up for a second season, the comedy put all the characters (even Anna Camp's Gwen) in the same room for Mindy's birthday.
It's nice to know the show really meant it when it said Camp's character would recur. Gwen still isn't the best fit for the comedy, but I'm a little like Charlie Brown and the football when it comes to Gwen. I like Camp so much, I keep hoping they can somehow make her character work. What I really liked about this episode is that it honed in on how hard it can be to celebrate a birthday when you are getting older and are single. This is the kind of theme The Mindy Project should continue to explore.
Mindy's friends give her birthday gifts including Microwave Cooking for One, a Chris Evans body pillow and an elliptical machine (which Mindy correctly points out is a "lecture in a form of a gift"). It's more than a little obnoxious (really, who would give gifts like that?) but I liked that Mindy left the party telling her friends exactly how she felt. It's one of the few times Mindy's selfish and immature behavior has totally worked for the plot.
When Mindy is consoling herself with a free sundae from Sloppy's American Grill, she meets another birthday girl and her group of girls. Mindy thinks they are fabulous until none of them have the guts to tell the birthday girl that there's no way her stockbroker boyfriend is really working on a Saturday night.
For the first time, the Danny storyline really capitalized on all Chris Messina can bring to the role. I laughed out loud when he was screaming "Don't say my name on TV" as he was being rescued from falling down the manhole. I'm still not sure what the show is trying to do with Mindy and Danny. Sometimes they seem solidly in the friend zone (which is where they should stay) and sometimes it seems like Danny is pining for Mindy (which makes no sense really). Here's hoping the show doesn't turn them into a will-they-or-won't-they couple.
While it was a stronger episode than usual for The Mindy Project, there were still problems. Kaling seems to become enamored with certain actors and uses them even when they are not benefiting the show. When Mindy told her brother that Brendan was dead, I kind of hoped that was true. Brendan (Mark Duplass) is an annoying jerk, and having him give Mindy a constellation named after her fake constellation is not going to change that. I still contend that Morgan is best in much smaller doses, and I remain perplexed that the show brought Beth Grant's Beverly back as a regular cast member. Grant is great, but having her cranky, incompetent, rather gross character get so much screen time simply doesn't work. Perhaps Kaling was inspired by what the Meredith character brings to The Office but having Beverly and Morgan on the same show remains one weird, gross character too many.
Other thoughts on "Mindy's Birthday":
• How much is Mindy paying Beverly if she has to live out of a car? Too many times there are jokes on this show that simply don't make sense.
• Why is Mindy's friend Maggie still in a wheelchair? Shouldn't she be healed by now?
• I did love Danny's attempts at flirting. "Did you grow up in any particular cluster of states?"