Marvel's The Punisher Lives up to Its Name in Bloody Season Two Trailer
Images via Netflix
TV
News
The Punisher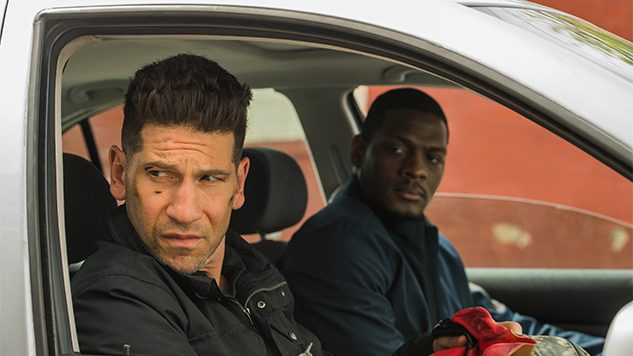 One of Marvel's last Netflix shows standing, The Punisher is back with a vengeance on Jan. 18. The streaming giant released the series' season two trailer today (Jan. 10), which is packed with plenty of death and destruction for a video that clocks in just under two and a half minutes.
The trailer opens on Frank Castle (Jon Bernthal, hot and scary as ever) preventing the attempted murder of a teenager (Giorgia Whigham, of 13 Reasons Why fame) after he set out on the road. The result is a bloody bar fight, one that sends Frank spinning headfirst into the mystery of who this young girl (Amy Bendix, whom Deadline describes as a clever grifter) is and why these shadowy figures are pursuing her. That's not the only enemy he's battling, as Ben Barnes' Billy Russo is ready to don his Jigsaw persona, backed by his army of menacing masked cronies.
Bernthal makes his way through the trailer with a bloodied, battered grace. It's thrilling to see him back as The Punisher, throwing out tough-guy lines like, "I'm not the one who dies, kid. I'm the one who does the killing." You tell 'em, Frank.
The cast is rounded out by Amber Rose Revah as Dinah Madani, Jason R. Moore as Curtis Hoyle, Josh Stewart as John Pilgrim and Floriana Lima as Dr. Krista Dumont.
Watch the season two trailer for Marvel's The Punisher below.