The Rook: Emma Greenwell on Playing an Amnesiac with Powers in Starz's Spy Thriller
"She's terrified of herself."
Photo Courtesy of Starz
TV
Features
The Rook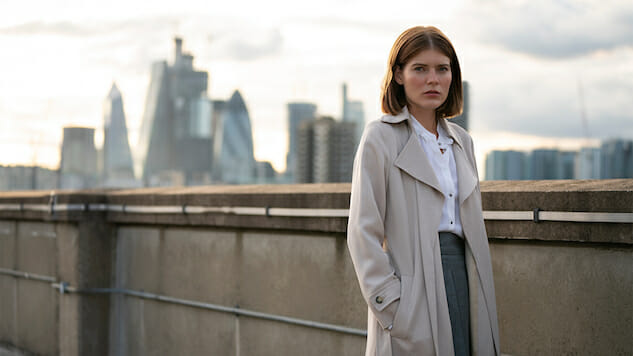 "You meet Myfanwy, lying on the floor, surrounded by dead bodies […] and a letter that basically tells her to run. And she has no memory of who she is, why she's there, how this happened, or her place in the world," The Rook star Emma Greenwell told us on a crisp afternoon last fall when I visited the London set of Starz's series. A supernatural-tinged spy thriller, The Rook follows Myfanwy (rhymes with Tiffany) Thomas as she tries to piece together the truth of what happened in this pivotal opening scene. In the premiere, Myfanwy is given two choices: stay and pretend she knows what's going on in order to uncover this truth, or run.
The series is based on Daniel O'Malley's novel of the same name, although Greenwell approached her character without that background, as Myfanwy herself has no context for what's going on around her. "Speaking with Kari Skogland, the director, if you don't know who you are, [then] seeing yourself for the first time in the mirror, what does that really feel like as an adult? For the first time ever, she catches her reflection. I think, for me, what has been really lovely is the character's formed through the eyes of the audience as you go through, so I learn things about myself, and you see the character sort of pushing the boundaries and exploring who she is and what she likes. And so the character kind of develops as we shoot."
Greenwell explained that she signed on to the series having only read the first two (of an eventual eight) episodes, and that "it's fun because you can do scenes completely different ways a couple of times until you find what feels right, sitting with that character at that point and who you want her become. Which, you can't get too ahead of yourself because all these things are thrown at [her]." That includes incorporating the weight behind a line that Greenwell sited as one of her favorites that Myfanwy says early on: "as far as I can tell, I don't have any friends."
Myfanwy does have her work, though, which is being part of a mysterious British agency called The Checquy. She has a mentor of sorts there, Farrier (Joley Richardson), who is able to help Myfanwy a little bit in the wake of her amnesia. And yet, Myfanwy has written notes to herself from before the incident on the bridge that instruct her not to trust anyone — even Farrier. There is "this paranoia sort of engulfing her every single angle. Which is interesting and fun to play," Greenwell said.
And then there's that supernatural angle; the "abilities" that the characters have are based in human biology, just augmented. Things like super strength, yes, but also one singular entity known as "Gestalt" that manifests in four distinct bodies simultaneously. To start the series, Myfanwy stumbles into her powers, which she connects to the murders on the bridge. Did she commit them? "She sees her power manifest and she sees the devastation that it causes, and she has no idea why and how that was caused," Greenwell told us. "So she can't just start a new life with this terrible power that seems to kill people. She's terrified of herself and so the only way she thinks she can overcome that is to go back to her old life and play it cool. I mean, in the first two episodes I barely say a word." But Greenwell also said she loves the non-dialogue scenes, and thinks it's an interesting window for the audience to discover things alongside Myfanwy as part of the overall mystery of who she is and what has happened.
The Rook's interior sets that we saw, including the interior of the Checquy, were spacious and unique (like glass floors that were very unnerving), particularly Myfanwy's tech-y apartment. A visit to the wardrobe department gave us a colorful window into the individual fashions of each sleek member of the series, but perhaps most impressive facet of all is how the series uses its London location to full effect. "This is the real deal," Greenwell told us. "We're at Somerset House, we're at Millennium Bridge, we're outside the Tate, you know, we're at St. Paul's, we did like a skeleton crew in Soho where the people in the background are just drunk people who happened to pass by …"
Greenwell spoke more about the challenges of shooting on location, saying that while "it's the scene that is the hardest scene I've ever done," her favorite exterior scene was on the Millennium Bridge. Despite the night shoots and wet ground and people stopping to take pictures (because the bridge is a thoroughfare, it can't be shut down for filming), "it was quite funny because I'd be doing like, the walk or whatever I was meant to do, and a member of the public would be like, 'Is this a TV show?' And I'd be like, 'Yeah, you're in it! Shh!'"
There were some perks to filming the locations shots though, like when the show filmed at the Natural History Museum. "I used to go as a child, and so to be in like, secret Employees Only areas … obviously that's pretty cool." To keep things personal, Greenwell also got to feature her dog Stella in one of the photos in Myfanwy's apartment. And though Stella (who we met and who was exceptionally delightful) nearly appeared in a park scene, "She got nixed," Greenwell said. "I said it's showbiz and you take it on the chin and it's one step forward, two steps back!"
When it comes to what Greenwell hopes viewers take away from the series, it's the notion of "identity and who you are and what makes you who you are […] and the idea of thinking about what your past makes you." Myfanwy's journey to uncover the truth about herself and the murders happening around her will be a journey everyone goes on together.
The Rook premieres Sunday, June 30th on Starz.
This interview was edited for length and clarity.
---
Allison Keene is the TV Editor of
 Paste Magazine.
For more television talk, pop culture chat, and general japery, you can follow her @keeneTV