Amazon's The Tick Won't Be Picked up for a Third Season, But All Is Not Lost
Photos by Myles Aronowitz, Giovanni Rufino
TV
News
The Tick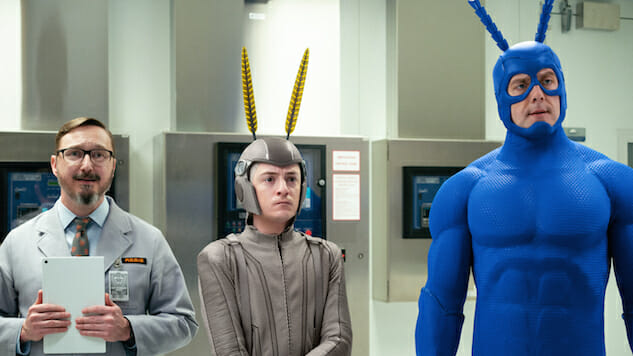 Ben Edlund, the creator of the comic book The Tick, announced Thursday that the comic's television adaptation would not be picked up for a third season on Amazon's streaming service. That does not necessarily mean, however, the end for the satirical superhero program.
Edlund's tweet allows for the possibility of the show's return in some other format:
I'm sorry to say Amazon has chosen not to proceed with @TheTickTV I'm not sorry to say I love this show, its cast, its story, and its message. Destiny demands that my compatriots and I now seek a new home for this series.

— ben_edlund (@ben_edlund) May 16, 2019
Peter Serafinowicz (Guardians of the Galaxy) has played the title role in Amazon's live-action adaptation since its premiere in 2016. The series is actually the third time we've seen the hero onscreen; an animated series ran for three seasons on Fox in the mid-'90s, and the network then tried to reboot the franchise in 2001, with Patrick Warburton filling out the blue arachnid suit.
Griffin Newman—who portrays The Tick's moth-suited sidekick, Arthur seems optimistic about the property's future, noting everyone involved is still under contract and coining a rallying hashtag for fans of the show to stand behind:
Our show is very much still alive at this moment! We're all still under contract, and actively trying to find a new place to keep the show going! Fan demand is really what has the power to push us over the edge right now, so please be loud! It's time to #SaveTheTick! https://t.co/zRvKDwxOzP

— Griffin Newman (@GriffLightning) May 16, 2019
Only time will tell if #SaveTheTick will, in fact, do so. But if it happens, Paste will be sure to let you know.