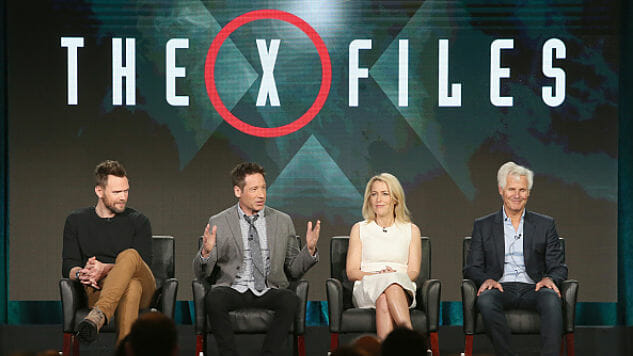 The longest-running sci-fi series in U.S. television history is about to get even longer.
The X-Files, which premiered in 1993, became a film in 1998, initially ended in 2002, returned via a second film in 2008 and then resurfaced again last year for a six-episode miniseries revival, will be gracing the 2017-2018 broadcast season with 10 new episodes of Mulder and Scully searching for the truth. Stars David Duchovny and Gillian Anderson will be reprising their classic roles, and creator and executive producer Chris Carter has boarded the project.
"Iconic characters, rich storytelling, bold creators—these are the hallmarks of great TV shows," FBC president David Madden shared in a statement. "And they are some of the reasons why The X-Files has had such a profound impact on millions of fans worldwide. Chris' creativity, along with the brilliant work of David and Gillian, continue to propel this pop culture phenomenon, and we can't wait to see what fresh mysteries Mulder and Scully uncover in this next chapter of The X-Files."
The return of the hugely popular show shouldn't come as a surprise. Though the series' brief run last year was advertised as being self-contained, the cliffhanger ending—not to mention Carter's claim "I can tell you, almost without a doubt, we will come back"—made the probability of The X-Files' return pretty high.
Production for the forthcoming episodes will start this summer. If you haven't caught up on the latest episodes of the show, now's the time!