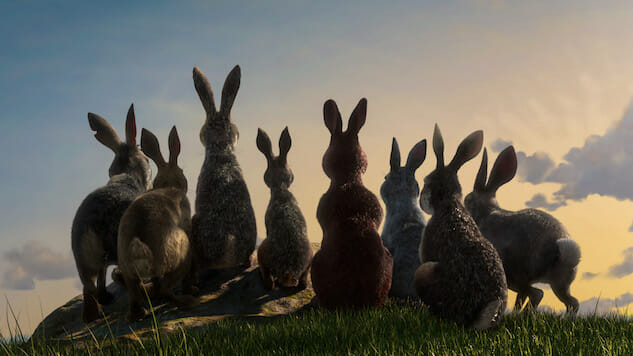 Tuesday, Netflix released its first trailer for a new series about adorably animated rabbits called Watership Down. The streaming service is teaming up with BBC One on the miniseries adaptation of the 1972 Richard Adams novel of the same name, which tells the story of anthropomorphized rabbits in search of a new home after being displaced from their old one.
Netflix's synopsis reads:
Set in the idyllic rural landscape of southern England, this tale of adventure, courage, and survival follows a band of rabbits on their flight from the intrusion of man and the certain destruction of their home. Led by a stouthearted pair of brothers, they journey forth from their native Sandleford Warren through the harrowing trials posed by predators and adversaries, towards a promised land and a more perfect society.
At first glance, Watership Down sounds pretty wholesome, but John Boyega, who's lending his voice to the show, recently warned otherwise. "This isn't about cute rabbits," he wrote on Instagram. "It's kind of messed up."
The four-part miniseries will handle some heavy themes, and it's got the cast to back it up. Joining Star Wars star Boyega are James McAvoy, Nicholas Hoult, Olivia Colman, Ben Kingsley, Gemma Arterton, Daniel Kaluuya, Rosamund Pike, Gemma Chan, Peter Capaldi and Taron Egerton. Noam Murro serves as director, while Tom Bidwell provided the adaptation's script.
Look for the deceptively intense Watership Down to hit Netflix on Dec. 23 and U.K. airwaves on Dec. 22-23. In the meantime, check out the first trailer below.