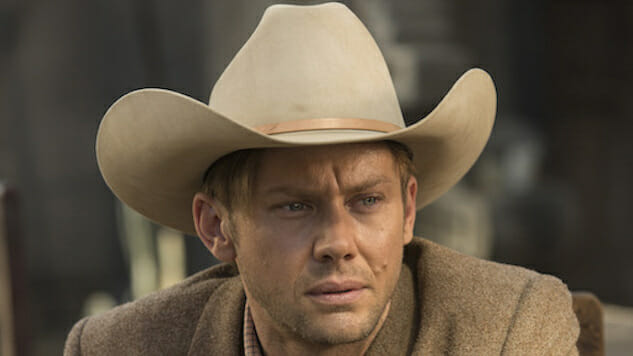 On the occasion of our conversation, Westworld star Jimmi Simpson's hit show is three days away from airing its twistiest episode yet. ("It's a humdinger," he says.) Although that big reveal—Bernard is a robot!—is a minor contrivance compared to the shocking political upset that rocked our nation earlier that week. Simpson, like many artists, was vocal about his fear and loathing of now-President-elect Donald Trump throughout the campaign. Speaking on the phone from Los Angeles less than 48 hours after Trump's historic victory, Simpson is struggling to summon self-promotional patter.
"When you're a thoughtful person and you're in an industry that's mixed up with a whole bunch of shallow folk, you do start to wonder what the value is of what you're offering," he confides, adding that he often turns to his military brother's encouragement that everyone needs quality entertainment "to decompress and escape from how hard life always is."
He also takes solace in the knowledge that Westworld, which flips Michael Crichton's same-named 1973 film on its head by asking us to root for the titular theme park's robot "hosts" in their quest to wrest humanity from demagogue creators, isn't exactly passive. "This show is not some kind of pacifier," Simpson elaborates. "It all rings true. Talk about galvanizing—it's bringing us together in a consciousness, and that's just what we missed this election."
For anyone suspicious that Simpson is your typical La La Land leftie, he was born and raised in rural Hackettstown, New Jersey (yes, it was originally christened the Garden State for a reason) alongside two older brothers, by parents who "had no expectation for me besides what I wanted." He pursued a passion for theater at nearby Bloomsburg University in Pennsylvania and spent the better part of a decade toiling in Hollywood before breaking through with a recurring, fan-favorite role as slothful Liam McPoyle on It's Always Sunny in Philadelphia. More prominent parts in Breakout Kings and The Newsroom, among others, secured his status as a working actor, but 2016—which he bookended with turns as Euro-trance-loving lunatic killer Soldier on SundanceTV's underappreciated Hap and Leonard and Westworld's ostensible protagonist, William—has elevated Simpson into a very different conversation. But he swears that wasn't by design. For that matter, "Not even close."
"Somehow I surrounded myself with folks for a very long time," he continues. "I'm loyal by default. We treat each other like family. None of us have ever been headed toward breakthrough stardom. I think they took me on never expecting any kind of leg up, and their job's been made a shade easier right now. That's just a pleasure for me to offer them, but everything was serendipitous. Hap and Leonard was the result of me choosing to do a play before that instead of going into pilot season. That play completely activated me, and the day after the play wrapped, I went out for Hap and Leonard. In the two days I got back from Hap and Leonard, I got a Westworld audition, and I was activated from that prior job. It really was not a plan. It just happened to be opportunity arising, and I happened to be ready for it."
Nor does his very big year massively change Simpson's strategy going forward. He's genuinely pragmatic about the sudden spotlight, viewing it less as an entitlement than a chance to "be even more thoughtful with what we're choosing, because while we have an opportunity to do more work that pushes the cultural needle forward a little bit, I'm going to try and do that first."
"And if it doesn't work out, you'll see me as a goofy janitor on some kids show," he laughs. "I don't care."
Simpson's insouciance has endeared him to producers and directors, who he says have typically found him "a little bit easier to deal with" than more high-maintenance personas. His level-headedness isn't an aw-shucks routine—far from it, as he's considerably quick-witted and savvy. Rather, he jokes, "I'm gonna blame it all on my mother. Also my father. He was a businessman, and his whole thing was, when you go to a meeting and you've got a differing opinion, you say, 'I may be in as I often am, but this is what I'm thinking,' and that stuck with me. And my mother is one of the sweetest women I know, and I don't think I ever heard her say a negative word about anybody. She's not a dipshit. She just doesn't operate underground on any level. I think I got set up the right way. Sure, maybe I get a little bit taken advantage of, but I take care of myself well. It's also a priority to take care of others. It's the only way our species can exist."
His approach to acting, in turn, adapts that worldview to the choices that form a career. "It's about tending the garden that is atrophied," he reasons. "Whether it's playing Liam McPoyle and licking a person's face or the work I'm doing on Hap and Leonard, it's not a segue to anything else. You can't be executing a role as an audition to your next role. I never got caught up in, 'I'm doing this bit shit on My Name is Earl. It was: 'I'm doing this, and this is what I'm doing now, and I have to do the best I can.'"
Part and parcel, he long ago reconciled that audiences can be fickle and won't find their way to everything he's proud to have worked on. "When Hap and Leonard was happening, I don't think I screamed louder about anything I'd been involved in," he recalls. "And dude, I can count on my hand the amount of friends who got back to me saying, 'That was great!' They just don't care unless they care."
But now that he's one of the top-billed names on an epic and successful premium-cable drama, he's had to accept something entirely different: vindication. Though, to form, he insists that, "Instead of an awards ceremony in my fantasy, I think of the moment of looking at a close family member and saying, 'I'm actually proud of this. Will you watch this?'" And with Westworld, they may already be watching, which leaves Simpson to observe, "The fact that this many people are seeing something I'm actually proud of, I'm beside myself."
Westworld airs Sundays at 9 p.m. on HBO.