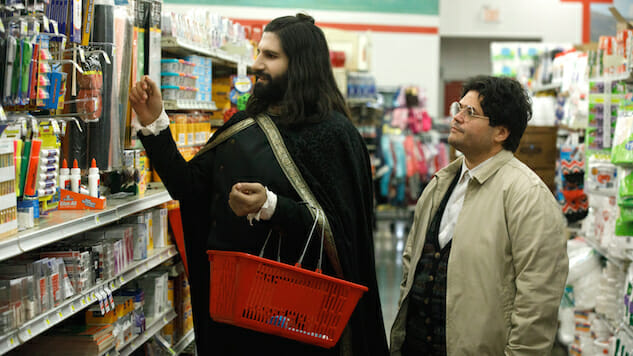 While zombies have had such cultural saturation that every approach to them seems to have been explored—from Santa Clarita Diet's oddball comedy to The Walking Dead's soapy survival—vampires have generally occupied one of two poles. They're either the campy, froofy, regal powers of the night that you see in Interview with the Vampire, or they're drenched in sex, as in True Blood (see also: Interview with the Vampire). The evolution of the vampire in pop culture has long needed an unpretentious, lore-loving challenge to convention, a depiction of vampires who aren't cut out to be immortal charmers with the tragic lot of eternal youth and hypnotic powers. It needed What We Do in the Shadows.
Based on the vampire mockumentary from Jemaine Clement and Taika Waititi, What We Do in the Shadows brings the sadsack bloodsuckers Stateside. The Staten Island roommates— vampires Nandor (Kayvan Novak), Laszlo (Matt Berry), and Nadja (Natasia Demetriou), as well as Nandor's servant, Guillermo (Harvey Guillen)—are all ridiculous and slightly pathetic. And the handheld camerawork is the deadpan punchline, with every shaky zoom in on a character during a confessional implying, "Can you believe this weirdo?"
Clement directs three of the four episodes made available to press, with Waititi tackling the pilot. And unlike many TV shows, especially comedies, the way the series is shot is one of the best things about it: The stark differences in lighting between the vampires' home and, say, the supermarket where they buy "creepy" paper (crepe paper) for a party is as funny and mood-setting as any of the supernatural jokes. What We Do in the Shadows is a good vampire show, but it's also a good New York show.
These vampires have been crashing together—and specifically not taking over America—for hundreds of years. Everyone's been happily complacent, with a few minor disagreements about housecleaning and other roommate chores, until their monstrous, desiccated boss (Doug Jones) makes the journey to the "new world" to see if his disciples have conquered it yet.
There's also a fourth roommate who's always left out of their vampire games, Colin Robinson (Mark Proksch). He's got two main differences from the rest of the gang: a last name, and a thirst for energy rather than blood. That's because he's an office worker who bores people with long stories, killing them slowly. His friends are Dracula; he's Office Space. It's a consistently funny bit, especially when the series seems to forget about him for entire episodes, only for him to pop up unexpectedly. Proksch's sleepy shtick counterbalances the other vampires' horny exploits, which are more often endearing than laugh-out-loud funny.
More of the humor comes from the macabre wordplay and deadpan goofiness—often thanks to Berry's stark, blustery delivery, straight from his BAFTA-winning Toast of London, and the exasperated looks it draws from Demetriou and Guillen—which are then punctuated by violent slapstick, featuring gallons of blood. In bringing the vampire-out-of-water conceit's mix of comic elements down to the granular level, What We Do in the Shadows harkens back to the strongest parts of the film, which thrived on its charming re-imagining of dopey mythical creatures failing through the world in a way very particular to Kiwis… or, now, Staten Island. And with its documentary style taken just as seriously as its campy effects and extravagant costumes, the cretinous cosplay is beautifully straight-faced and completely winning—especially when the show goes to oxymoronic extremes of mundanity, like a city council meeting about zoning ordinances.
Nadja is the TV series' best addition, as the film focused on an all-male vampire trio. Her storyline, with complex love triangles and relationships with humans, is deeply funny and one of the few novel elements in the show. Indeed, What We Do in the Shadows treats sexuality and agency with the same detached seriousness as the rest of its subject matter, making the more grounded topics—like Laszlo and Nadja's bisexuality—as dry and entertaining as the genre fare.
That said, the constant need to drive mini-plots means each installment has a short, hiccupy set-up before things get rolling—Clement and Waititi haven't quite found a way to settle the film's lazy rhythms into the practical demands of episodic TV. But then something crazy happens and you forgive the few minutes of slowness because it's just too eccentric to dislike. Where else can you see vampire Nick Kroll in a shiny red suit shooting a flaming arrow across a crowded nightclub only moments after a group of bummed-out familiars discuss their professional newsletter? This is the strange, irreverent, yet utterly "normal" take on vampires—and that's exactly what keeps things interesting.
What We Do in the Shadows premieres Wednesday, March 27 at 10 p.m. on FX.
---
Jacob Oller is a writer and film critic whose writing has appeared in
The Guardian, Playboy, Roger Ebert, Film School Rejects, Chicagoist, Vague Visages,
and other publications. He lives in Chicago, plays Dungeons and Dragons, and struggles not to kill his two cats daily. You can follow him on Twitter here: @jacoboller.