Showtime's Whitney: Can I Be Me Confirms Some Rumors, but Breaks No New Ground
Photo: REX/Shutterstock via SHOWTIME
TV
Reviews
Whitney: Can I Be Me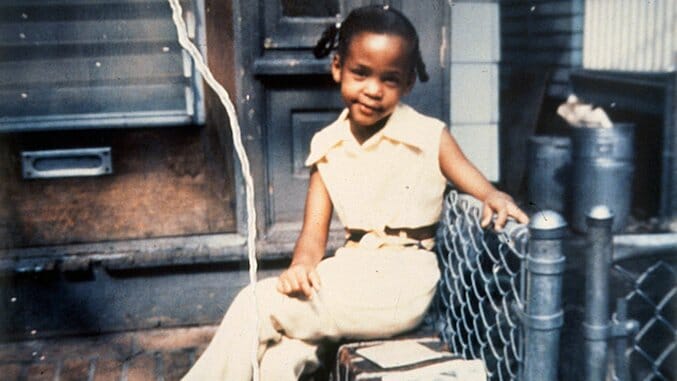 Five years after her death, the name Whitney Houston conjures up so many images. The legendary, powerhouse singer on stage with sweat pouring down her face as she hits impossible notes and musical runs with her voice. Her perfect smile while picking up another Grammy, acting in The Bodyguard, marrying Bobby Brown, holding Bobby Christina in her arms. Then the downward spiral, as they say, when the years of sampling drugs turned into abuse. Then the "Whitney and Bobby" tabloid years, the trainwreck reality show, the failed stints in rehab, the divorce and, finally, the comeback that ended before it began in a Beverly Hills hotel room.
Showtime's new documentary, Whitney: Can I Be Me focuses on Houston's last great concert tour in 1999—when she still had the voice, although never-before-seen backstage footage clearly shows that the drugs and partying were beginning to wear her down. While the documentary offers strong concert performances and an array of opinions on her enormous talent and tragic demise from those in her band, her entourage, friends and family, it contains no major revelations (Versus, say, the Hulu documentary Batman and Bill, in which we find out that the creator of the comic hero wasn't really the creator.). Instead, there's a mix of old and new: old awards show footage, old audio of Houston talking about her feelings and her career ("Success doesn't change you, fame does."), new interviews with those in her orbit, new concert footage. These dynamic performances will only remind fans of what they already know: With the death of Whitney Houston, we lost an unmatched talent.
Surprisingly, Brown comes off well in the documentary and is very close to vindicated. Everyone featured in the film talks of his love and devotion for Whitney. "They just had a chemistry, that for whatever reason, worked for them," says former Arista Records executive Doug Daniel. While Whitney doesn't shy away from the sometimes detrimental effect the two had on each other (including a nod to Brown's philandering), it does show very funny, intimate, caring scenes between the two. As Whitney's brother, Michael, clearly says—and as has often been reported—the singer was exposed to drugs during her teen years in Newark, N.J., and not through Brown. What started as a teen partying past time, according to Michael and other childhood friends, grew into an addiction as Houston found it more and more difficult to deal with fame, the need to keep family and friends financially secure and, her role as breadwinner once Brown's career had waned.
In one bit of footage outdoors at a restaurant and again, at a park, Brown is seen trying to tenderly communicate with Whitney and it is obvious that she would rather stay in her world of denial rather than listen to him.
The long-held animosity between Brown and Houston's BFF, Robyn Crawford, can also be seen backstage in 1999, with a sarcastic Brown faux-hugging Crawford as she tries to get away. Those interviewed conclude that both were vying to be first in Whitney's life: "Bobby Brown and Robyn Crawford were like fire and ice. They hated each other," says Houston's former bodyguard, David Roberts. "They'd battle for her affections. Bobby and Robyn had some physical altercations, and there were times where he wasn't always the winner."
While writer and speaker Allison Samuels alludes to a sexual relationship between the two women during her interview in the film, going so far as to label Houston bisexual, there's little in Whitney that sheds more light on the relationship than mere speculation. (Brown has claimed that Crawford and Houston were lovers in an Us Weekly interview, and Crawford's father said the same to Radar Online last April. Neither are mentioned in the film, though the documentary does acknowledge Crawford's current same sex marriage).
If Whitney's sexuality remains in question, though, her talent never does—and Whitney reminds us that in the early eighties, Houston was specifically groomed for crossover appeal. It covers her relationship with record producer Clive Davis and how she was just young enough and new enough to the music industry to be molded into a pop superstar. Though Davis' tutelage emphasized pure pop over R&B, funk and jazz, Houston's three-octave voice gave even the most sugary songs a soulful flavor. "Whitney's voice broke barriers … before Beyoncé, any of them … ," says Houston's musical director, Michael Baker. "It had not happened before Whitney Houston."
Perhaps unintentionally, there's some humor in the fact that Dionne Warwick is mentioned regularly in a series of clips of Houston being interviewed by everyone of that era, from Merv Griffin to Joan Rivers. Warwick was the sixties version of a "crossover" African-American chanteuse that pop songwriters Hal David and Burt Bacharach wrote for and introduced to the music charts. So of course, in the early years of Houston's career, much was made of Warwick being "Whitney's cousin" and "Aretha," a longtime family friend.
The documentary confirms the rumor that Houston did indeed overdose on the set of her film Waiting to Exhale—news that tabloid insiders were aware of at the time but did not print—and that some did try to get her help. A large bit of screen time is devoted to Roberts, who says that much of what happened in the movie The Bodyguard actually happened while he was Houston's real-life bodyguard. "Except I did not get shot and I did not kiss her," he quips. (Roberts was dismissed by Houston shortly after turning in a report in which he stressed concern for the singer's welfare and wrote of Houston and those in her entourage using cocaine.).
The documentary touches on other scandals in Houston's life, including the controversial lawsuit filed by Houston's own father and former manager, John, months before his death; being caught with marijuana in Hawaii in 2000; and being fired from an Oscar performance days before the ceremony that same year. There's also her emaciated appearance at a Michael Jackson tribute concert in 2001—yet another well-trod path. Mercifully, though, Whitney concludes with more footage from that performance in 1999, when there was still hope.
Whitney: Can I Be Me airs tonight at 9 p.m. on Showtime.
---
Diedre Johnson is a writer covering all aspects of entertainment and fashion when she's not editing tech pitches for a PR company. It's true.