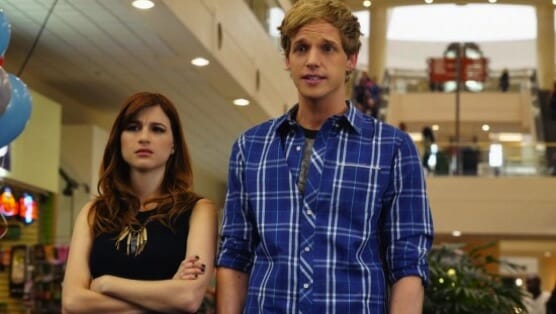 After blistering out of the gates to begin its sophomore season, You're the Worst slowed the pace considerably with last night's "Crevasses." For months, creator Stephen Falk has touted the second season of the FXX comedy as darker, and the second effort of the season began to show it.
In "Crevasses," we saw a continuation of the cohabiting complications that started for Gretchen and Jimmy last week. This time around, the newly minted couple tackled the ever-tricky question of what to do with the literal baggage that comes with a person when they move in with someone else. Gretchen, of course, has no baggage (or, in reality, two bags that live in a single corner of Jimmy's house, "Gretchen's corner") and thus the gang, Lindsay and Edgar included, head to the mall. The half-hour was light on laughs in a way that was disappointing, but the heavier scenes involving Gretchen bailing, then committing, then bailing again on buying new things and thus accepting the fact that she has become an adult were well executed. Aya Cash is nothing short of marvelous each week, and she played these moments with enough lightness to keep them from drowning in melodrama, a balance that has become a staple of YTW in its short time on the air. The resolution that came by episode's end felt too easy, though, as I've come to expect fireworks when Jimmy and Gretchen butt heads. In this case, Jimmy was primarily focused on people-watching at the mall in a storyline that felt like an attempt to remind us that he is still, despite innumerable evidence to the contrary, a writer; otherwise, this wasn't actually necessary to the episode's plot. Jimmy's mall adventures did provide most of the scant giggles the episode had to offer, but mostly, he was detached and felt surprisingly out of character given the ease with which he accepted Gretchen pushing her material possessions into his home.
My fear is that, with the darker and weirder season upon us, episodes like "Crevasses" will become more the norm than the exception. My favorite quality of YTW has always been its ability to handle difficult topics with humor, whether it be something as seemingly trivial as Gretchen accepting her adulthood, or something far more weighty like Edgar's PTSD. "Crevasses" failed to lighten the situation as effectively as the show has in the past, and as the season wears on and grows darker, I worry that weekly viewing will be less of a devilish pleasure and more of a chore. But, the show remains one of the smartest on television and an early misstep in its second season is certainly no reason to fret just yet. As critic Andy Greenwald pointed out, YTW built slowly last year, which only made the incredible run of episodes in the first season's second half that much more rewarding.
One development that I was happy to see last night involved Lindsay and Edgar. From the moment Edgar fell deeply infatuated with Gretchen's bestie, I feared the worst. The tornado of destruction that Lindsay is could only mean bad things for sweet, sweet Edgar. Last night, however, everyone's favorite recovering heroin addict proved that he is not simply at the whim of those around him. As Lindsay attempted to abuse Edgar's infatuation for her own sexual gain (only not in the way he would have hoped), Edgar proved that he does have some agency in his situation. Sure, he was aided by a few friendly bar pals and he would end up right back in the middle of Lindsay's palm by the end of the episode but, nonetheless, Edgar opened my eyes to the possibility that he won't be utterly destroyed come season's end.
?"Crevasses" may not have been the euphoric high that "The Sweater People" was. But, after the amount of drugs Gretchen and Jimmy did in the premiere, there needed to be some sort of coming down. Luckily, for all of us, the track record of YTW is sterling, signaling that this episode (which, when compared to other, lesser comedies, would still rank extremely highly) is more an anomaly than the beginnings of a trend. Season Two's darker storylines could bring episodes more like this, though, with less of a focus on cramming as many laughs into a half-hour as possible and instead placing the spotlight on discussing the ugly parts of relationships and dating in a truthful manner. No matter where You're the Worst heads in the forthcoming episodes, one thing is certain: it will remain the most refreshing commentary of modern love on television.
Eric Walters is a New York-based freelance writer and regular contributor to Paste. For more of his TV musings, follow him on Twitter.