Contemporary Art Inspires Manhattan's Most Inventive Chefs
Sotheby's and NewYork-Presbyterian Present The Art of Food
Photos courtesy of Darryn King except where noted
Visual Arts
Lists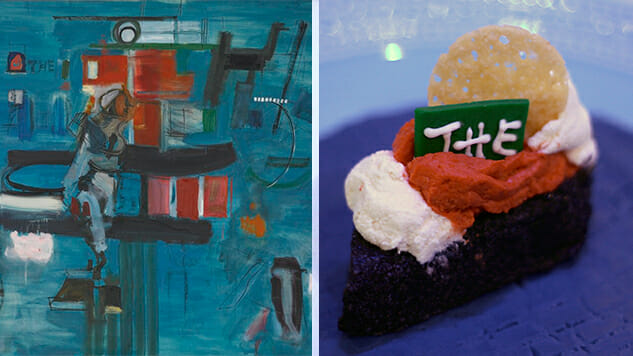 Lovers of art and food alike gathered at Sotheby's in New York for Our Town's Art of Food, presented by NewYork-Presbyterian. Chefs from more than 20 Upper East Side restaurants and eateries concocted specially created dishes to pair with contemporary artworks curated by Sotheby's.
The multi-sensory feast featured work by artists Sol LeWitt, Richard Serra, Christo, Jeff Koons, Robert Rauschenberg and others, with treats from the likes of Atlantic Grill, American Cut, Vaucluse, Seamstress, Shake Shack and Magnolia Bakery.
Here are highlights of the night's pairings.
---
Faroe Island Salmon Crude – Crave Fishbar
Inspired by Women and Girls by Robert Cottingham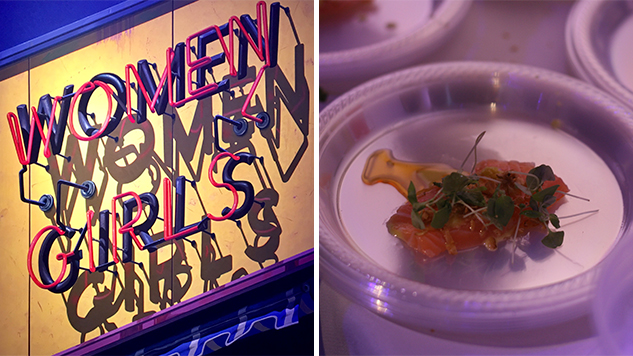 The Crave Fishbar station at Art of Food was bathed in a moody purple light, making the salmon as positively luminous as the neon signage that so transfixed photorealist painter Robert Cottingham. Chef Todd Mitgang's creation came with a spicy sprinkling of banana pepper relish certainly worthy of Cottingham's feisty femmes.
---
Black Ink Risotto Doughnut and Parmesan Aioli – TBar Steak and Lounge
Inspired by Clara-Clara Xi by Richard Serra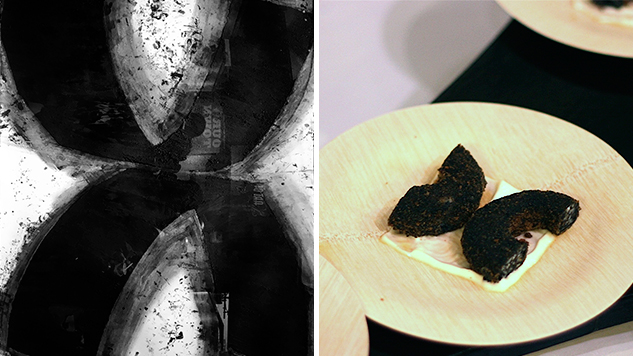 Any dish taking a cue from large-scale sculptor Richard Serra ought to be imposing and formidable. TBar Steak and Lounge's squid ink risotto doughnut, coated with pumpernickel breadcrumbs——halved into two C-shaped sections, placed back-to-back—fit the bill, a solid rendition of the artist's monumentalism.
---
Lemon Custard Tart & Whiskey Pudding Tart – Eastfield's Kitchen & Bar
Inspired by Storefront (Project for Old Hague Art Deliveries Inc.) by Christo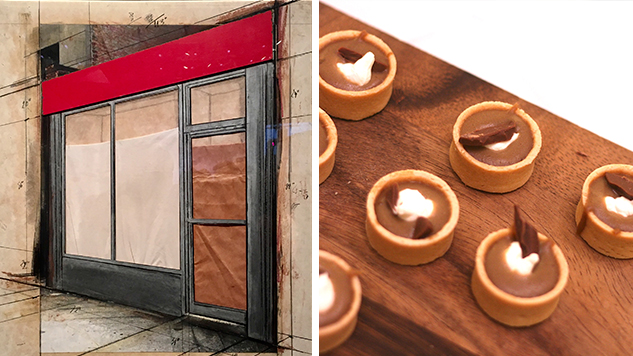 It was Christo's warm-toned palette of lemon custard yellow and butter whiskey brown that inspired Eastfields' simple but effective dessert course interpretation. Even more charmingly, the quaint mini-tarts were strewn over a couple of wooden pallets like dollops of paint.
---
Seared Duck Breast & Beets Spaghetti Croquant – Seamstress
Inspired by She's a Rainbow by Mary Weatherford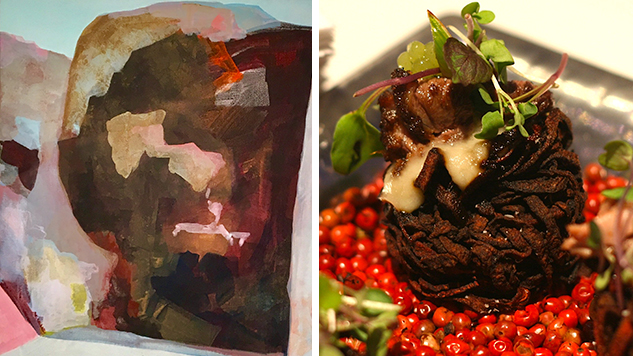 Seamstress's creation was one of several well considered culinary takes on abstract painting at Art of Food. The crunchy beets showed off both the deep earth colors and elegant textures of Mary Weatherford's canvas—all topped with a painterly daub of apple sauce. An aesthetic triumph, though you did require a dropcloth to eat it.
---
Shrimp Balchao – Sahib
Inspired by Broken Pencil by Ed Ruscha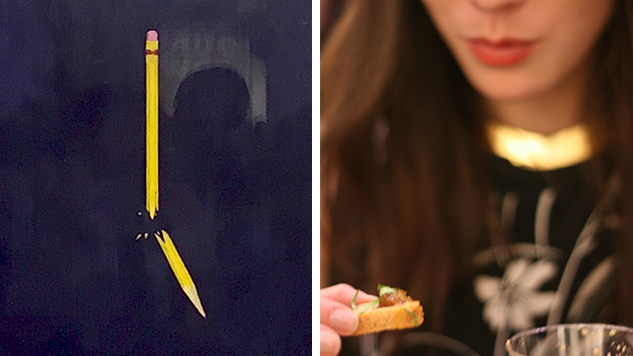 It wasn't so much the playful image of a pencil snapped in two than the framing outline of Ed Ruscha's piece that seems to have inspired Sahib, Upper East Side purveyors of Punjabi cuisine—it looks like toast, so: crostini. (Topped with shrimp curry, to be precise.) Anyway, the real winner was the spicy soup accompaniment, guaranteed to elicit a monosyllabic reaction echoing another famous Ruscha work: "OOF".
---
Koons Concrete – Shake Shack
Inspired by Dom Pérignon Balloon Venus (Magenta) by Jeff Koons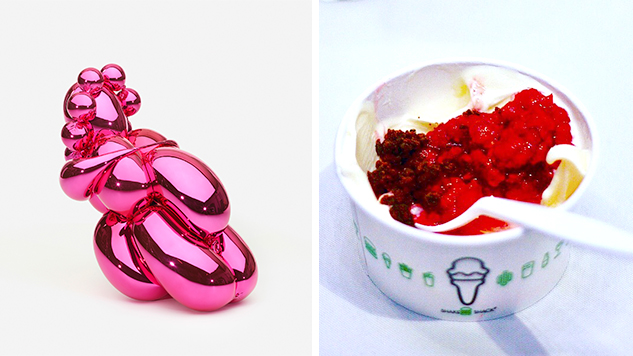 This pairing of the popular eatery and the populist artist was just begging for smartalec commentary. Fast casual eats for the masses meets fast casual arts for the masses? But Shake Shack's vanilla frozen custard, blended with crumbled chocolate fudge brownie and Champagne-macerated raspberries that evoked the mauvish-crimson of Jeff Koons' bulbous blobs, was a hit with the crowd, plain and simple. That's effective curation.
"Dom Pérignon Balloon Venus (Magenta)" courtesy of Jeff Koons and Wright
---
"The Pensive Night" Whole Wheat Black Rice Polenta – Lusardi's
Inspired by 2nd Avenue With The by Larry Rivers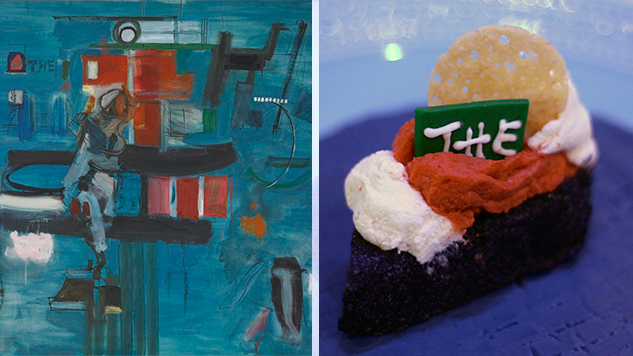 Extra credit to Northern Italian cuisine specialists Lusardi's for taking the trouble to give their superb offering a title. "The Pensive Night" was a flashily inventive translation of Larry Rivers' vibrant night scene, replete with "THE" and romantic moon of crispy parmesan cheese, served up in a splash of sweet cherry pepper sauce.
"2nd Avenue With The" courtesy of "Larry Rivers and Artnet
---
Pastrami with Cheesy Spatzle and Kraut – Mighty Quinn's Barbecue
Inspired by Untitled Seascape by Hans Hofmann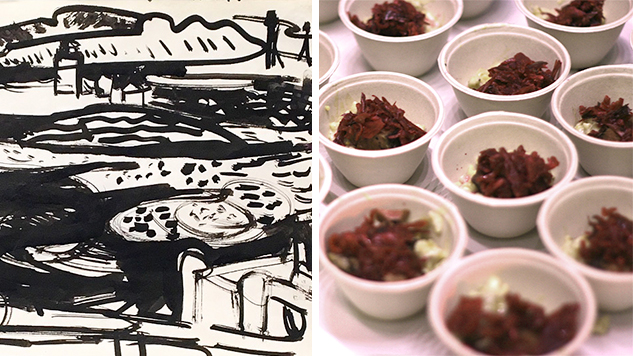 To anyone who'd successfully battled the surge of guests to arrive at the far end of the main room, the aroma wafting from the Mighty Quinn's station was a hearty welcome. The swells of purple sauerkraut might easily have been the agitations of the seaside, but chef Hugh Magnum took inspiration less from Hans Hofman's artwork—an uncharacteristically monochrome water study—than from the artist's life story, combining iconic ingredients from Hofmann's birth country of Germany and adopted city of New York.
---
Bresaola Carpaccio – American Cut
Inspired by Chinoiserie by Howard Hodgkin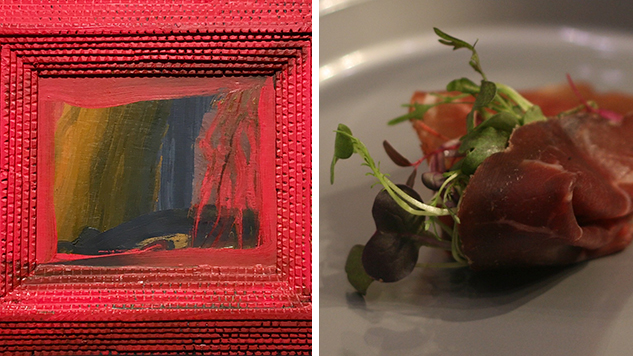 The scale of this Howard Hodgkin's piece may be modest, but its colors are anything but: saturated reds spilling defiantly over the frame. Chef Daniel Eardley responded, equally boldly, with flavoursome air-cured beef, layered with truffle and black garlic puree. In art-making as in cooking, sometimes the simplest statement can make the biggest impact.
---
Oysters – Atlantic Grill
Inspired by The Florist by John Currin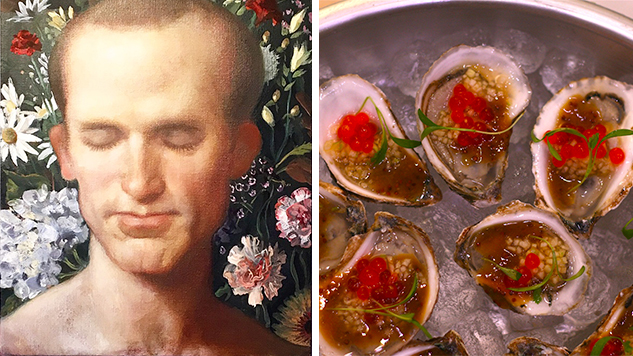 John Currin's typically sensual portrait of a man in bliss cried out for nature's aphrodisiac. Atlantic Grill laced their oysters with springtime colors—green apple, whole grain mustard miso, salmon roe—lending the display the delicacy of a floral arrangement. But really, the connection between art and food here was a state of mind: a temporary oasis of luxuriance at the bustling event.
---
Darryn King is a writer in New York.