Danny Minnick had a successful career as a professional skateboarder, so he could have been forgiven if he thought that a career-ending Achilles tendon injury was the end of his productive life. But instead, he channeled his immense creativity into a second career as a painter. Less than ten years later, his work has been collected by everyone from LeBron James to Mena Suvari to Nick Cassavetes to Jessica Alba (with whom he recently painted a mural for The Honest Company). His arresting show at De Re Gallery in Los Angeles, Power to the Planet, consists primarily of work he painted directly onto boards he pulled up from his studio floor. We sat down with Minnick at the gallery to discuss his life and work.
---
Paste Magazine: So I can't wait to walk around and interact with this art, but let's talk about you first. Where did you grow up?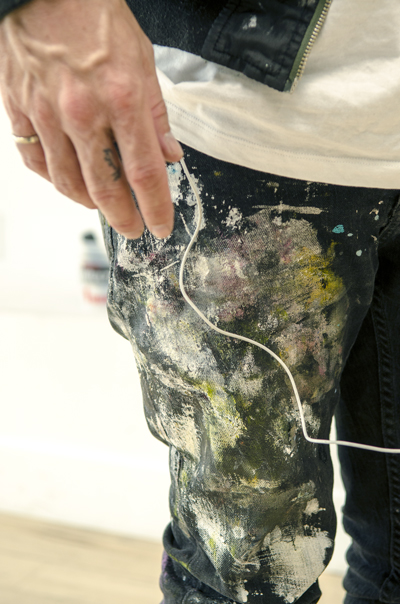 Danny Minnick: Seattle.
Paste: Oh really? I love that place.
Minnick: Me too, dude. I grew up skateboarding around Shoreline and Ballard, and my first sponsor was Fallout Records and Skateboards. They're best friends with the owner of Sub Pop, so I met Mudhoney, Soundgarden, Nirvana, all those bands. I'd go up and skate before their concerts from the time I was eleven years old.
Paste: You were growing up in Seattle at the right time.
Minnick: I saw all those bands all the time, and I was so into them, but for us they were just, like, the local bands, you know? To me watching them work, with that energy, would be like watching Hendrix play. Mother Love Bone, Alice in Chains, all those guys. I just wish I had a cameraphone back then.
Paste: No doubt. Well, obviously your work has a lot of energy, a lot of passion, a lot of movement to it. Do you feel like all that music gave birth to something in your visual artistic sensibility as well?
Minnick: Yeah. And still, when I work I'm constantly listening to music. Sometimes the same song a thousand times over. Whether I'm listening to Hendrix or Dylan or Miles Davis or Kurt Vile, I always have music going. It's really hard for me to sit in silence and work.
Paste: So when you were skating at those shows at eleven, did you already know you wanted to do something in visual art?
Minnick: I was more focused on the skating and the music. Then I saw Style Wars and Wild Style and I got some spray paint and started tagging. But there was one thing that hindered my work. When I was in third grade art class, I was the best – I could draw Smurfs and Disney characters and anything I wanted. But one day the teacher told us to draw our hand as exactly as we could. And I was able to draw mine perfectly. And when she got to me, she thought I had traced it. I told her I didn't, and she said, "You don't have to lie, I know you traced it."
And from that point on, I didn't really draw very much. I felt like I had done something bad. But I'd always doodle on my skateboard. I was very much influenced by the graphics of Ray Pettitbon skateboard graphics. And also Mark Gonzales – his artistic integrity as a skater, and the way he dressed, and the way he styled. And Neil Blender too, wow, his graphics were amazing. But I never went into museums until I was older.
Paste: When did you cross that line and decide to go from doodling to putting something on canvas?
Minnick: The first canvas I ever did was in 1997. I was living with Mike Parillo, who is a huge artist here in Los Angeles. He gave me a canvas, and I painted what it would be like looking out the window. I painted the city, and the Hollywood sign with an angel coming out of it. And I read later that a famous actress killed herself by jumping off the sign. I wish I knew where that painting was now. But I didn't really ever paint again until 2005 when I was living in New York. I was at my friend's studio, and again I painted this landscape of looking out the window, the buildings in SoHo and all that. And after that, I didn't paint again until I was back here and I was going to be housesitting for my best friend, who is also an artist and has a studio in his house. Before he went away, he taught me how to build and stretch canvases. And I painted these two beautiful paintings.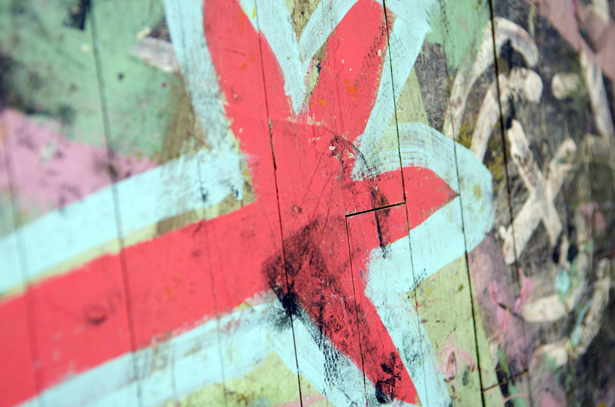 Later, I was at an audition, and the agent saw the paint on my pants and asked me if I was an artist. And thank God iPhones were around back then, because I had photos of the paintings on my phone. I showed them to her, and she told me her husband owned a gallery, and she thought he would be interested in my work. So I literally strapped them to the top of my car and took them to their house. And he looked at the, and looked at me, and said, "How long have you been painting?" I told them these were basically my first ones. And he said, "If you can do fifteen more paintings in a month, I'll give you a show."
Paste: Wow.
Minnick: So I did fifteen more paintings. And I didn't know that you could buy canvases that were already stretched, so I built all fifteen of them.
Paste: How did the show turn out?
Minnick: It was really good. A couple of the paintings sold, and I gave the gallery a piece, and I gave some pieces to some good friends. From that point on, I just kept painting. At one point a friend of mine knew I was listening to a lot of Bob Dylan, and she bought me his Self Portrait album. I didn't even realize it was Bob Dylan from the cover, but I loved the colors in that cover. I usually paint very freely from my imagination, but I thought, "Maybe I should try to paint something that I see." So I painted my interpretation of that album cover. And Mena Suvari bought that painting from me when I had a show in an alley.
2px); width:calc(100% 2px);">
Mena Suvari pictured at another Danny Minnick show held at The Elyssium in 2016. The actress is an avid patron of several arts, health and human rights causes.
Paste: And that was the beginning of the meteoric rise! Tell me about this main character in all of the paintings. Does he have a name?
Minnick: I just call him Character. People ask a lot about this plus sign in his middle – does it mean he's a man, or a woman, or what? It's just a positive energy. The world needs that positive energy.
Paste: And you actually pulled up the floorboards of your studio to paint the art on?
Minnick: Yeah, these are the floorboards I painted this body of work on. You see, there's my pug's paw print.
Paste: We have a pug too! What's yours' name?
Minnick: Lenny the pug, dude. He's over it; he's like, "Stop painting."
Paste: Ours is all black, so he's named Ozzy.
Minnick: I met Ozzy just the other night, at a show. I love him.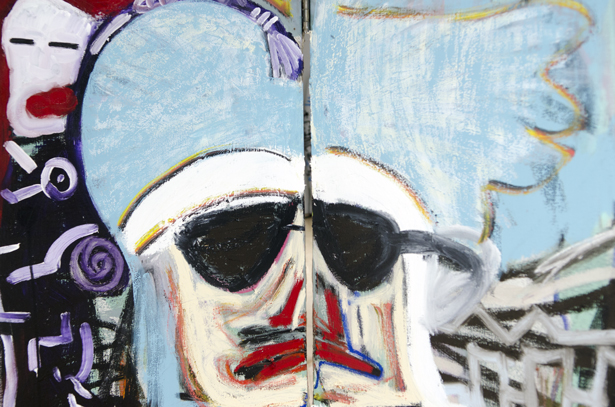 Paste: Amazing! Tell me about what draws you to working with such big canvases.
Minnick: I have really bad eyesight, so anything small kind of messes with me. So I like to paint bigger. I think the smallest painting I've done was 36×36. I just like bigger work.
Paste: Your work is so immediate and visceral; having it have this large presence really works; it makes it almost overwhelming.
Minnick: Thank you. That's a good thing?
Paste: It's definitely a good thing!
---
Michael Dunaway is a filmmaker, a film festival director and Paste's Editor at Large.