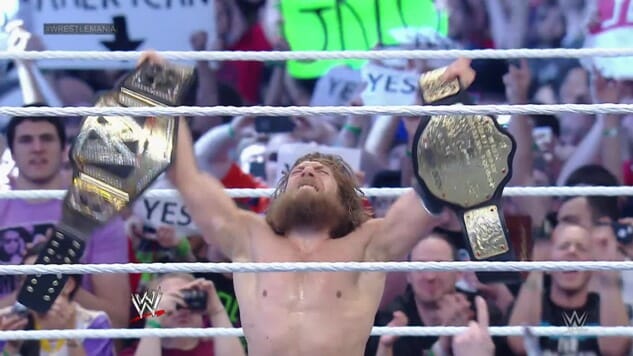 Potentially good news from the world of the one true art today: Daniel Bryan (real name: Bryan Danielson, the once and future American Dragon) has been medically cleared to wrestle again by WWE's doctors. The news, which has been quietly rumored about within wrestling circles for a few weeks, was announced earlier today by WWE.
Is this good for wrestling? Is it bad for Bryan and his family? It's hard to predict. Let's run down the issues here.
This is good because Bryan is perhaps the best in-ring performer of his generation and the rare wrestler universally beloved by all segments of the WWE audience. His career seemingly ended prematurely after a series of injuries, including a major concussion in 2015 that was basically the final straw for WWE's doctors. Although multiple doctors outside WWE have cleared him to wrestle since, WWE has been very cautious with the wrestler, which is understandable given what we know today about concussions and the various medical issues they can cause for athletes later in life. Since his tearful in-ring farewell in early 2016, Bryan has continued to appear in WWE's reality programming on the E! network alongside his real-life wife, Brie Bella, and has been the on-screen general manager of WWE's Smackdown brand since the summer of 2016.
This could be bad, though, if Bryan's concussion issues were as significant as they were reported to be. He apparently suffered seizures and had lesions on his brain after that last concussion. Nobody wants to see him hurt himself further, or for him to face the same kind of health problems that other wrestlers with extensive concussion histories have dealt with after retiring. Of course by many accounts the only doctor Bryan saw who didn't clear him to return to action after that concussion was WWE's primary physician, so a majority of medical experts have thought for over a year that it's okay for him to wrestle again. And he's recently undergone new treatments in a hyperbaric chamber that have reportedly shown dramatic improvements for people with injuries similar to his. So perhaps there's no reason for fans to worry about his health.
Bryan's inevitable return to the ring was a given, as he's openly discussed it in the past. The only question was if he'd ever wrestle for WWE again or wait out his contract and work for other promotions. Fans have been salivating over the thought of Bryan Danielson appearing in a New Japan ring to face off with Kazuchika Okada, Tetsuya Naito or Kenny Omega. That might still happen at some point, but for now Daniel Bryan's return will be within the familiar ring of WWE.
Expect tonight's Smackdown to focus heavily on Bryan's return, and perhaps set up the match he's expected to wrestle at WrestleMania this year, with him and Smackdown commissioner Shane McMahon facing off against Kevin Owens and Sami Zayn.