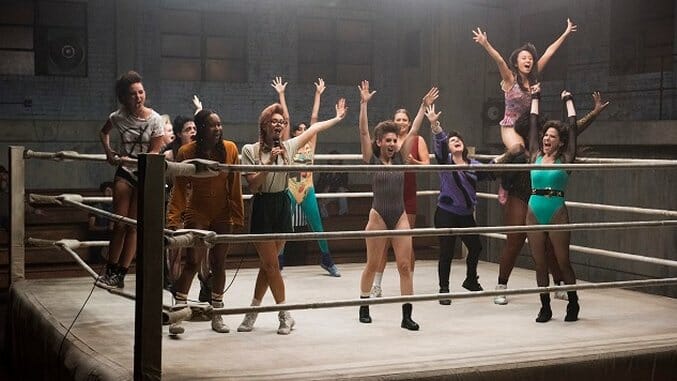 Netflix's GLOW has been out for two weeks, which means, despite a very positive reaction, it's already kind of fallen off the pop culture map. (Reminder: the binge watch model is bad for viewers and creators.) It also means it's been long enough for most of our wrestling writers to actually finish the whole ten-episode season. We asked them all to write a short piece encapsulating their thoughts on the show, and you can find those below.
GLOW is one of the first pop cultural products to portray wrestling that excels at taking it seriously. The women assembled as part of the GLOW promotion, inspired by the '80s TV show whose acronym stands for Gorgeous Ladies of Wrestling, immediately understand that wrestling is a performance, as most of them are actors. Trainer Cherry (Sydelle Noel) emphasizes in one of the first episodes that the cast needs to work together in order to keep each other safe in the ring, which is the heart of pro wrestling. There's a traditional '80s action montage where the main heel and face, Ruth (Alison Brie) and Debbie (Betty Gilpin), gradually grasp high-risk moves (as taught to them by real-life pro wrestlers Brodus Clay and an almost unrecognizable Carlito) that was reminiscent of the emotion I felt when watching the women of Themyscira kick butt in Wonder Woman. GLOW is at once an earnest representation of wrestling's legitimacy and the work that goes into making it seem real.—Scarlett Harris
---
The great thing about GLOW for me was getting to see women with a variety of body types just get to be athletic. The show doesn't get hung up centering Carmen Wade (the adorable and talented Britney Young) and Tammé Dawson (played by Kia Stevens, the incredible real-life wrestler Awesome Kong) in plots exclusively about their weight, but doesn't ignore it entirely, either. With the teambuilding out of the way and the show on the air, it'll be interesting to see if the second season gives us more wrestling—my biggest issue with this season was spending way more time learning about Sam Sylvia's struggles than I did getting to see any of the women in the ring—but ultimately, GLOW is an engaging and heart-felt take on the most famous American women's wrestling promotion. If one casual Netflix viewer watches the show and gets an itch to start searching for more great women's matches on the internet, I think that's a positive. (If you're reading this and you're one of those folks: check out the recent episode of NXT on Hulu featuring Asuka and Nikki Cross, dig up some Chikara matches with Heidi Lovelace, Princess Kimber Lee or the Sea Stars, or even catch Sexy Star and Ivelisse on Lucha Underground on Netflix.)—C.K. Stewart
---
Since its announcement, I kept praying that GLOW would be good. Not for my own enjoyment, but because I knew my friends would be asking me about it for a while. Because pro wrestling is the "thing" people associate with me, so at least it would break up the monotony of the endless John Cena memes I'm sent.
I was actually surprised by how much I enjoyed it though! I expected that I would break up my watch over the weekend, but the heart and humor of it drew me in so much that I watched the entire thing in a six hour span after my day job. It was actually kind of depressing to reach the end and realize I wasn't going to see where the girls took the show from there.
Talking about the show after with a friend who didn't enjoy GLOW made me realize I still want more from the show. Both in the sense of more episodes, but also a deeper sense of the girls learning more about wrestling as they now find themselves having to create more episodes. The series does a great job of touching on why wrestling appeals to people and how it can change lives, but it definitely felt like there was more to be explored. If we're blessed with a second season, I'd like to see more of that and maybe a little less of Sam's skeeziness, even if Marc Maron is excellent in the role.
That, and maybe see more actual promos from the girls. Just more of the women of GLOW, please. The supporting cast is excellent and they deserve more time.
The moment of the series that resonated the most with me as a viewer was in episode five, after Debbie spends the entire episode struggling to "get" pro wrestling. She's sitting there in Legion Hall, watching the main event as Carmen fervently explains the backstory of Steel Horse and Mr. Monopoly. As Debbie watches Mr. Monopoly slap his brainwashed girlfriend, it clicks. "It's a soap opera," she cries as she stands on her feet and cheers for the first time all night.
For me personally, it spoke a lot to that moment more than two years ago when I realized wrestling was a lot like comics in terms of structure and character. Debbie and I came into this late and maybe didn't quite understand it at first, but once we did, we leaned in hard. And to watch Debbie from that moment onward throw herself into pro wrestling and being Liberty Belle right until the swerve in the final episode was a treat.
I won't forgive the series for trying to make me think Alex Riley is likeable though.
If anything, I hope promotions with women's wrestling use the series as an opportunity to actually push their product and try to capture some of GLOW's audience. There's tons of great women's wrestling out there that doesn't get the recognition it deserves. WWE may not know how to book its women properly sometimes, but at least they're not relegated to YouTube like Ring of Honor's are.
I don't know if WWE deciding to have women main event its three main brands last week was in direct response to GLOW, but if it was, I hope that effect continues across the wide world of wrestling.—Ashley Leckwold
---
GLOW becomes good once it starts to focus on the wrestling. I don't just say that as a wrestling fan: until its characters start to develop their wrestling personas, and start to learn about the sport (and the business), the show feels unfocused. The wrestling provides the foundation upon which the show starts to explore its characters, panning out from the early focus on Alison Brie's Ruth Wilder (who, per prestige TV rules, is intentionally flawed and unlikable) and Marc Maron's Sam Sylvia (who's more deeply flawed and yet somehow less unlikable than the real Marc Maron) to reveal more about the diverse group of women who make up the cast of both GLOW and the promotion within the show. It's hard to pick stand-outs among them, as they all stand out in their own way, reflecting a variety of life experiences in the manner of Orange Is the New Black. Interacting with this cast makes Brie and Maron's characters more likable and understandable, turning them both into surprisingly sympathetic leads by the end. Betty Gilpin's probably the most effective of the three main characters, though, which means GLOW does something wrestling can rarely do: actually make me like and root for the blond-haired lead babyface. The biggest problem here is the half-hour length—there's simply not enough development for most of the characters over this first season. But then the half-hour episodes feel a little too shaggy in many spots over the first half (again, before the focus tightens on their wrestling training), so it's tough to say if a full hour would've been an improvement here. We don't see much of the actual TV show that they make within the real-world Netflix show, but hopefully when we do next season it captures the full experience of the original 1980s GLOW program, with all the corny and endearingly awful Hee-Haw style comedy that entails. Like the show-within-the-show, GLOW somehow rights itself after an unsure start, and becomes one of the most purely enjoyable TV shows of the year so far. Just don't confuse its fiction for the real GLOW story.—Garrett Martin