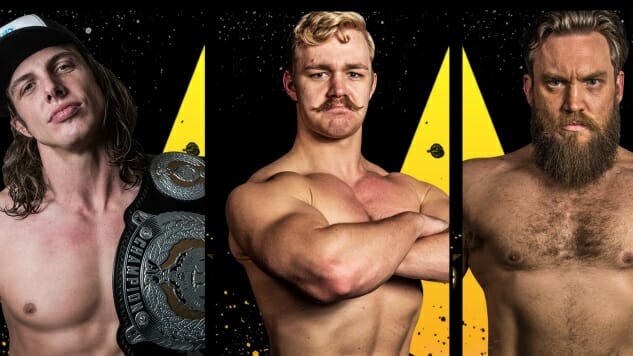 "Wrestlemania Weekend" has become a major phrase in the lexicon of the wrestling community. Whether you are a devoted WWE fan or a diehard of the independent scene, there is plenty to take in during the days leading up to the Showcase of the Immortals. As you prepare to dive in to some of the things being offered up outside of a WWE ring, let The Lady J be your guide.
Progress Wrestling is a five year old promotion based in London, England. On Friday, March 31st, they will be bringing their particular brand of UK graps to the Orlando Live Events Center as part of WWN's More Than Mania series of events. With a history of strong style in-ring work, slow-burn storytelling and a fan base akin to that of a Premier League football club, their first show ever in the United States is sure to blow new fans away. Before you show up, or tune in via the iPPV on WWN Live, here are a few things you ought to know:
Don't Get Overwhelmed
Progress Wrestling's entire library (minus their most recent show) is currently available via their Pivotshare service. Between the 45 Chapter shows, 17 ENDVR shows and 5 episodes of their new program Freedom's Road, you're looking at over 200 hours of content that all feeds into one overarching storyline. Even though the show in Florida doesn't count as a chapter show, and may not advance any of Progress's current feuds, there's some background information you should have. But it is not a requirement that you start at Chapter 1 just to enjoy what you'll see in Orlando. If you already have a Demand Progress account, and don't mind spoilers, Progress will eventually be making the Orlando show available via the Pivotshare.
British Strong Style
Currently, Progress's World Champion, The Bruiserweight Pete Dunne, and Tag Team Champions, Tyler Bate and Trent Seven (Mustache Mountain), make up a heel faction called British Strong Style. After a series of conniving heel turns, Dunne, Seven and Bate have made it clear that their drive to take over the championship picture in Progress was motivated by a desire to use the titles as a ticket to Florida — and WWE. After a powerful showing from all three at WWE's UK Championship Tournament in January, which saw Bate crowned as the inaugural winner, one can only assume that British Strong Style intends to show everyone in Orlando why they're the best Progress has to offer. And they've all got themselves a title match this weekend, too, so it's entirely possible for British Strong Style to be leaving Orlando with their luggage a little lighter than usual.
The Atlas Title, Bro
One thing Progress has made a name for themselves with is what they call "big lads wrestling", or hoss fights in the US. They even went so far as to create a division and a championship for men over 205 lbs, called the Atlas Championship. They crowned the inaugural champion, Rampage Brown, in September of 2016 but this past January Brown's reign came to an abrupt end at the hands of Matt Riddle, the first American to ever hold a title in the UK promotion. Riddle will be taking on the brains of British Strong Style, Trent Seven, on Friday. Here's hoping Riddle has eyes in the back of his head, because wherever Seven goes, Dunne and Bate are never far behind.
The Natural Progression Series
Not long after Progress got started, they began a tournament series called Natural Progression in which young or new talent competed for a trophy and an opportunity at the Progress World Championship whenever they wanted (think Money in the Bank). Now in its fourth incarnation, the Natural Progression Series is currently in its semi-final stage. Rather than offering up a title opportunity, on the line is the crowning of the first ever Progress Women's Champion. On the card for the show in Florida are Jinny, a fashionista with a serious attitude problem who just defeated Nixon Newell in a semi-final match and will go on to the final, and Toni Storm, who managed to conquer New Zealand's Dahlia Black in a semi-final match this past Sunday at Chapter 46: I Like to Chill Out Here and Shoot Some Dinosaurs. With only one semi-final match left to go (Laura Di Matteo vs. Alex Windsor), Orlando's getting itself a bit of a Natural Progress final preview, and hell hath no fury like a woman after a title reign.
Die, Havoc, Die
In what is arguably one of the greatest long-term stories told in modern pro wrestling, Jimmy Havoc went from fan-favorite to despised monster-heel champion to hero of the people over the course of Progress's history. (See also: chapters 2-21 & 36-present.) In recent shows, Havoc's focus on taking the Progress World Championship from Pete Dunne has been diverted by a dark version of Will Ospreay who is out for revenge on the man who tortured him many chapters ago. Havoc and Ospreay's feud hit a fever pitch this past weekend in a Fans Bring the Weapons match (complete with musical instruments, antique timepieces and even cupcakes) that ended with Havoc victorious and Ospreay gone from Progress forever. Now Havoc has to rest up and get ready to face another old rival, and dear friend: current EVOLVE champion Zack Sabre Jr.
What a Mark
Besides the gentlemen of British Strong Style, another Progress roster member who made quite the name for himself at WWE's UK Championship shows was White Lightning Mark Andrews. Andrews has been among the most beloved babyface performers in Progress over the last five years, debuting on Chapter 1: In the Beginning. Notably missing from the tournament, however, was Progress fan favorite and a man who had to forfeit his Progress World Championship late last year due to an unfortunate injury, Mark Haskins. Both men bring something different to the table, Andrews with his astounding high-flying ability, Haskins with his powerful striking. Both men also have a a hard battle before them: Andrews facing off against Tyler Bate for the WWE UK Championship and Haskins slugging it out with Pete Dunne for the Progress World Championship. Who will leave a more lasting impression on the Mania crowds? There's only one way to find out.
---
Progress Wrestling
Orlando, FL
Friday, March 31st
Bell Time: 12pm
Tickets
Available Live via iPPV on WWN Live
Available On Demand via Demand Progress
---
Lady J is a freelance writer and podcaster based out of the Washington D.C. area. She specializes in feminist wrestling critiques on her blog and hosts a Lucha Underground and indie wrestling review podcast, The Facelock Feministas. She's on Twitter @theladyjsays.