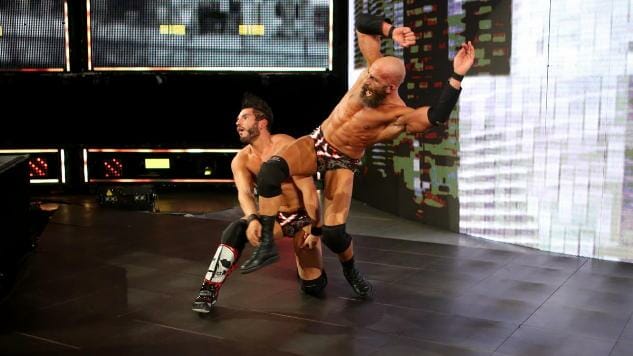 Just a few moments after the copyright tag went up following NXT Takeover: Chicago and lifelong fans of pro wrestling (who have learned from years of experience to expect the worst) breathed a sigh of relief, Tommaso Ciampa removed his protective padding and drove a devastating knee strike directly into our collective hearts. While one of the cardinal rules of wrestling is that one member of a beloved tag team will always betray the other eventually, we hoped things with DIY would be different. But alas, NXT's beloved little team that could is no more, and the enduring image of their incredible run won't be the triumphant moment they finally climbed to the top of the tag division following their match of the year vs The Revival at Takeover: Toronto, but rather the crumpled, broken body of Johnny Gargano lying on a bed of broken table shards while his former friend stares blankly from above at the officials and EMTs attending to him.
Here are five takeaways from what instantly became the most heartbreaking WWE moment in recent memory.
1. This is the type of story that can only be told using the long term format of pro wrestling
It was way back in August 2016 at Takeover: Brooklyn II, after their hard-fought loss to The Revival, that tiny hints of tension between the burgeoning duo were first suggested. Ciampa shot Gargano a dark glance on their way up the ramp after the match, but we held our breath, the moment passed, and the newly-christened DIY remained intact. The two squared off shortly afterwards in one of the best matches of WWE's Cruiserweight Classic (with Ciampa notably holding back from going all-in on assaulting his friend, ultimately costing him the match) and still their friendship endured. At this point it was easy to convince yourself that we were witnessing a different kind of tag team story, one more about sacrifice and camaraderie than betrayal and animosity. But the seed had been planted and that, along with the nearly full year of physical struggles bringing them closer together both as a team and as partners, only made Chicago's payoff all the more devastating. Pro wrestling is really the only storytelling format that allows these ultimate denouements to carry so much weight and impact, because it's backed up with months and months of foreshadowing and fertilized with legitimate blood, sweat and tears.
2. DIY had potential for longevity
WWE have tried and failed to build up wrestlers or tag teams that click like DIY did countless times; it's essentially the hardest thing to accomplish in wrestling. You could take any two wrestlers and attempt to tell the exact same story and there is absolutely no guarantee that they would create sparks either with each other or WWE audiences in any meaningful way. What they had with these two was genuinely precious. With Ciampa and Gargano's virtually unparalleled ability to connect with the fans, they could have easily taken this act to the main roster and been hugely successful there. Of course conventional wisdom told us they'd split eventually, but most presumed that that was a long way down the road, after their story had run its course or was leading to diminishing returns. Their willingness to sacrifice something that had not come close to reaching its endpoint or gotten stale in any way made the turn all the more unpredictable.
3. DIY wasn't just popular, fans were extremely emotionally invested in seeing them succeed
One of the most impressive things about DIY was their ability to take the passion that fans showed for seeing them succeed in the ring and translate it into the real world. We watched their burgeoning friendship unfold on social media, and it made the pair all the more endearing. We felt like we were part of the process. They invented the Glorious Bomb. When Gargano married fellow grappler Candice Lerae a few months ago, Ciampa was part of the wedding party. As ironically detached wrestling fans we can always fall back on the notion that even if the story takes a dark turn, everyone's still friendly behind the scenes. But the ongoing fallout taking place on Twitter is offering us no respite. LeRae posted an emotional update about Johnny's condition and the "selfish acts of this person we believed was apart [sic] of our family ." Ciampa is moving out of the LeRae/Gargano household. So no, kayfabe will not save us. This is really happening, and judging by the dozens of uncontrollable crying gifs that are posted after every update, people are devastated.
4. Their upcoming feud just became appointment television and they're both poised to break out as huge stars
NXT is currently loaded with potential for amazing feuds and storylines (we'll get to that in a moment), but nothing comes close to rivaling the heat between Ciampa and Gargano. They've made NXT required viewing once again, and due to the more old-school format of the show, there's no chance of WWE running it into the ground by constantly putting them together in a never-ending effort to generate fodder for RAW or Smackdown, an issue that consistently plagues their main roster shows. Odds are it will be at least a few weeks before they're even in the ring together in any capacity, and when they finally square off it is almost guaranteed to be magical. Moreover, this feud will serve as a great launching pad for both of their careers, and they should each be able to translate it into serious runs on the main roster when the time does finally come for them to get called up (particularly Gargano, one of the best pure babyfaces in the company).
5. NXT has fully recovered from the somewhat tepid Nakamura era and is set up beautifully for the next year
It's not that the Nakamura era was bad, per se, it never really felt like NXT was reaching the same high water marks that were set during the Zayn/Neville/Owens days (with the main exception being, of course, the trials and tribulations of team DIY). But suddenly, NXT is set up beautifully for the next year, anchored around Roode/Ciampa/Gargano/McIntyre/Ohno/Strong/Sanity, not to mention the UK talent like Pete Dunne and Tyler Bate, who just put on a surefire match of the year candidate in Chicago. This new nucleus is a big part of the reason the Windy City was already one of the better Takeovers in quite a while before Ciampa's ultimate betrayal of his partner vaulted it almost to legendary status. In any case, it looks like NXT could very well match or even surpass its previous highs with this current group, which has to make wrestling fans—even brokenhearted ones—smile a little.
---
Rob Rousseau is a lapsed musician and freelance writer residing in Montreal whose interests include (but are not limited to) sports, wrestling, film, music, videogames, and politics. You can and should find him on Twitter as @robrousseau.