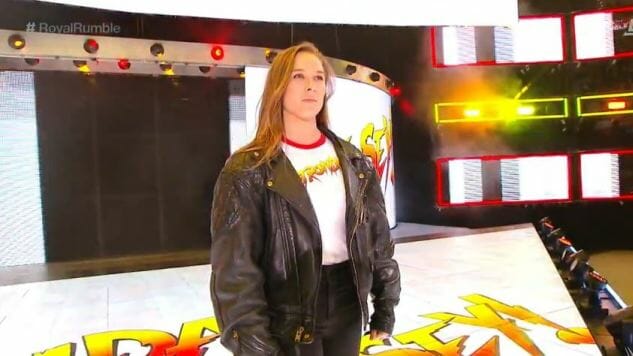 Former Saturday Night Live host, movie person, and, uh, disseminator of transphobic rhetoric Ronda Rousey did a wrestle thing tonight, showing up at the end of WWE's Royal Rumble to point at a sign and challenge current WWE Women's Champions Charlotte Flair and Alexa Bliss to some kind of a thing at WrestleMania. Her surprise appearance came after Asuka won the first ever women's Royal Rumble match, effectively stealing the spotlight from the winner of the rare WWE match of legitimate historic importance.
The judoka and former UFC champ didn't say a word, either because WWE has seen her previous attempts at acting, or because its dozens of writers couldn't craft a promo with the appropriate amount of unnatural verbiage and bad jokes in time for her post-match run-in. She simply walked out in a shirt that borrowed its design from the classic Roddy Piper "Hot Rod" logo (complete with leather jacket), dispassionately stared at the three pro wrestlers assembled in the ring, and then pointed at that sign with something that tried to resemble an emotion on her face. In the annals of shocking and momentous pro wrestling debuts (if we discount her one-off WrestleMania cameo three years ago), wordlessly pointing at a sign might show up somewhere on the list.
If Rousey's finger is to be believed, she'll be wrestling some kind of a wrestling match at WrestleMania 34 in New Orleans in April. She's a celebrity, so expect her to win. Asuka, meanwhile, will challenge one of the two WWE Women's Champions at the same show, in a match that won't get nearly as much press attention, no matter how much more entertaining it might be.
Update: Real sports news outlet ESPN reports that Rousey has signed a multiyear deal with WWE that will make wrestling her primary focus. Sure, why not!
Second Update: We neglected to mention that Rousey is also a Sandy Hook truther. Coooooooooooooooooooooooooooooool.