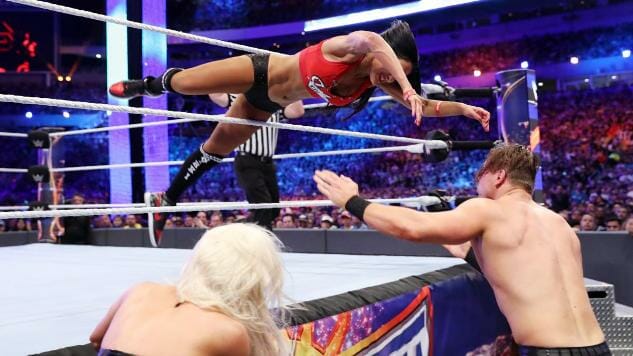 When WWE announced that John Cena and Nikki Bella would face off against The Miz and Maryse at WrestleMania 33, it seemed that the world's biggest wrestling company was getting ready to follow up last year's announcement of an overhauled women's division with the reintroduction of intergender wrestling.
For those unfamiliar with this category of wrestling, intergender pits male and female wrestlers against each other instead of having a woman exit the ring when a man is tagged in and vice versa, as with the abovementioned WrestleMania match. Woman wrestlers such as Chyna, Lita and Jacqueline popularized intergender wrestling in WWE in the '90s and early 2000s, and it has been enjoying success in Lucha Underground and on the indies with women like Candice LeRae and Kimber Lee holding their own against men.
WWE got out of the intergender game last decade, as it moved into a more family- and advertiser-friendly product. But a renewed interest in women's sports—with Serena Williams and Ronda Rousey's popularity, and record crowds turning out for the inaugural women's Australian rules football match—in recent years helped usher in the #WomensEvolution, making intergender wrestling the logical next step for equality for women in the industry. So why is WWE so afraid of it?
The argument could be made that intergender wrestling normalizes violence against women, with impressionable young minds unable to tell the difference between the simulated gendered violence in the ring and the real thing. Such concern isn't often directed at how actual domestic violence affects women and children, with WWE routinely protecting and aligning itself with domestic abusers such as Stone Cold Steve Austin, Scott Hall, Jerry "The King" Lawler and the late Jimmy "Superfly" Snuka, with the popular opinion being that it's a private matter to be resolved within the home. And perhaps young wrestling fans could benefit from seeing women rise up to do the same things men can.
Women and men are often depicted in level playing field fight scenes in action movies which, as "sports entertainment," WWE considers itself on par with, and bringing back intergender wrestling could be a publicity boon for WWE amongst progressive media outlets. Its hesitancy to recreate such scenes in the ring, though, would suggest that WWE is beholden to their corporate sponsors who probably don't want to associate with intergender wrestling, coupled with WWE's association with not just a conservative, but misogynist president who is hell-bent on rolling back equality for women.
And that's what it really comes down to, isn't it? Equality. Men and women will never truly be equal until everybody is allowed to extend themselves into the realms that were previously off-limits to them. So while Steve Austin stunning Linda McMahon or the Dudleyz putting Stacy Keibler through a table could be seen as damaging on their own, if they take place within a climate that also depicts women holding their own in equal and fair competition (as fair as a predetermined sport can be), they become less so. Likewise, spots that are presented to be accidental, such as Stephanie McMahon taking bumps at the hands of her husband's male opponents at back-to-back WrestleMania's, wouldn't seem so out of place if women were routinely put in these positions and were given the opportunity to put men in them, too.
WWE does seem to be flirting with the idea, though. When Alexa Bliss was managing Wesley Blake and Buddy Murphy in NXT, she would often inject herself into men's matches, while Bayley expertly Bayley-to-Bellied Murphy during her feud with Bliss. The reason the mixed tag at WrestleMania wouldn't have been out of place if it had been announced as intergender was because Nikki took out Tyler Breeze like it ain't no thang in the leadup to the match. Most recently, James Ellsworth's alignment with Carmella, his continued almost-run ins with Becky Lynch, and the troubling commentary surrounding his lack of masculinity make him seem poised for WWE to test the intergender waters.
These examples show that, when given the chance, women can do most anything men can. We shouldn't be wrapped in cotton wool and have our choices limited by men in power. Prohibiting intergender wrestling contributes to the idea that women are fragile and need to be protected, which is just as damaging as gender-based violence.
The definition of professional wrestling is that it's choreographed violence. Competitors have agreed upon the spots that will take place in the ring before they happen. Therefore if women and men are the ones setting up these simulated acts of violence, and the majority of the audience they're performing them for are, by now, fully aware of the terms, then intergender wrestling can't contribute to violence against women. What does, though, is women not having autonomy and not being able to gain access to things like contraception, employment and finances. Woman wrestlers not being able to rise up in their field and perform in intergender matches keeps them in an inherently unequal position.
But as long as women's wrestling remains an afterthought (eg. the SmackDown Live women's championship match initially being put on the WrestleMania pre-show), women wrestlers are only placed in close proximity to male wrestlers in a baffling increase in heterosexual romantic storylines, and WWE continues to ignore the appetite for intergender wrestling, men and women will never truly be equal in wrestling.
---
Scarlett Harris is an Australian writer. You can read her previously published work at her website The Scarlett Woman, and follow her on Twitter at @ScarlettEHarris.