Tool & Wine: Alt-rock Frontman Uncorks New Career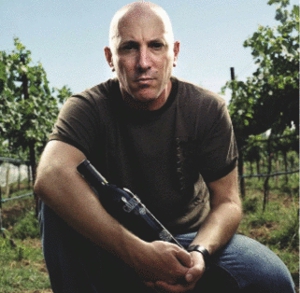 Behind the tasting bar of Mission Wines, a South Pasadena wine shop with hardwood floors, Maynard James Keenan is slurping his wine. No really, it's his wine. The reclusive frontman for prog-metal bands Tool and A Perfect Circle is drinking Tazi, a light blend of sauvignon blanc, chardonnay and other grapes from his own Arizona Stronghold Vineyards. The scene is slightly surreal, given that this is the guy who wrote and sang songs called "Prison Sex" and "Hooker with a Penis."

After joking about holding hands and praying to Bacchus before the tasting, Keenan turns to the matter at hand. He aspirates while taking a sip, ensuring the juice hits every part of his palate, and he instructs those around him to do the same. Putting his nose to the glass, he takes a long, deep sniff and offers advice for the novice taster: "Wine tasting is predominantly smelling. If you plug your nose, you won't have the same experience at all."

Low-key and dressed in a plaid grey shirt, jeans and boots, Keenan is decidedly anti-celebrity in a town full of them. He goes largely unnoticed except for a twenty something couple quietly browsing the wine shop's aisles, waiting for the chance to get a bottle autographed after our interview. Keenan begins the tasting process again with two more of his just-released reds, Nachise and Mangus—named, like all of his wines, after relatives of the Chiricahua Apache chief Cochise, who lived in southeastern Arizona, where the vineyard is located.

At 44, Keenan—a former West Point cadet—has become a sort of Renaissance man, traveling the world with his bands and learning about life's finer things, which include good and bad wines. "There's a difference between Milli Vanilli and Led Zeppelin," he deadpans. Keenan began studying wine in earnest in 1999, and opened Caduceus Cellars winery and Merkin Vineyards in northern Arizona (not too far from John 
McCain's house in Cornville) a few years later. And yes, his dark humor is evident in the 
vineyard's name. A "merkin" is a pubic wig.

Last year, he and fellow vintner Eric Glomski bought one of the oldest vineyards in the state, and opened ASV. They see themselves as pioneers of Arizona winemaking. Glomski notes that ASV's Cochise County sits about 4,500 feet above sea level, making it a cooler climate than popular California grape regions like Paso Robles. And Keenan describes bringing a wine-centric way of life to the Grand Canyon state, with a community, economy, social structure and politics focusing on winemaking—all the way down to "the electrician who understands air conditioning units [that are] consistent with the needs of a winery."

Though he's loathe to admit it, Keenan has become a bit of a wine snob. E. & J. Gallo out of a jug is too daunting for him. "I probably won't drink it," he says. "Because generally speaking, what went into that [mass-produced] wine is probably going to give me a headache the next morning." And after all, isn't that what his music is for?
Others Tagged With