Bruno Mars: Unorthodox Jukebox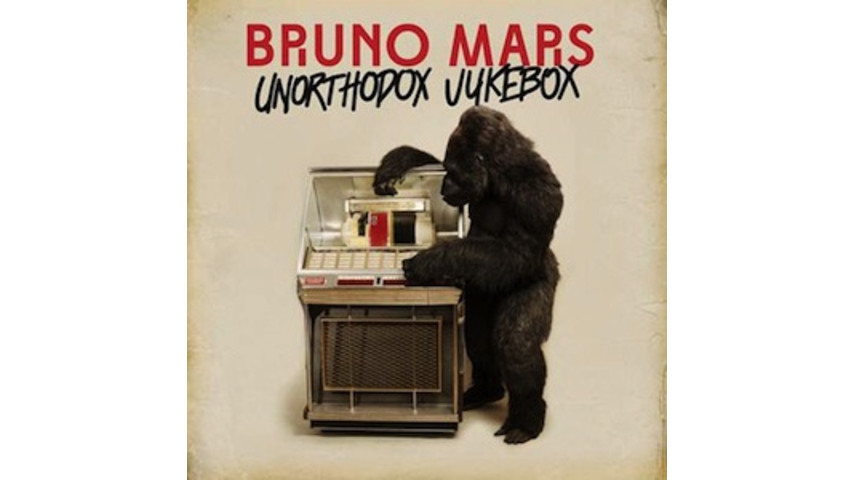 Bruno Mars is instantly puppy-dog lovable, and that's probably his biggest weakness as an R&B hit-making phenom. Everything about this dude is slick and easily digestible: He's young, sweet-natured, and handsome; his grooves are produced to an immaculate sheen, and his silky croon has a way of drifting through you without rattling your bones or stirring any emotion. At the family reunion of modern R&B, Cee-Lo Green is your wacky uncle doing magic tricks, Usher is your mysterious playboy cousin creeping in the basement, and Mars is your squeaky-clean neighbor who dropped by just in case you needed any help washing dishes.
Bruno Mars is one talented son-of-a-bitch: As "Grenade" proves, a massive hook is a massive hook, regardless of flair. But it couldn't hurt him to shake up his style. Unorthodox Jukebox addresses that concern, utilizing a dream-team of modern soul and hip-hop producers to draw out Mars' edgier, more eclectic sides.
"Your sex takes me to paradise," Mars belts on "Locked Out of Heaven," a driving pop anthem (produced by a sonic army including Mark Ronson and Kanye's right-hand-man Jeff Bhasker) that moves from a punchy, "Roxanne"-esque new-wave groove to a soulful, synth-driven chorus. On the sleazy let's-have-sex-like-wild-animals slow-jam "Gorilla," Mars channels his inner Michael Jackson via "Dirty Diana," grinding out lines like "Give it to me, baby / Give it to me, motherfucker" over moody synths and cheesy distortion. "I got a body full of liquor with a cocaine kicker," he moans, "You got your legs up in the sky with the devil in your eyes." (Yikes!) The Diplo-produced "Treasure" is stripper-theme funk-pop with gooey synth pads and enormous slap-bass fills that punch through like air-humps. Bruno Mars wanted to shed his boy-next-door image, and by golly, he's done it!
But for all its ultra-catchy eclecticism, Unorthodox Jukebox really isn't all that unorthodox—and when Mars plays it safe, he steps sideways: "Young Girls" is a by-numbers "shout-out-to-the-honeys" belter, and "Show Me" is an undercooked foray into dance-hall reggae. "Baby, I wish we was 17," Mars croons on skippable doo-wop closer "If I Knew," "so I could give you all the innocence that you give to me." Mars still plays the sweetheart card well, but he's proven himself way more interesting as a badass.
Others Tagged With