Tegan and Sara: Heartthrob
[Sire]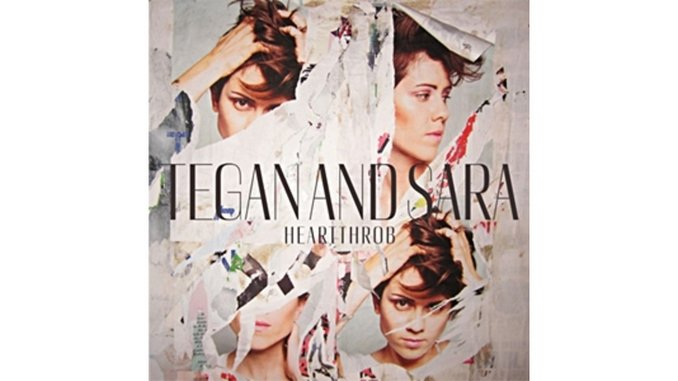 Tegan and Sara Quin have decided seven albums in that it's time to throw down the pop gauntlet and see where seven albums gets you. Saying yes to sawtooth synths and no to Dr. Luke, their lean, 10-song sellout most resembles the Yeah Yeah Yeahs' It's Blitz! or Metric's Synthetica—the results of good songwriters demanding respect as they glitz it up. This bodes well for their extraordinarily confrontational style; from the shoving opening single's "I won't treat you like you're typical" to "Why don't you want to show me off?" the sisters sound more like a fighting couple than The White Stripes ever did, and their relationship insights double as universal ambitions. When they say they want to get a little bit closer, it could be a love song to money.
This is a good thing; in this extraordinarily loose musical moment, hooks only happen to those who want a big catch, and except for the early misfire "I Was a Fool," every song on Heartthrob comes with at least one memorable phrase you won't be able to excise from your head 'til at least April. Even when the tunes slow down in the final third, you'll still need to surgically remove "There's nothing love can't do," "Go, go, go if you want/ I can't stop you," and "What you are is lonely" from your cerebellum.
The music is possibly the duo's best, though it's a little uniform compared to their competing peak The Con, which had shrewder tunelets and weirder sonics. "Closer" buzzes like Van Halen's "Jump," detuned chillwave synths open "Goodbye Goodbye," oh well. Once you've gotten 40 repeats of 2013's first great pop song out of your system, the stampeding "Drove Me Wild," your next favorite hook might be the sighing "oh oh oh"s in "I'm Not Your Hero," which is where Tegan and Sara get Santigold back for "L.E.S. Artistes." They poured good money into these platinum-plated vehicles, and you'd have the chutzpah too if Jack White covered you early in your career. (And anyone who's still weirded out should go back and peep 2002's blues-churning "Time Running.")
But you'll stay for the burning relationship insights, because on top of past knife-twisters "I'm not unfaithful but I'll stray" and "I'd lie to me if I met me," they add the more mature but no less devtastating "I couldn't be your friend/ Even if I tried again." And then there's the most meaningful stanza they've ever written, one of the few that tackles their sexual identity in a career of Bob Mould-style unspecifics, and no coincidence that it applies to more than two people: "I'm not their hero but that doesn't mean that I wasn't brave/ I've never walked a party line/ Doesn't mean that I was never afraid/ I'm not your hero but that doesn't mean we're not one in the same." What a concept, expanding their musical universality and emotional relatability at the same time. And that puts them a step now ahead of Yeah Yeah Yeahs, Metric and Jack White.
Others Tagged With