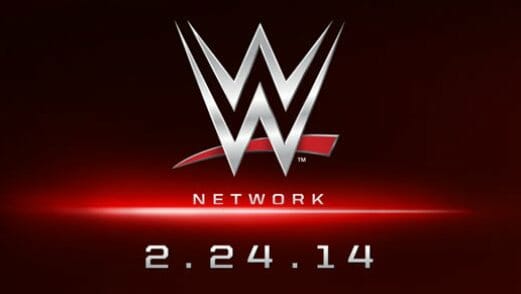 The WWE Network has arrived. It's basically Netflix Instant for wrestling fans, a streaming service that offers new and classic wrestling programming on demand for subscribers. For ten dollars a month (with a six-month commitment) users get access to each new monthly pay-per-view (starting with WrestleMania XXX in April) along with original programming and classic events. It's available through an app on the Playstation 3 and 4, the Xbox 360, Android devices, iOS devices, the Kindle Fire, and Roku 2 and Roku 3 devices, and will launch with every WWF/WWE, NWA/WCW and ECW pay-per-view streamable at launch (except for four PPVs that WCW promoted jointly with New Japan Pro Wrestling).
We corralled Paste's resident wrestling expert, games editor Garrett Martin, and Robert Newsome, the editor of the wrestling fanzine The Atomic Elbow, to tell you what you should watch first on the WWE Network.
Robert Newsome
I'm going to be open about my biases right at the top: I am a WCW/NWA loyalist. I suppose there are good and maybe even great offerings on the WWE Network from the actual WWE (or WWF, if you're an old person like I am). I'll probably even get around to checking some of those out one day. Maybe. Like, if it snows again and I can't go outside for two or three days, or if I have to stay home sick from work. But given the choice (and from the looks of it, the WWE is giving us a lot of choices next Monday), here's what's streaming into my house first:
1. Starrcade '86: Night of the Sky Walkers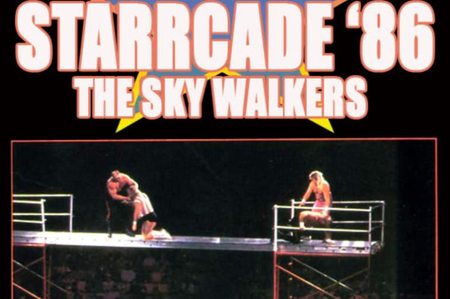 This is my favorite pay-per-view event of all time. 1986 was right in the middle of a period of transition for the National Wrestling Alliance. Wrestling was slowly evolving into the spectacle that it would become in the 1990s, and the card for Starrcade '86 reflects that change. Mixed in with wrestlers like The Road Warriors and Big Bubba Rogers (The Big Boss Man before he became The Big Boss Man) who would become stars in WCW (and WWF), the card also featured stars from the 1960s and '70s like Baron Von Raschke and Don Kernodle. This is also the event that featured the main event scaffold match that ruined Jim Cornette's knees forever.
2. WCW Uncensored 1995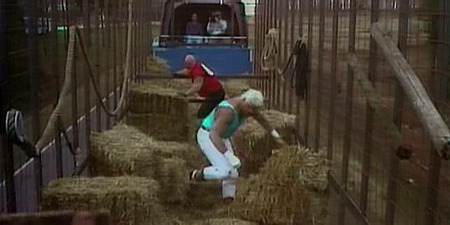 Uncensored eventually became just another WCW pay-per-view, airing every March from 1995 through 2000. (In 2001, the March pay-per-view was replaced with WCW's Greed, which was also the final WCW pay-per-view ever.) The inaugural Uncensored was truly something special, though. It is quite possibly one of the weirdest, dumbest and funniest things ever to air on television. Among repeated reminders from the broadcast team that all of the matches aired were "unsanctioned" (never mind the heavy WCW branding all over the place), viewers were treated to a "concession stand" brawl between The Nasty Boys and Harlem Heat (taking place in the most fake-looking concession stand set ever built), Randy Savage winning a "no disqualification" match over Avalanche by disqualification (yes, really), and "Hacksaw" Jim Duggan in a martial arts match. This is also the pay-per-view that's responsible for eventually giving the world Goldust, as Dustin Rhodes (along with his opponent, the Blacktop Bully) was fired for violating WCW's "no bleeding" policy in his "King of the Road" match, which was a wrestling match that took place inside a hay-filled cage on the trailer of an 18-wheeler as it drove around what we were told was Tupelo, Mississippi. (It was actually suburban Atlanta.) "Uncensored," indeed!
3. Starrcade '83: A Flair for the Gold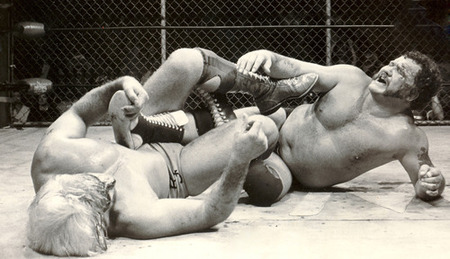 Ever wonder where the WWF got the idea for WrestleMania? Probably from Starrcade. I'm sure you could point to other "supercards" in wrestling history that may have given them the idea, but Starrcade, "the Grandaddy of 'em All", was the nationwide proof of concept that the whole wrestling super show idea could take off on closed circuit TV (and, later, pay-per-view). The first Starrcade also benefits from being really, really good. I could write a bunch of words about how much I love that Charlie Brown vs. The Great Kabuki match, but you know we're all in it to see Ric Flair try to win his NWA Heavyweight title back from that dastardly Harley Race. Will he succeed? You'll find out on February 24th.
4. Bash at the Beach 1996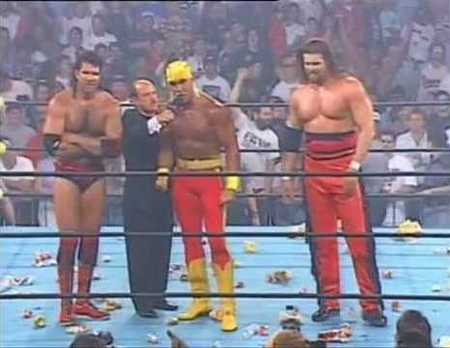 This is the one that quite literally changed the face of history. The Outsiders (Scott Hall and Kevin Nash) had been terrorizing WCW for weeks, and promising that their "mystery partner" would be revealed at the Bash. But before we could find out who it was (it was Hulk Hogan… sorry for the 18-year-old spoiler) we got to sit through some pretty good mid-'90s WCW undercard matches and also something called a "Carson City Silver Dollar Match." This one's forever etched into my brain because of Tony Schiavone's final words to the viewer as Hulk Hogan stands in the ring, taunting the crowd after having turned his back on WCW. "Hulk Hogan," says Schiavone, "you can go to hell."
5. Chi-Town Rumble 1989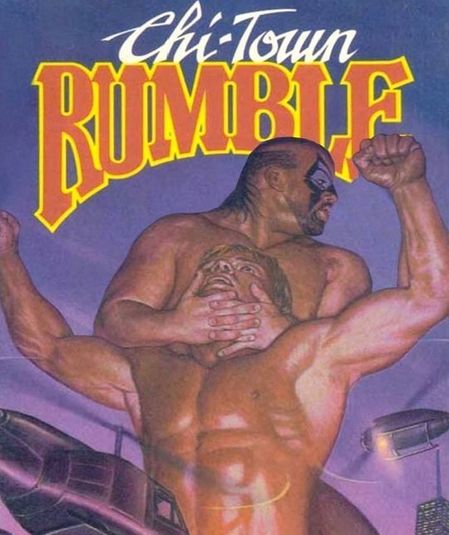 You know how annoying old wrestling fans won't shut up about how great Ric Flair and Ricky Steamboat's feud from 1989 was? That's because no matter how great they make it sound, the truth is that it was actually even better. Chi-Town Rumble is not a great pay-per-view. It's okay, I guess. But the main event is the first of the "Flair/Steamboat Trilogy," and that makes this one required viewing. The second and third matches of this series are from Clash of the Champions VI and WrestleWar 1989: Music City Showdown. The WrestleWar show is on the list of events that will be available on the WWE Network, but none of the Clash of the Champions appear there, so you'll have to wait for more content to be added before you can watch all three matches. (Luckily, there's plenty of other stuff to watch while you wait.)
Next: Newsome tags out to Garrett Martin, who looks at the best Royal Rumble, the last great WarGames match and the most brutal WWE match of 2012.
Garrett Martin
Maybe we should've gotten more variety here. Like Robert I am primarily an NWA/WCW fan. That's what happens when you grow up in Florida and Georgia in the 1980s. But I am a bit more open to Vince McMahon's particular brand of pro graps than my esteemed colleague, so instead of just giving you five more southern-style classics to stream, I'll willingly wade through the WWE's backwaters and dredge up some gold. And since we don't yet know exactly what old television shows will be available when the Network launches, I can't recommend what I really wanted to, anyway, which is the NWA's entire year of 1989, from Ricky Steamboat's surprise return on a January episode of World Championship Wrestling on the Superstation, to the round-robin tournaments that wound down the year at Starrcade '89 (mostly notable because a young me witnessed it live and in person at the Omni in Atlanta, Ga.).
Anyway, watch the following as soon as you can:
6. Royal Rumble 1992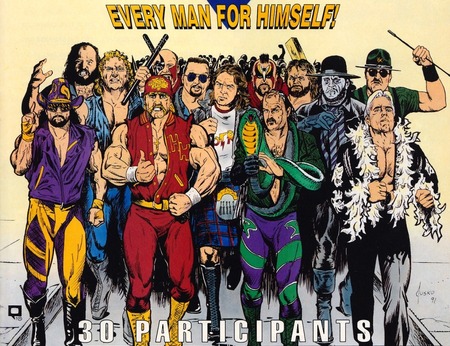 With a tear in my eye, I listened to Ric Flair win 1992's Royal Rumble match through the distorted pay-per-view squiggle vision of my uncle's cable box. This is the best edition of the WWE's best gimmick match. Living legend and NWA/WCW stalwart Ric Flair wins his first WWF World Heavyweight title after spending almost an hour in the ring, despite 28 other wrestlers targeting him the entire time. Beyond Flair's superlative performance, this match also sees Bobby "the Brain" Heenan and Gorilla Monsoon at peak form on commentary. This is the definitive Royal Rumble match, Flair's definitive moment in the WWF/WWE, and perhaps Heenan's definitive moment on commentary. That's three of the best of all time running as well as they ever did on the same night. Watch it!
7. WrestleWar '92
Sting's Squadron vs. the Dangerous Alliance WarGames match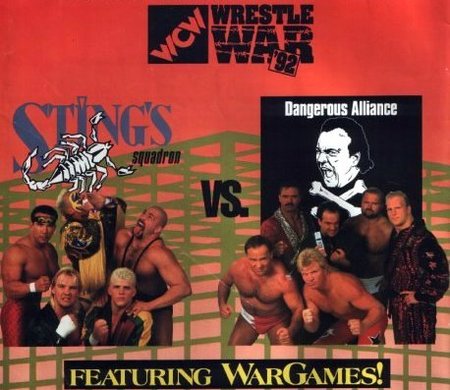 Notice I said that the Royal Rumble was only the best WWE gimmick match. WarGames, the brutal two-ring caged bloodbath that Dusty Rhodes created for the NWA in 1987, is the greatest gimmick match in wrestling history. It's the ultimate way to blow off a feud, with two teams destroying each other until one man submits or is rendered unconscious. It's synonymous with the Four Horsemen, Ric Flair's legendary gang of villains from the '80s, but a personal favorite WarGames match featured a different heel stable in 1992. With his Dangerous Alliance, manager Paul E. Dangerously (aka Paul Heyman) assembled the best collection of talent of any wrestling stable since the Horsemen at their peak. They ran roughshod throughout WCW from late 1991 through WrestleWar '92, with Rick Rude holding the U.S. title, Stunning Steve Austin holding the TV title, and Arn Anderson sharing the WCW World Tag Team titles with Larry Zbysko and Beautiful Bobby Eaton over two different reigns. Their epic feuds with Sting and various babyfaces kept me watching WCW after I had given up on the more cartoonish WWF just a few weeks after Royal Rumble 1992. Sting's Squadron is an equally talented team, with the all-time great Ricky Steamboat, a still-motivated Barry Windham, a young Dustin Rhodes and Nikita Koloff in one of his last major matches. Although the outcome is never in doubt (heels rarely win WarGames), the action is as fast-paced and brutal as you'd expect. It's a perfect conclusion to the Dangerous Alliance storyline, and the last great WarGames match.
8. ECW One Night Stand 2005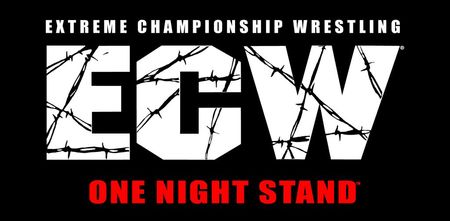 Yes, every official ECW pay-per-view will be available on the network. Very few of them are worth watching, though, outside of nostalgia. So you might as well take in the blatant nostalgia of WWE's 2005 reunion show, which successfully recaptures the atmosphere of the original ECW. It's missing some vital bits of ECW color—there's no horrible New Jack garbage brawl, and Raven might be the only wrestler this side of Jeff Jarrett who will never get a job from Vince McMahon again—but there are a few fine matches (including Chris Jericho vs. Lance Storm and Chris Benoit vs. Eddie Guerrero), the last match in an infamously brutal career-spanning series between Mike Awesome and Masato Tanaka, and an entertaining show-length angle between the ECW stalwarts and WWE "invaders" that ends in the always welcome physical devastation of Eric Bischoff. Most importantly, it has one of the most passionate and enjoyable audiences of any wrestling show in memory. It's basically wrestling catharsis, with 2500 fans in the Hammerstein Ballroom venting their frustration at the WWE and exalting not just in the return of ECW but the return of a legitimate alternative to the WWE's stolid and risk-averse approach to wrestling, even if just for one night. Every subsequent ECW reunion has felt unnecessary.
9. Extreme Rules 2012
Brock Lesnar vs. John Cena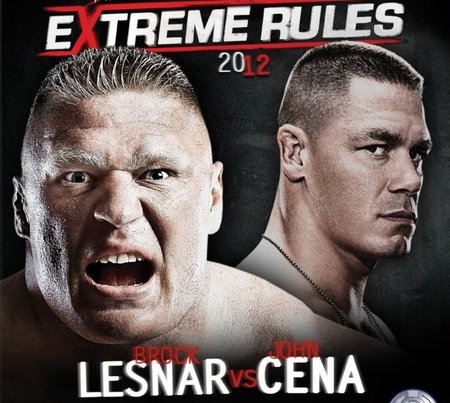 This isn't the best WWE match of 2012. (Hey there, Daniel Bryan and CM Punk.) It's actually really frustrating in the end, with a misguided finish. (The wrong man wins.) But for twenty or so minutes, Brock Lesnar systematically brutalizes John Cena in a way we rarely see today in the WWE. This bloody brawl is a throwback to when wrestling still tried to feel real, before the industry broke its primary rule and let everybody know it was scripted. It's not just easy to suspend disbelief when watching this match—it's hard not to. It's unusual to see anybody take this much punishment in a WWE match today, especially the odds-overcoming superhero John Cena. It's also unusual to see Cena play the babyface-in-peril for such an extended period of time. It's a commanding return for Brock Lesnar after 8 years away from pro wrestling, and shows a new side of John Cena's character. Too bad that character development is undone on Raw the next night, when Cena blows off the beating he took and goes right back to the smirking jock making bad jokes for middle schoolers.
10. NXT 8/21/2013
Antonio Cesaro vs. Sami Zayn, 2 out of 3 falls match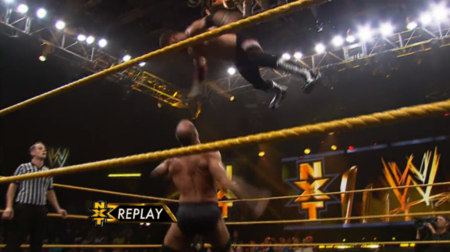 Watch this match to see the future of the WWE. Cesaro's been wowing WWE crowds for over a year, first with his strength and more recently with his giant swing. Sami Zayn, who was one of the biggest stars on the independent circuit under the name El Generico, is a virtuosic wrestler and born underdog. They've had a handful of fantastic matches on NXT, WWE's minor league program that was previously only available through Hulu Plus, and the best of the lot is this two-out-of-three falls match from last August. It's a classic big man/little man match, with Cesaro's power arsenal gradually overcoming Zayn's speed. Zayn has all the skills needed to be the next Daniel Bryan, and a renewed feud with the ascendant Cesaro would be a great way to introduce him to the WWE's main audience. Old episodes of NXT may not be available on the Network at launch, but when this episode is added, watch this match immediately. The new season of NXT will debut on the Network on March 6, and will probably be worth watching. NXT has the charm of the old regional wrestling shows that used to air on TBS and UHF stations across America in the 1980s. Current stars like the Shield and the Wyatt Family adjusted to their new gimmicks and learned the WWE style of wrestling in NXT, and the next wave of stars will get their WWE start on the show as well.
Garrett Martin is Paste's games editor. He was at the Omni when Dr. Death Steve Williams and Terry "Bam Bam" Gordy beat the Steiner Brothers for the WCW World Tag Team Championship.
Robert Newsome is the editor and publisher of The Atomic Elbow, a quarterly professional wrestling fanzine based in Athens, Georgia. More information can be found online here.