Here Are Your 2018 Oscar Nominees
The Shape of Water did swimmingly, reeling in 13 nods
Photo via Fox Searchlight Pictures
Movies
News
Oscars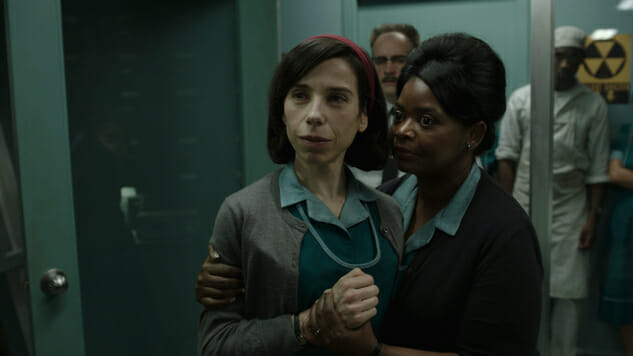 Nominations for the 90th Academy Awards were unveiled on Tuesday morning, recognizing an outstanding year in film. Girls Trip breakout star Tiffany Haddish and master of mo-cap Andy Serkis revealed the nominees live at The Academy's Samuel Goldwyn Theater in Los Angeles.
Guillermo del Toro's The Shape of Water leads the pack with a whopping 13 nominations, including nods for best picture, Sally Hawkins in the lead actress category and Octavia Spencer in supporting, del Toro in the best director and original screenplay categories, and in a particularly pleasant surprise, Richard Jenkins sneaking into the supporting actor category.
Meanwhile, Paste's movie of the year, Get Out, received four nominations, including the big nod for best picture, as well as honors for writer-director Jordan Peele's directing and original screenplay, and star Daniel Kaluuya's lead performance. Safe to say Peele was pleased about this well-deserved development:
I just spoke to Daniel. You know when you're on the phone trying to disguise the sound of an ugly cry? I failed at that.

— Jordan Peele (@JordanPeele) January 23, 2018
Christopher Nolan's Dunkirk received eight nominations, showing up time and time again in the awards' technical categories, while also landing among the nominees for best picture and best director—shockingly, it's Nolan's first Oscar nomination for directing. Martin McDonagh's Three Billboards Outside Ebbing, Missouri was similarly omnipresent, with seven nods overall, including two in one category: Woody Harrelson and Sam Rockwell were each nominated for best supporting actor.
In a history-making nomination, Rachel Morrison today becomes the the first female director of photography ever to be nominated for a cinematography Oscar, this in recognition of her work on Netflix's Mudbound. Mudbound also received nods for best supporting actress, adapted screenplay and best original song.
Also noteworthy is a best supporting actor nod for Christopher Plummer, who replaced Kevin Spacey in Ridley Scott's All the Money in the World. Plummer's turn as J. Paul Getty was shot on an incredibly tight turnaround after Spacey was accused of sexual misconduct and cut from the film, and the actor's last-minute heroics clearly have not gone unappreciated.
The Boss Baby was nominated for an Oscar, too. We don't have a joke for this.
You can watch the nomination announcements below and find the full list further down. Winners will be announced live on ABC on March 4, with second-time host Jimmy Kimmel.
Best Picture
Call Me By Your Name
Darkest Hour
Dunkirk
Get Out
Lady Bird
Phantom Thread
The Post
The Shape of Water
Three Billboards Outside Ebbing, Missouri
Lead Actor
Timothée Chalamet, Call Me By Your Name
Daniel Day-Lewis, Phantom Thread
Daniel Kaluuya, Get Out
Gary Oldman, Darkest Hour
Denzel Washington, Roman J. Israel, Esq.
Lead Actress
Sally Hawkins, The Shape of Water
Frances McDormand, Three Billboards Outside Ebbing, Missouri
Margot Robbie, I, Tonya
Saoirse Ronan, Lady Bird
Meryl Streep, The Post
Supporting Actress
Mary J. Blige, Mudbound
Allison Janney, I, Tonya
Lesley Manville, Phantom Thread
Laurie Metcalf, Lady Bird
Octavia Spencer, The Shape of Water
Supporting Actor
Willem Dafoe, The Florida Project
Woody Harrelson, Three Billboards Outside Ebbing, Missouri
Richard Jenkins, The Shape of Water
Christopher Plummer, All the Money in the World
Sam Rockwell, Three Billboards Outside Ebbing, Missouri
Director
Dunkirk, Christopher Nolan
Get Out, Jordan Peele
Lady Bird, Greta Gerwig
Phantom Thread, Paul Thomas Anderson
The Shape of Water, Guillermo Del Toro
Adapted Screenplay
Call Me By Your Name
The Disaster Artist
Logan
Molly's Game
Mudbound
Original Screenplay
The Big Sick
Get Out
Lady Bird
The Shape of Water
Three Billboards Outside Ebbing, Missouri
Animated Feature
The Boss Baby
The Breadwinner
Coco
Ferdinand
Loving Vincent
Animated Short
Dear Basketball
Garden Party
Lou
Negative Space
Revolting Rhymes
Foreign-Language Film
A Fantastic Woman
The Insult
Loveless
On Body and Soul
The Square
Documentary Short
Edith+Eddie
Heaven is a Traffic Jam on the 405
Heroin(e)
Knife Skills
Traffic Stop
Documentary Feature
Abacus: Small Enough to Jail
Faces Places
Icarus
Last Men in Aleppo
Strong Island
Original Song
"Mighty River," Mudbound
"Mystery of Love," Call Me By Your Name
"Remember Me," Coco
"Stand Up For Something," Marshall
"This Is Me," The Greatest Showman
Production Design
Beauty and the Beast
Blade Runner 2049
Darkest Hour
Dunkirk
The Shape of Water
Cinematography
Blade Runner 2049
Darkest Hour
Dunkirk
Mudbound
The Shape of Water
Costume Design
Beauty and the Beast
Darkest Hour
Phantom Thread
The Shape of Water
Victoria & Abdul
Sound Mixing
Baby Driver
Blade Runner 2049
Dunkirk
The Shape of Water
Star Wars: The Last Jedi
Sound Editing
Baby Driver
Blade Runner 2049
Dunkirk
The Shape of Water
Star Wars: The Last Jedi
Live Action Short
Dekalb Elementary
The 11 O'Clock
My Nephew Emmett
The Silent Child
Watu Wote / All of Us
Original Score
Dunkirk
Phantom Thread
The Shape of Water
Star Wars: The Last Jedi
Three Billboards Outside Ebbing, Missouri
Visual Effects
Blade Runner 2049
Guardians of the Galaxy, Vol. 2
Kong: Skull Island
Star Wars: The Last Jedi
War for the Planet of the Apes
Film Editing
Baby Driver
Dunkirk
I, Tonya
The Shape of Water
Three Billboards Outside Ebbing, Missouri
Makeup & Hairstyling
Darkest Hour
Victoria & Abdul
Wonder