I have the fondest of memories of my grade school lunch bag. In consideration of my love for magenta, my mom chose a rectangular, semi-squishy, insulated little magenta tote with a bright teal lining. At school pickup time, she could identify me by the magenta tote from a mile away—not to mention that it matched my neon outfits and hair scrunchies, of course. More importantly, I suppose, my little lunch bag kept her Korean potato salad, kimbap and sandwiches cool until lunchtime.
This year, my resolution has been to upgrade my picnic and work lunch containers—but this time, my motivation is environmentalism, not fashion. Companies are making reuse convenient and pretty with clever new products. Here are the five super-handy items to purchase when your work lunch goals include no-leak last night's soup, a still-crisp sandwich, and carbon credits.
1. A sandwich wrapper set
The market is flooded with reusable sandwich bags—but you're ahead of the curve with this dishwasher-safe set of one jumbo 14-inch wrap and two regular 13-inch wraps. Phthalate, PVC and BPA-free, these round beauties are folded around your sandwich and then velcroed closed. Throw your main sandwich in the jumbo wrap and your lettuce and tomato in the smaller wraps, and your sandwich will be crisp when you assemble it at work.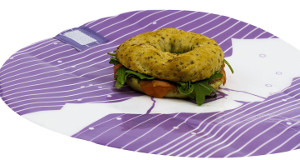 When it's time to eat, you unwrap and get an automatic placemat to protect against spills. The company, Wrapeat, also makes snack and tortilla wraps.
2. A container for liquids
You could juggle a soup bowl and a coffee thermos, or you could pick one trusty container that does both. If you work outdoors or a microwave is not readily available at your workplace, this container will be your new best friend. It's also great for keeping gazpacho and iced tea cold.
This 16-ounce Thermos container comes with a stainless steel folding spoon and has an easily fillable wide mouth for those rushed mornings, as well as a large lid to be used as a bowl. Spill-proof and stainless steel though it may be, don't put this one in the dishwasher.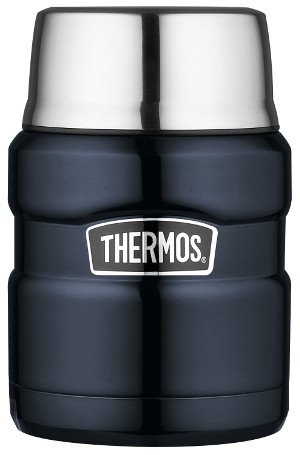 If you're looking more for a cup to keep your drink freezing cold, look no further than the Yeti.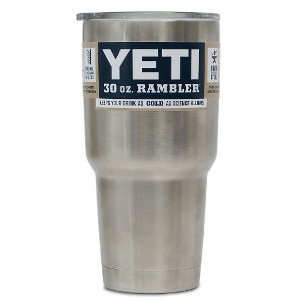 Looking for a reliable water bottle with an attached straw? CamelBaks extremely user-friendly and the straw flips open and closed easily.

3. Silverware and straws
I hated throwing away plastic flatware every day at my old job, so I searched for a silverware set that would contain a knife, fork, spoon and chopsticks. The Sistema Klipo Cutlery Set to Go has all of the above.

This camping cutlery set lacks chopsticks, but you could just buy your own reusable wooden chopsticks and pop them into the set. Try a pencil case or a makeup pouch if you already have cutlery you want to store at work.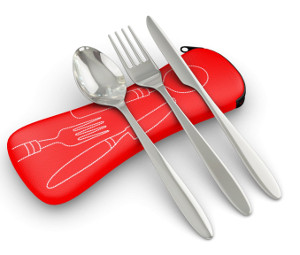 As far as a straw for your iced coffee or soda, why not get your own? These stainless steel straws don't have a discernible taste and even come with their own brush for cleaning.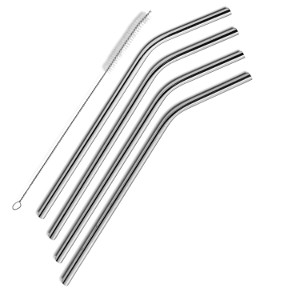 4. A proper lunch bag
Bulky lunch boxes are a thing of the past. Now it's all about the insulated lunch bag. Check out the highly-rated Rubbermaid and Freddie and Sebbie options, both of which feature shoulder straps. The Rubbermaid bag works with their LunchBlox stacking container system to allow for three levels of stacking containers.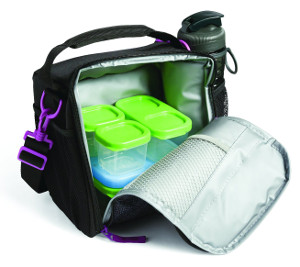 The Freddie and Sebbie bag has the advantage of two side pockets for drink containers.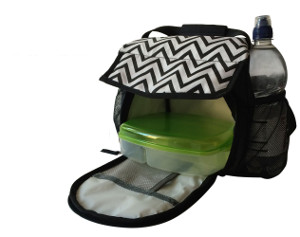 5. A leakproof set of lunch containers for salads, stir-fries, and stews
This Komax set of three lunch containers has removable, adjustable compartments, allowing you to designate different sized compartments. They're also leak-proof, freezer, microwave and dishwasher safe, transparent and BPA-free.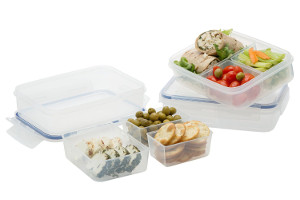 If you buy the Rubbermaid LunchBlox bag, you may want to look into buying LunchBlox fit the bag perfectly.