6 Reasons Baltimore is Still Charm City
Photo below via Getty by Andrew Burton/Staff
Travel
Lists
Baltimore
There's been a lot of press surrounding Baltimore these past few weeks, and those who have never visited the city might be hesitant to make a trip in the near future. That's unfortunate, because despite recent events, Baltimore still has a lot to offer.
Traditionally dubbed "Charm City," Baltimore is comprised of small, distinct neighborhoods a mere stone's throw away from the nation's capital, with enough food and entertainment options to satisfy visitors of all ages.
Founded in 1729, Baltimore is the largest city in the state of Maryland and second largest seaport in the Mid-Atlantic. It was a hub for manufacturing and industry, and there is no shortage of architectural remnants from that time. In fact, many homes in Baltimore boast unique features such as brick walls, high ceilings and exposed plumbing. It's all part of the charm.
No matter the setbacks, Baltimore still deserves its nickname. We dare to you try to resist its charm.
1. World-Class Attractions
Baltimore is a city with world-class amenities and attractions, rivaling those of any other U.S. city. Catch a show at the Joseph Meyerhoff Symphony Hall or explore the latest exhibit at the National Aquarium, which draws in visitors from all over the world and has events day and night. And if you ever plan to attend an event ending in "con," there's a good chance it will be at the Baltimore Convention Center.
2. Unique Neighborhoods
Baltimore is often referred to as a city of neighborhoods. From Charles Village to Ridgely's Delight and Canton, there is no shortage of charm in each of these little pockets of Baltimore City. Fells Point is one area of particular interest as you can still walk the original cobblestone streets. Visitors can easily take a water taxi to access the neighborhood from the Inner Harbor. Hungry? Enjoy an all-natural selection at Pitango Gelato, the perfect afternoon treat. It's also not uncommon to take a stroll through Mount Vernon and see the filming of shows such as Veep and House of Cards.
3. Amazing Food
Baltimore has a variety of gastro pubs famous for their innovative creations. The Brewer's Art is a great place to discover unique dishes such as Lamb Neck Osso Buco with butterkäse farina, sautéed watercress and soffritto, or Grilled Kassler Rippchen—house cured ham steak with warm German potato salad, pea shoots and mustard Béarnaise. Wash it down with beer that they brew themselves. You won't regret getting the Resurrection, a brown ale that's become a Baltimore staple.
A trip to Baltimore also wouldn't be complete without one of Maryland's legendary crab cakes, so park yourself at Faidley's and order their crab cakes, which are bigger than a fist. If it's full-on crab feasting that you're after, Obrycki's offers a brown-bag-like tablecloth and mallet with a traditional crab shack feel and a hefty menu of distinct crab cakes, the their spicy deviled variation.
4. Loyal Sports Fans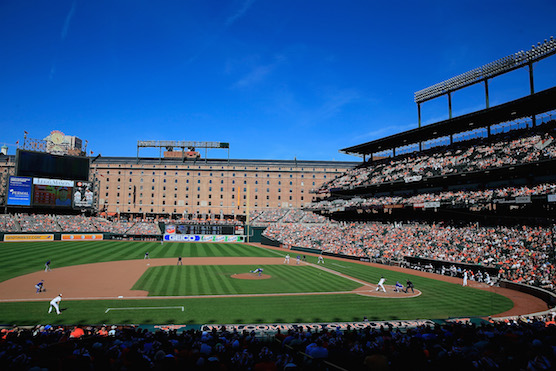 Photo via Getty by Rob Carr/Staff
Baltimore sports fan are, in one word, loyal. City residents turn out in throngs for Orioles and Ravens games. Camden Yards, commonly associated with all-time great Babe Ruth, hosts games throughout the year at Orioles Park. Meanwhile, the M&T Bank Stadium, home to the Baltimore Ravens, seats over 70,000 fans and hosts events year-round, in addition to the much-anticipated Ravens home games.
5. Robust Arts Scene
If your tastes in art are more refined, stop by the Walters Art Museum, which boasts a collection of world art from pre-dynastic Egypt to 20th-century Europe. For a more diverse experience, you never know what you'll find at the American Visionary Museum, featuring mosaic murals and events such as a kinetic sculpture race. Want an offbeat playhouse to soothe the hipster in you? Check out Single Carrot Theatre in Charles Village. And don't forget, Baltimore is home to Artscape, the largest annual free arts festival in the nation, attracting over 350,000 visitors over three days and shutting down the streets of Baltimore. This year, the festival starts July 17, 2015.
6. Rich History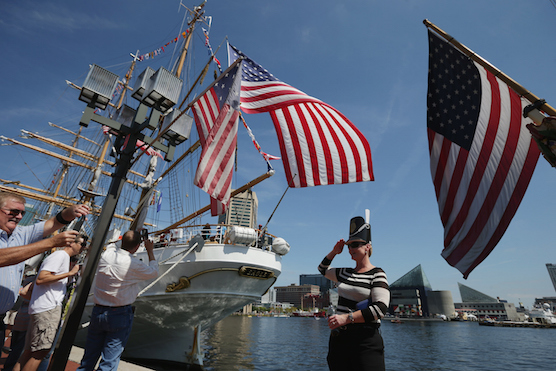 Photo via Getty by Chip Somodevilla/Staff
Speaking of sports, be sure to check out Babe Ruth's birthplace if you're an enthusiast. Otherwise, if you're into American history, stop by Fort McHenry, featuring stunning views of the Baltimore Harbor. Fort McHenry protected Baltimore during the War of 1812 and inspired Francis Scott Key to write the Star Spangled Banner. While you're by the water, stop by the USS Constellation, an all-sail warship built by the U.S. Navy in 1854 and the last Civil War vessel afloat. For those who have an affinity for trains, make a stop at the B&O Railroad Museum to learn why Baltimore is regarded as the birthplace of the American railroad.