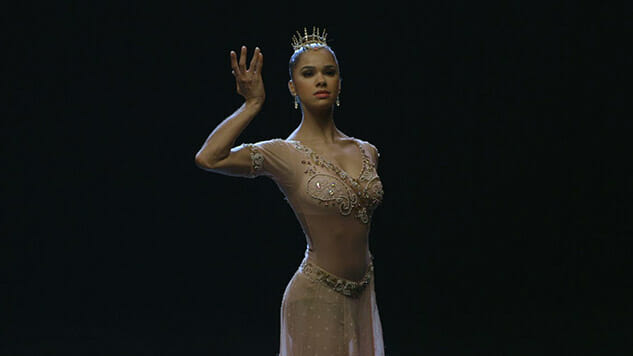 It's easy to forget when watching any ballet performance how such effortless movement and motion came to be: Hours upon hours fall behind every curtain rise. The same goes for Nelson George's new documentary, A Ballerina's Tale. Gone are the thousands of moments that led to dancer Misty Copeland's moment in the spotlight at the American Ballet Theatre—what remains on the stage is only her performance in front of an enraptured audience. But what sets A Ballerina's Tale, hers, apart from those of the background corps of lily white and willow wisp bodies before her are the monumental barriers now crumbling at the toe of Copeland's ballet slippers.
The movie follows Copeland on stage and off during an unprecedented chapter in ballet history. She's not only one of the few African American dancers to land a spot in one of the ballet world's most coveted rosters, she's ABT's first African American principal. From her beginnings in an after school program, at an age well past the prime for learning how to bind her toes and sew on the laces of her first pair of pointe shoes, to conquering judgments about her skin and body type, her story is a remarkable one.
And telling her story within the context of her impact on the art of the fans of ballet is where A Ballerina's Tale soars. There are a few scenes in the ABT lobby at the ritzy Lincoln Center, where throngs of eager young fans in poofy dresses and older women in cardigans alike greet the ballerina with ecstatic (for some, tearful) aplomb. If she wasn't the first black ballerina they'd seen in these hallowed halls, too much time has passed to even remember.
But it's not all rosy photo-ops in A Ballerina's Tale. A good portion of the documentary follows Copeland as she overcomes a near-career ending injury just as her company was promoting her. It's a reminder of the uncountable minutes she's poured into her career that now hinged on a hairline fracture. The fragility of our superhero lay bare as she was forced to pull over from the fast track. They're ones who are never supposed to feel pain as they pirouette en pointe, but as we have already seen, Copeland carries with her so much more than just her own weight.
Sadly, little of Copeland's on-stage performances are actually to be seen after all the time the film takes to build up to them. A Ballerina's Tale also struggles to get past constant adoration to get to know Copeland the human being. The moments we do get are real gems, such as when the world-famous ballerina strolls through Central Park with a camera, unbothered, confessing her concerns about her promising future. Another is when she unabashedly enjoys a donut—perhaps another never-before-seen moment in ballet history.
The typical hero's journey makes myths out of mortals, but it's misplaced here. Part of Misty Copeland's appeal is that she is so relatable: She doesn't look like the standard Balanchine ballerina. Still, she has dance left in her, and an outspoken activist streak that can speak to the work that needs to be done in the upper echelons of dance. She is poised to hold onto that spotlight for much longer, and yet, A Ballerina's Tale wants so badly to hoist her into the hall of fame prematurely. There are so many more ballerina tales to tell.
---
Director: Nelson George
Cast: Misty Copeland, Deirdre Kelly, Susan Fales-Hill
Release Date: October 14, 2015
Monica Castillo is a freelance film critic and writer based in Los Angeles. You can usually find her outside of a movie theater excitedly talking about the film she just saw or on Twitter.