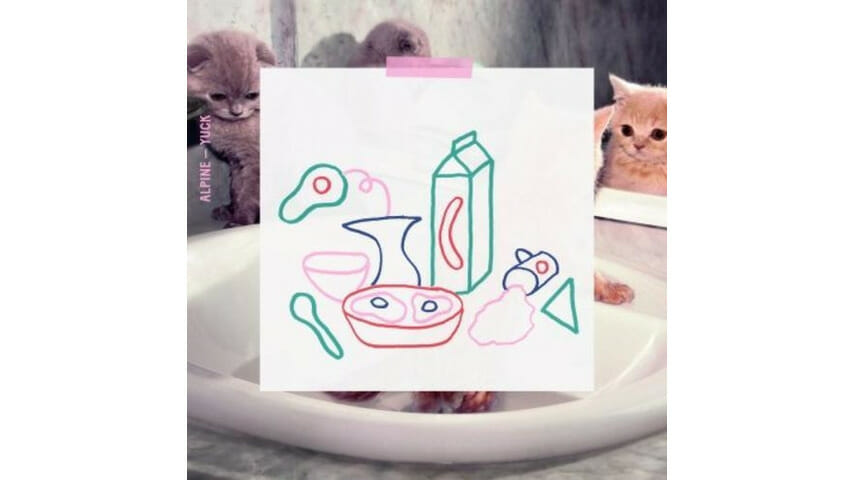 Australian pop group Alpine has a knack for guitar-driven hooks and harmonic vocal melodies with just a touch of synth sprinkled in. Where 2012's debut LP A Is For Alpine was nothing short of brilliant, Yuck sees the band exploring new pop territories that don't have the same consistent immediacy, but still come with a number of bright spots.
Yuck peaks early. The single "Foolish" accomplishes exactly what good pop songwriting should: sheer repeatability and a feeling of delight on every listen. But these same qualities are what could end up rendering it the next "song you hear while shopping at Nordstrom's." The formula works well, but it's lyrically minimal and a stitching of simple pop elements.
"Crunches" on the other hand, sounds like it could have slotted nicely among the best tracks on A Is For Alpine. It's everything there is to love about Alpine—singers Phoebe Baker and Lou James trading innocently chic shots on the mic and creating lovely sprinkled harmonies that guitarist Christian O'Brien layers throughout the song with a delectable guitar hook. It's a song that should dominate airwaves like singles from fellow Aussie poppers Atlas Genius and Van She.
The further exploration of the band's new iteration begins on "Shot Fox" with a synth wave that sounds like it came out of an addicting videogame soundtrack. O'Brien's production shines again as he finds creative ways to incorporate the band's many elements, yet still keep Baker and James at the forefront, the grandeur of which is only surpassed by the circus bass beat on "Standing Not Stepping," which in the end is merely the pulse for a well-developed pop sonata.
Some of Yuck seems destined to end up as cocktail-lounge fodder. I can just picture the fancy dresses sipping cosmos and sport coat-clad techies with their scotch on the rocks, patio dining as "Damn Baby" emanates from the fancy outdoor speaker setup, or well-to-dos nibbling on tapas as "Jellyfish" breezes through the room.
While sometimes verses sputter before leading into more elegant hooks, this seems like a give-and-take concession of Alpine's musings. Ultimately, Yuck is more pop balladry that successfully distances itself from the seemingly defunct Aussie synth-pop movement, and that serves them well. The best songs are guitar-driven, and Christian O'Brien is proficient in his sonic diversification. It's when Alpine goes away from the guitar hooks, like on album closer "Need Not Be" (the horns of which sound like they were plucked from Kindness' "World Restart") that they struggle to find the cohesion of "Crunches," making it hard for the A Is For Alpine revelers to be completely satisfied with Yuck.