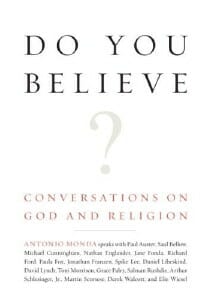 Italian cultural critic Antonio Monda is an unapologetic believer in the divinity of Christ. But this fundamental faith does not draw the curtains over his sense of curiosity, as it seems to do for many believers who feel threatened by the world's constant carbonation of events, doubts and dogmas.
Monda poses the ultimate question—does God exist?—to a gifted group of cultural ?gures. We view a full spectrum of convictions, from unbelievers like the late Grace Paley and Salman Rushdie, to the Doubting Thomas (Derek Walcott), to the full-blown faithful (Elie Wiesel).
The surprises? Daniel Libeskind, the architect, thrillingly links spirituality to art in one beautiful conversation. Jane Fonda ?nds the ?rst feminism in the teachings of Christ. And David Lynch, the ?lmmaker notoriously obsessed with violence and paranoia, turns out to be a believer who sees spirituality in the movie Groundhog Day and observes the teachings of transcendental meditation guru Maharishi Mahesh Yogi.