Beating the Meat: Toronto's 5 Best Veggie Burgers
Photos by Signe Langford
Food
Lists
Vegetarian
Industrial meat production is bad for the environment (and us), but we're hooked on burgers. Americans gobble up about 50 billion burgers each year, that's about three per person per week, while Canadians average one burger per person per week. That's a lot of cow flesh. So we took to the streets of Toronto for meatless burgers that could fool—or at least, satisfy—even the most committed of carnivores. We weren't in it for the fiber or virtue; no, we were on the hunt for juicy, flavorful, umami-packed naughtiness, and we found it. So, until we can all sink our canines into the high-tech Impossible Burger, here are our top five picks for fabulous faux-beefy greatness:
1. Inferno Veggie Burger (OL), Great Burger Kitchen
1056 Gerrard St., E.
It's a fire n' ice kinda love. Piled on top of a grilled, house-made black bean and quinoa patty, a pile of pickled hot peppers and slatherings of sriracha mayo supply the fire, while slabs of creamy melted brie, crunchy iceberg lettuce, tomato and guacamole put that fire out … all on a sesame seed bun, as the jingle goes. Not bad for $7.25.
2. The House Burger (V), Public Kitchen
561 Marlee Ave.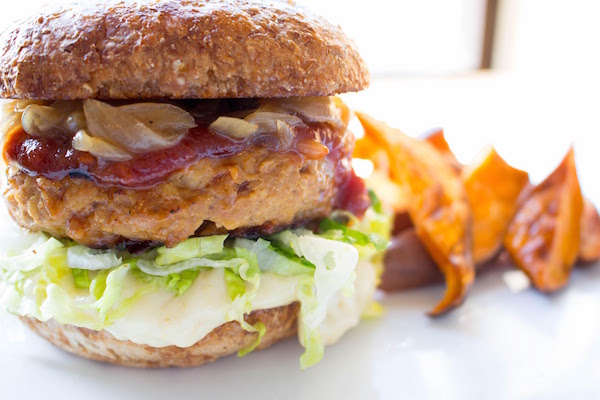 Photo courtesy of Public Kitchen
Tell us lies, sweet little lies. From reformed carnivore, chef and vegan cookbook author Doug McNish, this house-made mushroom and tempeh patty is slathered in a creamy, garlicy flax oil aioli, maple chipotle barbecue sauce, caramelized onions dill pickles and lettuce on either a sprouted grain or gluten-free bun. $19 with salad or roasted sweet potato wedges.
3. The Veggie (OL or V), Completo
5 Coady Ave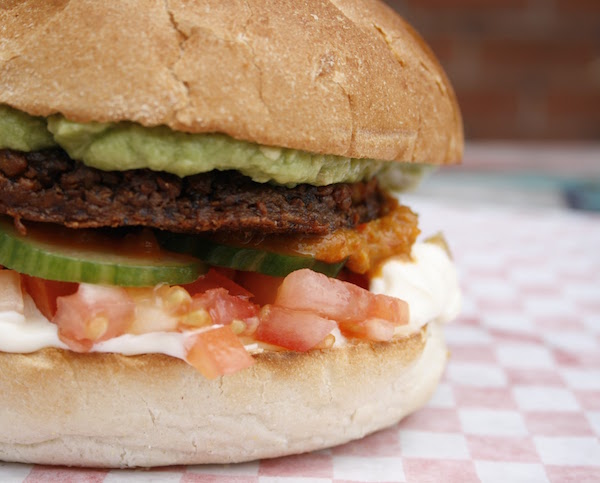 Photo by Signe Langford
Take evilly good fast food—hot dogs, burgers, deep-fried things—and season with Latin American flavors. This burger is housemade from black beans and chickpeas, and to cut back on the righteousness, it's deep-fried to crunchy goodness; with real mayo or veganaise, tomato, avocado, house hot sauce, roasted red pepper sauce and sunflower sprouts on a toasted bun. $8
4. Big Mac Daddy (V), Doomie's
1263 Queen St. W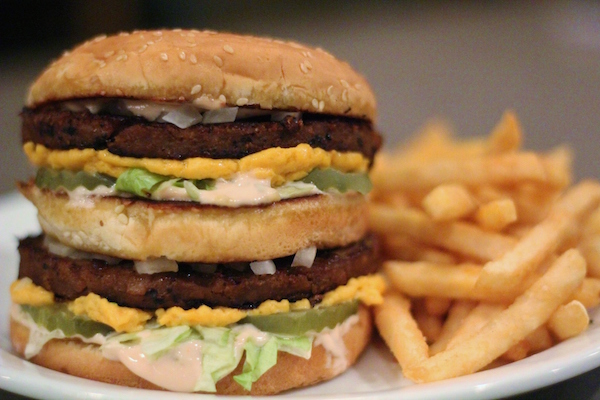 Photo courtesy of Doomie's
Yes, there is a Classic Burger ($12) on the menu—also vegan—but it's the copyright-infringing, ordered-off-the-menu sandwich you're after here. A Toronto offshoot of a wildly popular Los Angeles vegan burger shack, Doomie's is always jam-packed with junk food-craving vegans, scarfing down deep-fried just about everything. This huge and naughty knockoff comes with two patties, shredded lettuce, pickles, onions, faux cheese and secret sauce and it's a juicy, drippy, delicious mess. $16 with fries.
5. Double Veggie Burger (V) , Slab Burgers
47 Charles St. W.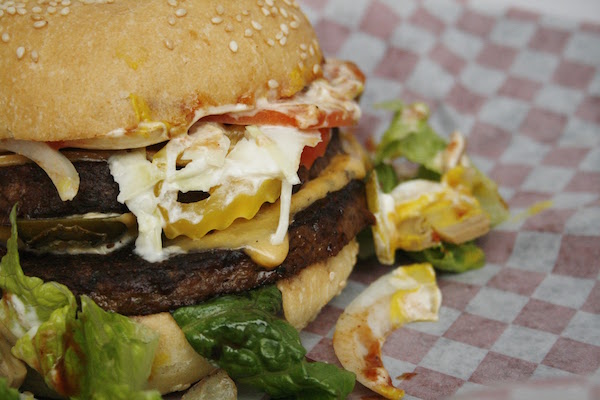 Photo by Signe Langford
Sure, the two patties are fine, but there's more than 20 free extras, toppings and sauces offered here, including—wait for it—vegan gravy, you know, for the poutine. Anyway, this thing is so loaded it's structurally unsound. Wear a bib. $9.99