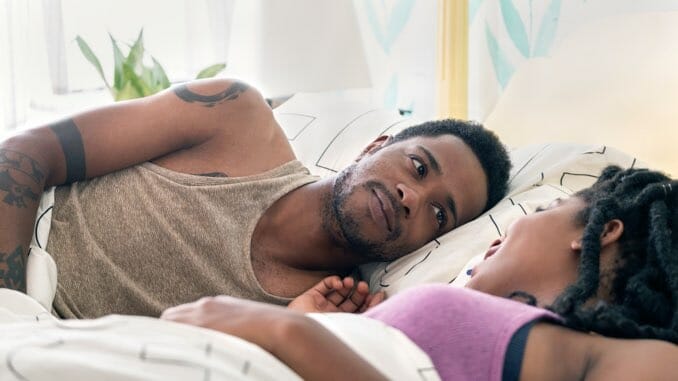 Netflix has made a priority of producing its own original romantic comedies and continues to acquire its share of others. So if you're going to #netflixandchill with that special someone or just dream about someone with whom you can snuggle up on the couch and watch movies, then these 20 rom-coms are ready and waiting for you. They'll make you laugh, might make you tear up, and will certainly have you rooting for love to win the day in its epic, underdog struggle with loneliness and disconnection. From classic '80s romantic comedies to brand-new spins on a genre as old as film, from Hollywood to Bollywood, there's something here for every taste. Budding relationships will be in jeopardy due to unfortunate miscommunication. The hearts of many former bland/cheating/douchebag boyfriends/fiancés will be broken. And there will be mad dashes to the airport. Are you prepared? Pick a movie, make some popcorn, pour a cheap glass of wine and grab the Kleenexes.
Here are the 20 best romantic comedies on Netflix:
---
1. She's Gotta Have It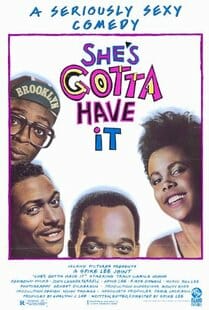 Year: 1986
Director: Spike Lee
Stars: Tracy Camila Johns, Spike Lee, John Canada Terrell, Tommy Redmond Hicks
Rating: R


An explosively frank feature debut that immediately announced Lee's brave, fresh new voice in American cinema, She's Gotta Have It, shot like a documentary, is a levelheaded exploration of a young black woman named Nola (Tracy Camilla Johns) trying to decide between her three male lovers, while also flirting with her apparent bisexuality, in order to, first and foremost, figure out what makes her happy. What's refreshing about the film is that Lee always brings up the possibility that "none of the above" is a perfectly viable answer for both Nola and for single women—a game changer in 1986. The DIY indie grainy black-and-white cinematography boosts the film's in-your-face realism. —Oktay Ege Kozak
---
2. When Harry Met Sally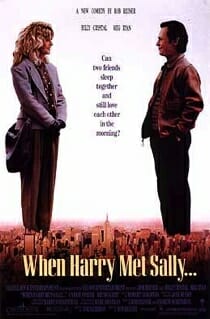 Year: 1989
Director: Rob Reiner
Stars: Billy Crystal, Meg Ryan, Carrie Fisher, Bruno Kirby
Rating: R


Easily the most beloved romantic comedy of its decade, the story of Harry (Billy Crystal), Sally (Meg Ryan) and their 12-year journey to couple-hood boasts a solid script by Nora Ephron that feeds and feeds off of the unexpected chemistry between its leads. (And with each new generation of lovers watching the diner scene for the first time, another woman laughs and another man sits silently, wondering what's so funny.) —Michael Burgin
---
3. Always Be My Maybe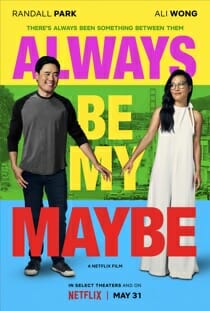 Year: 2019
Director: Nahnatchka Khan
Stars: Ali Wong, Randall Park, Keanu Reeves, Michelle Buteau, Vivian Bang, Karan Soni
Rating: PG-13


A film written by and starring Ali Wong and Randall Park was always guaranteed to be a home run, but the endlessly funny and charming Always Be My Maybe truly exceeds all romcom expectations. The duo (who penned the script with Michael Golamco) play childhood friends who lose touch after an impulsive teenage romance ends badly. From there, Wong's Sasha becomes a celebrity chef as Park's Marcus continues to live at home and work for his father's blue collar business after his mother's tragic passing. They each have things to learn from one another, sure, but Always Be My Maybe doesn't just end when romance blossoms; it leans into the complications of two adults with independent lives choosing to be together and figuring out how to make it all work. Part of that, crucially, includes both Marcus and Sasha playing supportive roles in one another's careers rather than compromising and giving up their passions to be together. Director Nahnatchka Khan keeps the stylish film moving at a pleasant comedic clip throughout, and there's a killer cameo appearance you will not want spoiled before you see the movie. Seriously, you should watch it right now. —Allison Keene
---
4. Bridget Jones's Diary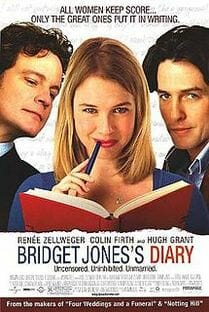 Year: 2001
Director: Sharon Maguire
Stars: Renée Zellweger, Hugh Grant, Colin Firth
Rating: R
Diehard fans of Helen Fielding's 1996 novel may have been initially miffed at the casting of Renée Zellweger, but she was crucial to the success of Bridget Jones' Diary, and now it's hard to imagine anyone else in the role. She's boundlessly charming as Bridget Jones, gaining 20 pounds to play the British singleton who falls for Hugh Grant and (eventually) Colin Firth. From her appalling bad public speeches to lip-synching sad FM songs in her pajamas, Zellweger carries the film on her (still slender) shoulders. —Jeremy Medina
---
5. The Incredible Jessica James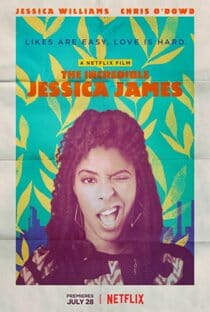 Year: 2017
Director: Jim Strouse
Stars: Jessica Williams, LaKeith Stanfield, Noël Wells, Taliyah Whitaker
Rating: NR


Jessica Williams plays Jessica James, a twenty-something theatre fanatic who's trying to get one of her plays produced while simultaneously dealing with a breakup. The ex? Damon, played by the equally wonderful Lakeith Stanfield (Atlanta, Short Term 12), who can't manage to stay out of Jessica's dreams. When she meets a new fling, played by the comically refreshing Chris O'Dowd, she begins to re-evaluate her love life while clinging to her life goals. When do you know you've made it? As lighthearted as the film can be, it's rooted in an exploration of the deeper questions that any artist, or person for that matter, grapples with. Williams is hilarious, which we all know from her time on The Daily Show. She's also incredibly powerful, showcasing a feminine strength that's so crucial to this generation and a passion for her craft that's the opposite of the indifference often associated with millennials. The film is perfect for a popcorn and beer night with the gals and guys. —Meredith Alloway
---
6. To All the Boys I've Loved Before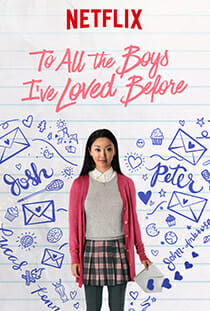 Year: 2018
Director: Susan Johnson
Stars: Lana Condor, Noah Centineo, Janel Parrish
Rating: NR


To All the Boys I've Loved Before, the teen scene's newest runaway hit, is a flat-out excellent film. It is not excellent "for a teen flick." It is not excellent "for a romantic comedy." It is excellent for a film. TATBILB fully inverts the 80/20 ratio: Within the first 20 minutes, all five of the deeply private love letters our daydreamy, emotionally buttoned-up protagonist Lara Jean (Lana Condor) has written to her childhood crushes over the years have been stolen and mailed out—including the one to her neighbor and best friend, Josh (Israel Broussard), who just happens to also be her older sister's just barely ex-boyfriend. This swift puncturing of any protracted emotional dishonesty Lara Jean might have hoped to indulge in, well, forever, leaves the film's final eighty minutes free for her to embrace some really radical emotional honesty. That TATBILB allows Lara Jean to accomplish this not in spite of but through the fanfic-favorite trope of "fake dating" another, less-risky letter recipient (Noah Centineo's ridiculously charming Peter Kavinsky) is a story strength. Of course, all the emotional honesty in the world wouldn't matter if TATBILB's leads didn't burn with chemistry. Fortunately, Lana Condor and Noah Centineo can get it. Condor and Centineo are undeniably the stars of the show, but TATBILB doesn't rest on their charismatic laurels: Mahoro as Lucas is a foxy ball of friendliness; Madeleine Arthur as Lara Jean's best (girl) friend, Chris, is just the wide-eyed punk weirdo she needs to be; Janel Parrish plays against type as the sweet and steel-spined Margot; Anna Cathcart steals every scene as Lara Jean's meddling little sis, Kitty; and John Corbett plays the healthily engaged version of Kat Stratford's single OBGYN dad with a discernible glee. The importance of Lara Jean and her sisters being half-Korean, and the majority of the cast (along with Mahoro) non-white, is hard to overstate, but it isn't the most impressive thing about the cast by a long shot. In a genre that can so often see its characters lean too far into caricature, Lara Jean's world is instead populated with teens—and through them, love—you can believe in. —Alexis Gunderson
---
7. Clueless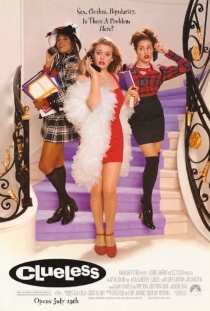 Year: 1995
Director: Amy Heckerling
Stars: Alicia Silverstone, Stacey Dash, Brittany Murphy, Paul Rudd, Dan Hedaya
Rating: PG-13
The Beverly Hills reboot of Jane Austen's classic Emma was a sleeper smash in 1995 and, much more importantly, gave the phrase "As if!" to pop culture. Alicia Silverstone is Cher, a pretty, vain, superficial LA teen who goes on a mission to turn ugly-duckling classmate Tai (Brittany Murphy) into a Superswan, only to find herself eclipsed and adrift. A soft-edged satire of nouveau-riche Angeleno culture and simultaneously of the teen rom-com genre, Clueless is neither the most subtle nor the most hard-hitting film of its era, but it's surprisingly seductive, in large part thanks to Amy Heckerling's scrupulously researched script, which captured a dialogue style that both represented and influenced teen-speak of the time. —Amy Glynn
---
8. The Half of It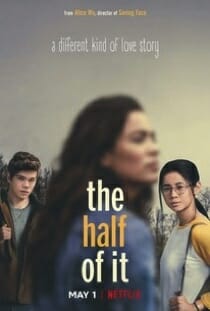 Year: 2020
Director: Alice Wu
Stars: Leah Lewis, Daniel Diemer, Alexxis Lemire
Rating: NR


Netflix's The Half of It begins somewhat deceptively, with a highly stylized animated retelling of an old Greek myth in which the four-armed, four-legged, two-headed humans of ancient times are sundered by the gods and wander about forever in search of the other half of their single heart. It ends with a scene between a boy and a girl, something that normally would come right out of a dopey rom-com, but in a way that subverts the trope on every level, from the inversion of its meaning to the quiet, intimate naturalism with which it is filmed. It's a fitting juxtaposition because the film sandwiched between the two moments is about the fallacies that drive our neat and tidy narratives about love. Love is messy is the point, one called out aloud by main character Ellie Chu (Leah Lewis) in Alice Wu's short little film about a Chinese-American high schooler whose incredible writing skills find her hired to help her classmate, the kindhearted but far less charming Paul (Daniel Diemer), woo another girl. Paul does not realize that Ellie shares his unrequited desire for Aster (Alexxis Lemire), and that every sweet late-night text and smoldering note passed in class is tearing Ellie apart. If the story borrows its central conceit from Cyrano de Bergerac, it at least puts a few interesting spins on it: Ellie is an outsider in unique ways. She is the only Asian student at her school, an immigrant whose underemployed and linguistically challenged father struggles to run her household. She is the student who is so good at writing that she runs a side hustle writing papers for her entire class. And then there's the other little matter of her feeling same-sex attraction in a stiflingly small, overwhelmingly Christian town. It's a unique twist on a familiar story in a film that universalizes feelings of otherness for the audience, whether they come from being the runt of the litter or the child of an immigrant struggling to make it in America. —Kenneth Lowe
---
9. Chocolat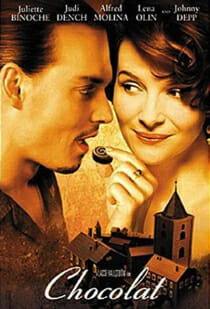 Year: 2000
Director: Lasse Hallström
Stars: Juliette Binoche, Johnny Depp, Lena Olin, Judy Dench, Alfred Molina
Rating: PG-13


A year before Amelie, another lovely, quirky French character with an impish streak made us swoon. Juliette Binoche plays a single mother opening up a chocolate shop in a tiny French village. Binoche is at her most charming in a delightful and fantastical romantic comedy of the sort that doesn't get made anymore. Nomadic chocolatier Vianne causes a scandalous stir in the conservative village when she opens her shop during lent, making an enemy of the village mayor (Alfred Molina). Things only escalate when she befriends a band of "river rats" led by Roux (Johnny Depp). Both Binoche and Judy Dench as Vianne's landlady and confidante earned their Oscar nominations for this 20th-century fable about embracing life with vigor. —Josh Jackson
---
10. Zindagi Na Milegi Dobara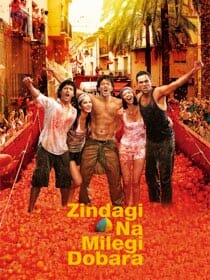 Year: 2011
Director: Zoya Akhtar
Stars: Hrithik Roshan, Abhay Deol, Farhan Akhtar
Rating: TV-14


Cashing in on quarter-life anxiety and existential crises, Zindagi Na Milegi Dobara is Bollywood's Euro Trip, except with more heart and fewer dick jokes. Three childhood friends go on a transformational bachelor party/road trip in Spain where they immediately butt heads over the lives they've separately built. Arjun (Hrithik Roshan) is a workaholic who can't chill, Imran (Farhan Akhtar) is a copywriter who had an affair with Arjun's ex-girlfriend, and Kabir (Abhay Deol) is a groom-to-be second-guessing his decisions. The three reconnect over a series of extreme events—ranging from skydiving to a run with the bulls in Pamplona—and they ultimately return to their old lives completely changed. Zindagi Na Milegi Dobara literally means "You won't get this life again," aptly infusing a feeling of urgency into an otherwise standard coming-of-age story. Through humor and drama alike, Akhtar's film will make you want to call your friends and plan your own life-altering getaway. —Radhika Menon
---
11. Crazy, Stupid, Love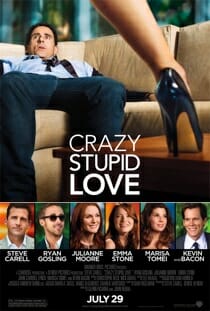 Year: 2011
Director: Glenn Ficarra, John Requa
Stars: Steve Carell, Ryan Gosling, Julianne Moore, Emma Stone, Analeigh Tipton
Rating: PG-13


More than a decade since it first hit theaters, Crazy, Stupid, Love. endures as a romantic comedy done exactly right, an exemplar of its genre that presents its heart in its hands and a few tricks up its sleeve. At once disarmingly sincere and scintillatingly clever, sentimental but rarely schmaltzy, and populated by characters whose optimistic quests for love are both amusingly relatable and raw with feeling. Crazy, Stupid, Love. opens at a high-end restaurant, where various couples out to dinner are playing footsie under the table, legs sliding coyly forward as body language does all the talking. The camera comes to rest on Cal (Steve Carell) and Emily (Julianne Moore), whose legs stay so rigidly planted to their respective sides they're like oak trees growing in adjacent lots. When Emily tells Cal that she wants a divorce—and, what's more, that she's already set this in motion by sleeping with a coworker (Kevin Bacon)—the news doesn't seem to shock him, though his eyes well with tears on the drive home. Thrown reluctantly back into the dating scene even as he struggles to accept the end of his marriage, Cal drowns his sorrows at the local upscale lounge. There, between watered-down vodka cranberries, Cal meets resident lothario Jacob (Ryan Gosling), who decides to make him over into a better man—or at least one slick enough to ditch the pleated khakis and land a new lover (or nine, as it were). Meanwhile, Jacob finds himself drawn to aspiring lawyer Hannah (Emma Stone), the only bar regular who's capable of resisting his normally bulletproof pickup lines—though she can't quite hide her smile as he tries his luck, nor her curiosity about what would happen if she did go home with the hot guy from the bar. As the film follows these hopeless romances in parallel, Crazy, Stupid, Love. weaves between its characters in order to offer each storyline some breathing room, to imbue each player with real personality and realistic imperfections. Like the best romantic comedies, it's a sweet nothing that means just about everything. —Isaac Feldberg
---
12. Blue Jay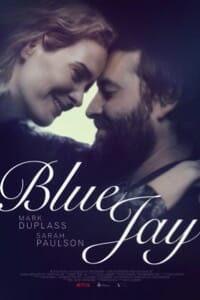 Year: 2016
Director: Alex Lehmann
Stars: Sarah Paulson, Mark Duplass, Clu Gulager
Rating: NR


Sarah Paulson is one of the most vital actors working today, and at this particular moment she's damn close to ubiquitous; here she shows up as one of two leads in newcomer Alex Lehmann's lovely romantic comedy Blue Jay, a compact and unassuming film about big, life-changing things that's presented in a beautiful monochrome package. Think of it as a palate cleanser for Paulson after a year spent maneuvering productions of grander scope and ambition. But scale and quality exist in two separate zip codes, and what Blue Jay lacks in import it makes up for with effervescence and melancholy. As though to put Paulson's luminous talents to the test, Lehmann has cast her alongside Mark Duplass, a man primarily known for making tons of low-fi mutter-fests and whose range allows him comfortably to play himself. Paulson and Duplass make such a great pair that the film's relative nothingness is pleasurable rather than painful. Blue Jay only clocks in at about an hour and twenty minutes (less, counting the credits scrawl), so it should breeze along by its very nature, but it feels like it only runs about half as long as that. It's well crafted, well mannered and very well acted, though you may decide for yourself if all credit should go to Paulson. She draws out Duplass' best merits as an actor, much as Amanda draws out the best in Jim: The more the film progresses, the brighter and more enthusiastic Duplass becomes, relishing every second he gets to be on screen with her. Their chemistry is palpable. —Andy Crump
---
13. Lust Stories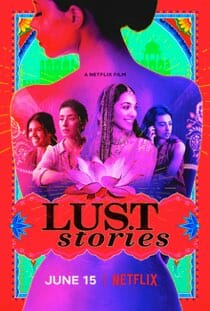 Year: 2018
Directors: Anurag Kashyap, Zoya Akhtar, Dibakar Banerjee, Karan Johar
Stars: Vicky Kaushal, Bhumi Pednekar, Radhika Apte
Rating: TV-MA


An anthology film from four of India's most prominent directors, Lust Stories explores the themes of sex and attraction in its many forms, and places them in modern-day India where these types of conversations don't normally occur so openly. Each director's short film focuses on a stigma—whether it's a possessive relationship between a teacher and student, a forbidden tryst between members of two different social classes, an adulterous marriage, or an exploration of sexual satisfaction—and dives deep into the various perspectives at play. The format makes Lust Stories easily digestible, and the films themselves are excellent slices of progression within the industry and culture at large. That it premiered as a Netflix original is just another hat tip to the dynamism of the decade's art. —Radhika Menon
---
13. Wedding Crashers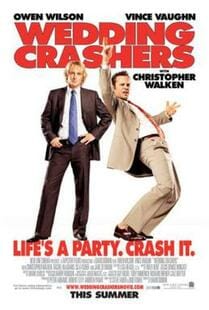 Year: 2005
Director: David Dobkin
Stars: Owen Wilson, Vince Vaughan, Christopher Walken, Rachel McAdams, Isla Fisher, Jane Seymour
Rating: R
The frat pack boorishness that was all the rage in the '00s hasn't aged too well in the post-#MeToo era, but that doesn't completely deflate Wedding Crashers. Owen Wilson and Vince Vaughn are somehow charming as two Lotharios who hit up random weddings to pick up women, and the supporting cast, including Isla Fisher, Rachel McAdams, Christopher Walken, Bradley Cooper, Henry Gibson, Jane Seymour and an uncredited Will Ferrell, carry just as much of the comedic weight.—Garrett Martin
---
14. Win It All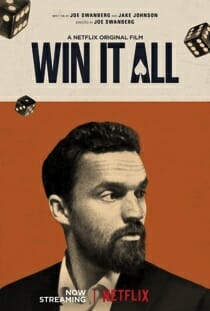 Year: 2017
Director: Joe Swanberg
Stars: Jake Johnson, Aislinn Derbez, Joe Lo Truglio, Keegan-Michael Key, Nicky Excitement
Rating: NR


Joe Swanberg, bless his unfailing tenacity, appears to get behind the camera and hope everything works out for the best. His style is chancy, but it's hard not to admire his unabashed love of spontaneity. This is especially true when it does work out for the best, as it does in Win it All. Swanberg co-wrote the film with your underachieving dream boyfriend, New Girl's Jake Johnson, ostensibly a direct result of their actor-director collaborations in Drinking Buddies and Digging for Fire; Johnson, perhaps unsurprisingly, is the star here, too, playing that aforementioned scruffy gambler, Eddie, a career loser who takes any wager-earning gig he can get by day before flinging his earnings down the crapper playing games of chance at incalculably grimy casinos by night. There is, in grand Swanberg tradition, a looseness to Win it All that remains for the duration of the film, hanging off of Johnson's central performance. Whether because of his contributions on the page or on the screen, Johnson feels like a key component to Win it All's success as a narrative: The story hangs off of him, off of his work, his emoting, the physical quality to his self-presentation before a lens. It means a lot that Swanberg and Johnson both care on a profoundly human level for Eddie. Who couldn't? You probably have an Eddie figure in your life, whether you know it or not: The gregarious, amiable rascal, the kind of dude who just can't slam the brakes when he's careening toward trouble, and knows it. He's a lovable schmuck, his own worst enemy. The people in his life care about him, his creators care about him, and so of course we care about him, too, even at his worst, even as he invites troubles and hazards into his life against all fair warnings given him by his support system. Win it All, in other words, is a Joe Swanberg movie, a domestically-focused tale about a slacker in conflict with his demons washed in the texture of 1960s and 1970s cinema. —Andy Crump.
---
15. Dil Chahta Hai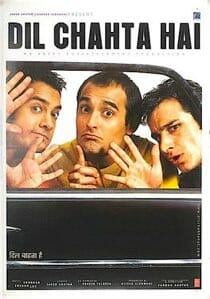 Year: 2001
Director: Farhan Akhtar
Stars: Aamir Khan, Saif Ali Khan, Akshaye Khanna
Rating: TV-14


A story of youngsters finding themselves, Dil Chahta Hai set the stage for many contemporary Bollywood films when it premiered at the start of the decade. The film is an exploration of mid-20s angst and unrest, of following unconventional desires, of finding happiness amidst the madness. Sameer (Saif Ali Khan) chases a girl out of his league; Siddharth (Akshaye Khanna) lusts after an older divorcee; Akash (Aamir Khan) tries to reconnect with someone from his past. Their decisions test each other and themselves, and cause rifts in their seemingly unbreakable friendship. Dil Chahta Hai is about the bonds of friendship, and just how far they can be stretched. —Radhika Menon
---
16. Eurovision Song Contest: The Story of Fire Saga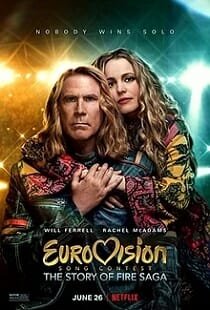 Year: 2020
Director: David Dobkins
Stars: Will Ferrell, Rachel McAdams, Dan Stevens, Pierce Brosnan
Rating: PG-13


Eurovision Song Contest: The Story of Fire Saga is—let's be honest here—a bit on the thin side, and a little confusing. It's got just enough sincerity to undermine its own satirical impulses and just enough pandering snark to undermine its own sincerity. It runs long, and it leans on a trope, Ferrell's master trope and the common denominator in most of his best performances—the lovable but fundamentally clueless and self-absorbed man-baby who can't get out of his own way. It's a trope that, thanks to Ferrell himself, we have mined pretty thoroughly in comedy over the last few decades. And yet, even as Eurovision Song Contest makes a number of perplexing moves in its two-hour-plus runtime, you kind of can't help rooting for it, and for its principal characters, because its refusal to be cynical operates as a vital, oxygenating escape hatch right now.—Amy Glynn
---
17. Someone Great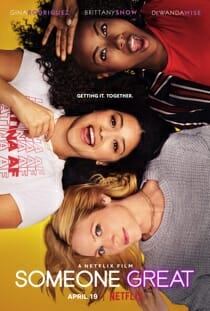 Year: 2019
Director: Jennifer Kaytin Robinson
Stars: Gina Rodriguez, Brittany Snow, DeWanda Wise
Rating: R


Netflix's Someone Great plays out like the visual version of Lorde's "Supercut." The song, which is also cleverly placed in the film and promptly re-entered the U.S. iTunes charts last weekend following its release, recounts a magical relationship after the breakup. But instead of surveying the wreckage, Lorde presses play on the good times. "All the moments I play in the dark / Wild and fluorescent, come home to my heart," she sings. Someone Great's Jenny (played by Gina Rodriguez, world's most likeable actress) finds herself in a similar situation. After landing her dream music writing job with Rolling Stone, she and her boyfriend of nine years, Nate (acted by a very hunky LaKeith Stanfield), call it quits, fearing they won't survive a long-distance relationship split between New York City and Jenny's future home, San Francisco. The pulsing pop tune from Lorde's 2017 album Melodrama plays while a literal "Supercut" of Jenny's and Nate's relationship flashes before our eyes—Instagram posts, Facebook messages, texts, emails and exchanges with Jenny's two best friends, Blair (Brittany Snow) and Erin (DeWanda Wise) serve as an intro to a film about reminiscing, reconnecting with friends and, ultimately, moving forward on your own. Rodriguez is, as always, loveable as hell. Wise gives an endearing performance as the romantically hesitant Erin, and the two women, along with Snow, master a refreshing version of the romantic comedy in which female friendship, not just love interests, serves as a plot centerpiece. And as much as I enjoyed watching an R-rated New York City spree complete with foul language, bathroom sex, fierce friendship and joints the size of baseball bats, Someone Great is most memorable for its music. A mixtape of indie stalwarts, pop bliss and Big Freedia, the soundtrack is heaps of fun, deeply meaningful and the most realistic aspect of the film—except maybe the girls' struggle to get spots on the guest list. That battle is all too real. —Ellen Johnson
---
18. The DUFF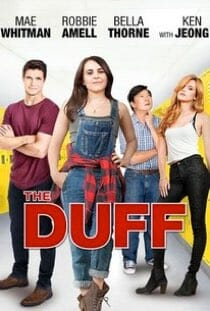 Year: 2015
Director: Ari Sandel
Stars: Mae Whitman, Robbie Amell, Allison Janney, Bella Thorne, Bianca Santos, Skyler Samuels, Ken Jeong, Romany Malco
Rating: PG-13
The DUFF opens with a John Hughes reference. Protagonist and resident DUFF Bianca Piper (Mae Whitman) explains that times have changed since The Breakfast Club—now the jocks take antidepressants and the brains rule the world. Her observation immediately clues the audience in to the fact that Bianca is a student of Hughes; she correlates his stories to those she observes on a daily basis. The interesting thing is that John Hughes would be proud to call Bianca his student. She's a funny, fully realized, self-aware womean who holds her movie on her shoulders. At the center of the film's charm is Mae Whitman. Bianca is best friends with Casey and Jess (Bianca Santos and Skyler Samuels), two girls who everyone agrees are much hotter and less approachable than Bianca. When Bianca's neighbor, mega-jock Wesley Rush (Robbie Amell), informs her that she is the DUFF—the Designated Ugly Fat Friend—of her trio of friends, Bianca is devastated. Wesley explains that the DUFF needn't be ugly or fat; rather, a good DUFF serves as a gateway to his or her hotter friends—the person to go to for information on said hotties. Bianca then decides to unfriend Casey and Jess, turning to Wesley for advice on how to be more alluring to men and less of a DUFF. In exchange, she will help him pass chemistry, as his football scholarship hangs in the balance. As you can probably imagine, Wesley and Bianca initially hate one another, but soon something deeper begins to blossom, much to the chagrin of Wesley's ex, Madison (Bella Thorne), who happens to be the most popular girl in school. Yes, the plot of The DUFF is relatively familiar and predictable. Even though The DUFF offers up teen comedy plot points in abundance (Makeover montage! Nice guy who turns out to be horrible! Evil popular girl who gets what is coming to her!), it still wins as a teen comedy because it really cares about its lead characters. Mae Whitman is primarily to thank—her performance makes Bianca feel like someone we all know, because that someone is us. Bianca endures some blowing crushes to her self-esteem throughout the course of the movie, which makes her triumphant realization that everyone is a DUFF all the more rewarding in the end. —Andy Herren
---
19. Set It Up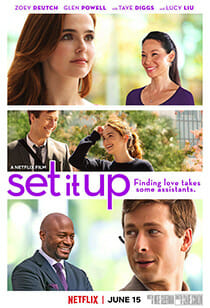 Year: 2018
Director: Claire Scanlon
Stars: Zoey Deutch, Glen Powell, Lucy Liu, Taye Diggs, Pete Davidson, Tituss Burgess
Rating: NR
One can never have enough Zoey Deutch in their moviegoing diet. She's a treasure, multi-layered, ever hilarious. Want her to throw snark at you? Want her to project confidence without haughtiness? Want her to pull off "awkward with a side of charming" without tipping the scale too much in one direction or the other? She can do all of that. If you have room for just one Deutch movie this month, go for The Year of Spectacular Men, but if your schedule's open, fit in Claire Scanlon's Set It Up, a delightful, zippy, corny-and-loving it rom-com about beleaguered office assistant Harper (Deutch) teaming up with as-beleaguered office assistant Charlie (Glen Powell) to get their horrible bosses (respectively, Lucy Liu and Taye Diggs) into bed with one another. Maybe they're horrible only because they're undersexed; maybe they're just horrible. Set It Up isn't exactly a hard read in that regard (or any, really), but it's a hoot all the way through, and Scanlon's smart to hang the film on Deutch and Powell's chemistry. —Andy Crump
---
20. A Castle for Christmas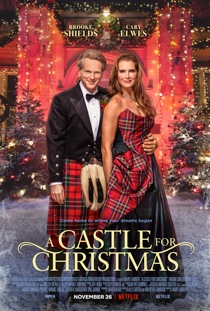 Year: 2021
Director: Mary Lambert
Stars: Brooke Shields, Cary Elwes, Lee Ross, Andi Osho, Tina Gray, Eilidh Loan, Stephen Oswald
Rating: TV-G


I don't think it's a stretch to say that the Christmas rom-com genre possesses the most overwhelming film catalog out there. Sometimes, though, a Christmas miracle presents itself, and a brave, inspired filmmaker dives headfirst into the perilous genre and manages to strike gold. Last year, that director was Mary Lambert—yes, the visionary behind the iconic 1989 horror film Pet Sematary. Her Christmas movie? Netflix's own A Castle for Christmas. The film follows acclaimed American author Sophie Brown (Brooke Shields) who jets off to Scotland after being semi-canceled for killing off her series' beloved protagonist. There, she falls in love with a big ol' Scottish castle called Dun Dunbar, where her grandfather was a groundskeeper, and buys it (because why not?). To make things deliciously complicated, the property is owned by hunky-yet-frosty Duke Myles (Cary Elwes), and Sophie can only take over as proprietor once she's proven she can handle the upkeep. Oh yes, that means sharing a living space with Mr. Saucy Duke himself. Of course, this plot isn't exactly groundbreaking. For starters, it turns out that Christmas movies involving royalty are very populara. And Lambert isn't exactly doing anything new by revisiting the "we-hate-each-other's-guts-but-also-secretly-love-each-other" format. But A Castle for Christmas is successful in large part precisely because it leans into this audience-endorsed formula with such ardor and earnestness. So when the unrealistic—yet highly entertaining—conflict is set into motion, it works because the film's general electricity leads us to actually believe that everyone in this world really, really, really cares about Christmas more than absolutely everything else and, unless you're a total grinch, the power of the holiday makes just about anything possible. Even the film's own grinch—Myles—is able to find some joy in the occasion. I'd be surprised if that isn't also the case for the film's most cynical viewers. —Aurora Amidon