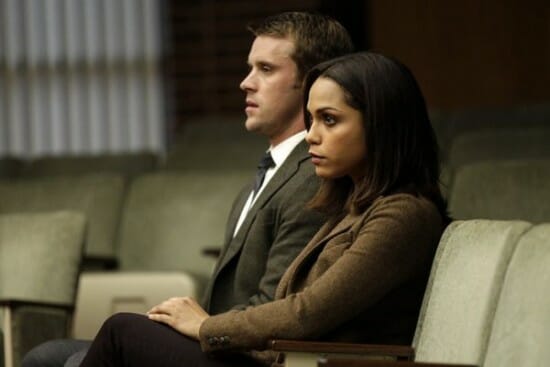 In the past few episodes, Chicago Fire has become a soap opera, complete with pregnant lesbians, shocking surgeries, firefighters investigating child abuse, love triangles and mothers in jail. The show must be doing something right, because total ratings for the episodes in January are the highest in the show's inaugural season.
Chief Boden has been trying to protect Ernie, a wayward teen being forced to start fires—and possibly even worse things—by his "Uncle" Ray. Boden's emotional state in this episode is crumbling by the second, and it doesn't help that Ernie calls the station seeking help before he and Ray go start another fire. He completely collapses when Ernie finally gives in and confesses, only to be burned alive later by Ray. Boden's guilt over not saving the boy boils over, and he hunts down Ray and attacks him, causing the Chief to be suspended for the foreseeable future. His guilt stems from an incident in his past when he was unable to save a child in a fire, as well as his own relationship with his son. Boden has long been a strong character, but this arc helped shed new light on the tough-as-nails character; choosing to include the Chief more and more as the season progressed was a move the writers got right.
Another great component the show has going for it is Casey himself. The leading man has gone through a hell of a lot so far, and now he has to speak in front of a parole board on behalf of his mother. It goes well after the fighter makes a moving speech about forgiveness and second chances, but more vital to the overall story is the fact that Dawson was right there by his side. She's been secretly dating rookie Mills recently, and their love triangle continues to blossom. Perhaps the most intruiging part of the love triangle is that no one knows they're in one. Mills is blissfully happy with Dawson. Dawson is just trying to be a good person. Casey knows nothing about any of this. It will come to the forefront eventually, but for now it's just simmering and gathering roots.
Meanwhile, the show's other leading man, Severide, is heading to Madrid. Permanently. He and Renee are happy in love and are going to move to Spain because the firefighter figures he'll never be part of the Chicago Fire Department again thanks to his injury and required surgery. When his lady suggests an experimental treatment that can lead to partial paralysis, Severide gets angry with her insensitivity but eventually decides on the treatment. It's his father (guest star Treat Williams) who convinces him to do so. Of course Severide has to be OK, and we can finally put this steroid/injury drama behind us.
While the episode served as a way to wrap up a few stories, it wasn't the attention-grabber you'd want after two weeks off. The pacing felt weird with Otis's plot about leaving the firehouse for another more welcoming one, and it seemed to distract from the main characters. I understand that it's an ensemble, but the writers need to understand there are definitely certain characters we'd prefer to see. For instance, I would've loved to see Boden's story more fleshed-out, or even some more of Mills reacting to his relationship with Dawson. Regardless, this definitely was a good set-up to pave the way for new arcs and excite the show's viewers as the season officially enters its second half.