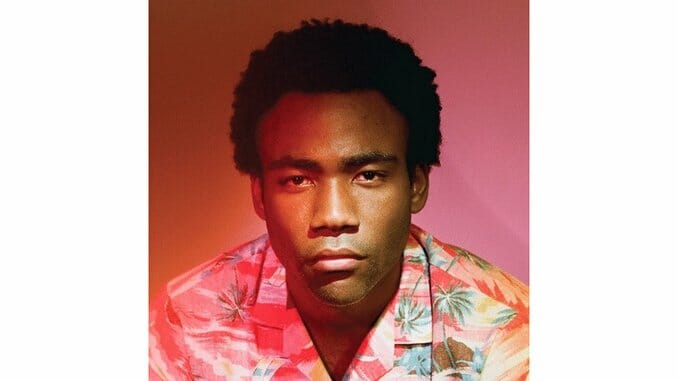 Childish Gambino's debut album, Camp, was bad. It wasn't the 1.6 shot heard 'round the internet bad, but the album was brimful of lackluster. Camp found itself oversaturated with poppy production better suited for Kidz Bop reiterations and childish (pun!) punchlines derivative of the likes of Lil Wayne and a 2000s-era Ludacris. Camp isn't the only instance of this—it's the trend that became the rule after repeated offenses on mixtapes. Gambino has frequently struggled to find a sound that isn't overtly somebody else (mostly Kanye West and Drake). So, here we are with his latest release, Because The Internet, a meandering exploration of self. Gambino (née Donald Glover) hasn't completely grasped who he is as a recording artist, but he's almost there.
"Crawl," the album's opening track, borrows production cues from the Kanye and Friends eras of My Beautiful Dark Twisted Fantasy and Cruel Summer. Sonically, it's a grandiose tableau of decadence crumbling with force. Gambino is comfortable here, spewing referential punchlines inspired by internet memes: "ain't nobody got time for that, ain't nobody gotta rhyme with that," and at one point he goofily raps "hashtag, niggas be like."
"Crawl" is one of many tracks in which Gambino is arrogant and lively. The bouncy trap-tinged "Sweatpants" and bombastic "WORLDSTAR," are in a similar vein. "WORLDSTAR," splits itself into two parts, the latter a jazzy lucid dreamscape. Gambino is palpable as the arrogant asshole rapper, but is in true form in a contemplative mood.
On Because The Internet's best track, "Shadows," producer and instrumentalist Thundercat makes an appearance supplying golden arpeggio guitar licks. "Shadows" finds Gambino in a whimsical melancholic rhapsody; he sings "Tuesday afternoon, I ain't got shit to do, but fall in love with you" on the hook and towards the end of the song muses, "I hope you understand, we were never friends." It's Glover's charmingly morose portrait of a relationship gone awry.
Because The Internet is a predominantly serious record, however Gambino plays a few cruel jokes on the listener that essentially work out in his favor. "The Worst Guys" features Chance The Rapper, a rising star whose Acid Rap was met with widespread acclaim in 2013. Chance The Rapper's sole purpose on the song is to repeatedly say "all she needed was some." At first, second, third, etc. listens it's infuriating that Chance doesn't get a larger role on the song, but it works well this way. The attention wouldn't be on Gambino in his own personal narrative had Chance The Rapper spit a guest verse. Twitter miscreant Azealia Banks' feature role is another 12-6 curveball. Banks drops by and sings on "Earth: The Oldest Computer (The Last Night)"—and she sings her ass off, too.
Donald Glover curated a world for Because The Internet. In August he released a short film, Clapping For The Wrong Reasons. Glover wrote a 76-page screenplay meant to be synchronized with the album too, but the filmmaking components and the album itself are directionless with no clear intention. They're manifestations of lost black boy ennui and a critique of the queer nature of the internet. However, that's not the answer for purposelessness.
Glover has come a long way since plugging his name into a Wu-Tang Clan name generator and exploring music in his dorm room. Because The Internet is the first release of Glover's that doesn't have the mist of amateur work. It's developed in parts, compelling, and his existential struggles are somewhat realized. Childish Gambino's growth as a musician in the two years since Camp is commendable. What Gambino has done with this album is assuredly parted views; people who will never, under any circumstances enjoy his music are slandering it. Folks who love him dearly are calling it the best thing since seasonings for food. They're arguing right now, because, well, the internet.
Well-played, Donald. Well-played.