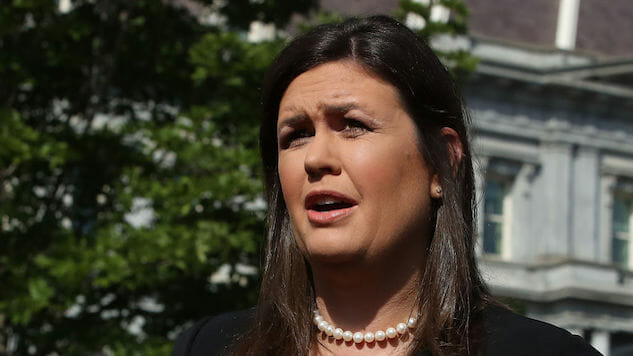 In a White House briefing on Tuesday, Sarah Huckabee Sanders lied about several aspects of the recently released government climate change report. In its self-proclaimed Facts First approach, CNN corrected her live in its coverage. As Sanders told the nation the harrowing report was nothing to worry about, CNN plastered a graphic on the left side of the screen with facts proving her wrong.
CNN is airing the briefing — but this "facts first" side panel seems like a new idea pic.twitter.com/xzZOIbFTFQ

— Lis Power (@LisPower1) November 27, 2018
The report, known as the Fourth National Climate Change Assessment, was written by the government and for the government. It's self-described as being a major influence on lawmakers' decisions—if they're smart enough to listen.
This fact-check is hugely important. The White House is actively misinforming the public on issues that have disastrous global impact, probably enticing many into inaction when it comes to lessening the impact of climate change. Like so many other cases, the government is only exacerbating an already-dire situation. We're living in a time where we need watchdogs to keep politicians honest if we want to make it past 2040.
CNN corrected Sanders during her briefing with a graphic, then went in-depth after she finished. 300 leading climate scientists across 13 government agencies contributed to the findings over a four-year process. Sanders' response undermined that work, as well as their process. In fact, she outright lied when she said contributors only considered worst-case scenarios. The team behind the government report made sure to examine best- and worst-case scenarios, and the outlook is still grim. Furthermore, Sanders tried to assert that modeling was an imperfect method of climate prediction. In reality, it's only been found to underestimate the effects of climate change.
She wrapped up saying all we can do is make sure we have the cleanest air and water. Sanders says we do. She probably hasn't heard of Flint, Mich.
CNN's press briefing fact-check:

"Fact: The report 4 years in the making involved 300 leading climate change scientists in 13 federal agencies. That is the president's own federal government. Fact: It is false of anyone to suggest the report was only based on extreme scenarios" pic.twitter.com/ByCjhkU7JG

— Lis Power (@LisPower1) November 27, 2018