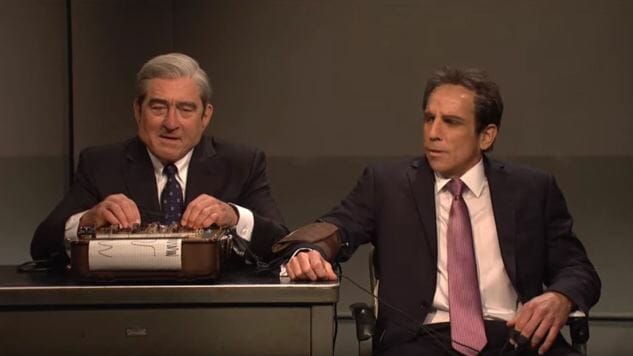 Over the last week stress and confusion have been swirling out of the Trump Administration at a faster clip than ever before, between our bombing of Syria, subsequent threats from Putin, the raid on Trump lawyer Michael Cohen's offices, the revelations about Trump from former FBI director James Comey's book, and (as always) the president's constant daily stream of anxiety-inducing tweets. Of course all of this immediately made us think of an 18-year-old Ben Stiller comedy where he has to milk a cat. It's the one time this year we've definitely been on the same wavelength as Saturday Night Live's writers, who last night called Stiller and Robert De Niro in from the wild to recreate the lie detector scene from Meet the Parents. De Niro was Robert Mueller (uh, the US Special Counsel leading the investigation into all things Trump), and Stiller played Cohen, and they had a few laughs about this familiar situation they found themselves in, again referencing a movie that's older than SNL's previous core demographic of middle school comedy nerds (a demographic I assume is now too busy watching Twitch and YouTube and somehow getting indoctrinated into white supremacy in the process).
If you want to watch one of our most decorated actors, who is also a legendarily terrible SNL host, recreate a scene from the (admittedly pretty good) movie that convinced him to devote his golden years to mediocre comedies, and somehow as some kind of commentary on the Trump investigation, well, uh, click the thing below.
Last night's Saturday Night Live was easily the best episode of the season. This was the worst sketch of the entire night. But it's the one most nakedly calibrated for viral success, so here we are.