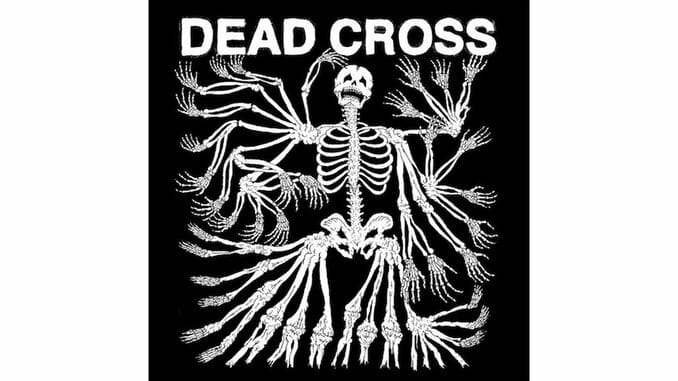 Dave Lombardo and Mike Patton have been responsible for some of the most brutal music of the last 30 years, for sure. However, neither the former Slayer drummer nor the enigmatic front man of Faith No More, Mr. Bungle, Fantomas, etc. have ever cut a record that could be demonstrative of the hardcore idiom.
In spite of that, both men are incredibly prepared for this transition. Lombardo has recently logged time behind the kit for The Misfits and Suicidal Tendencies, while Patton proved his bona fides with his 2002 collaboration with Dillinger Escape Plan. Yet now as half of the SoCal supergroup Dead Cross, the Fantomas bandmates can officially punch their hardcore cards.
Formed in 2016 by Lombardo, bassist Justin Pearson (The Locust) and guitarist Mike Crain (Retox), Patton wasn't their first choice. That honor went to Locust frontman Gabe Serbian. But after he left the fold, Patton stepped right up to the plate. And just as it was when he replaced Chuck Mosley in FNM, his voice immediately launches Dead Cross into a whole new stratosphere. His distinctive style of multi-octave aggression is custom made for the fury this band inflicts upon the senses on this short, sharp debut.
Each track doesn't just bleed into the next, they hemorrhage into one another like the elevators at the Overlook Hotel. Highlights like "Obedience School", "Gag Reflex" and "Church of the Motherfuckers" form short, sharp clots that explode in your head like neural landmines. And with Patton on the mic, this album effortlessly eschews the trappings of hardcore's old, tired formulae. In fact, the singer comes off more focused and direct as he has since that first Tomahawk LP, especially as he revels in the genre's goth undertones during an unhinged cover of the Bauhaus classic "Bela Lugosi's Dead".
To hear Patton and Lombardo celebrate their fifties with their most visceral work yet is absolute magic. And what a bucket list moment for Pearson and Crain to bookend these two pillars of metal evolution, a dream come true that can be enjoyed vicariously by anyone who ever wished to jam with their heroes. It's albums like Dead Cross that keeps hardcore so exciting for those of us beyond its tight-knit community.