Giveaway: Win a Copy of Gravity Falls: The Complete Series Collector's Edition!
Images via Shout! Factory
TV
News
Gravity Falls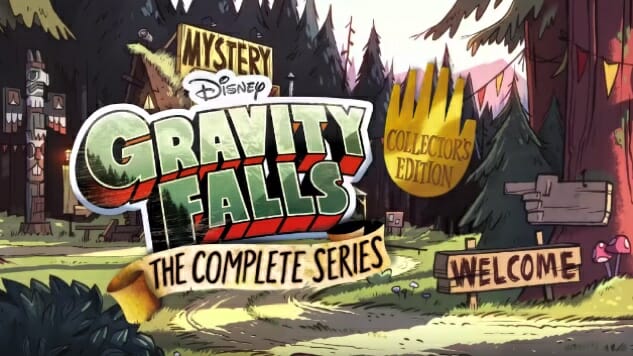 There's no denying that Gravity Falls is not only a cult classic, but also one of the best animated shows to hit television in a while. We even gave a heartfelt eulogy for the series when it ended in 2016. If you've never had the pleasure of seeing it, now's your chance: To celebrate the release of the Gravity Falls: The Complete Series Collector's Edition, the series' first time on Blu-ray and DVD, Paste has put together a giveaway.
Teaming up with Shout! Factory, we're offering anyone from fans of the show to newcomers who want to step into the weird and mysterious world of Gravity Falls the chance to win a copy of the complete collector's edition by entering right here. We're giving away the complete collector's edition set, including 18×24 lithos, to three lucky winners. Entries open today, July 20, and the deadline to enter is Wednesday, Aug. 1 at 11:59 p.m. ET.
Enter to win your copy right here!
For those of you who are the impatient type and don't want to leave anything up to chance, you can order Gravity Falls: The Complete Series Collector's Edition on Blu-ray or DVD by heading to Shout! Factory's website. The package deal comes with the following features:
– Audio Commentaries on All 40 Episodes
– An Exclusive Look Back At Gravity Falls With The Cast & Crew
– "Between The Pines" Behind-The-Scenes Special
– Deleted Scenes, Shorts and Promos
– A special letter for Dipper
– A limited edition 18×24 litho (exclusive through Shout! and while supplies last)
– And More!
Unfamiliar with Gravity Falls? Well, here's the lowdown. The show follows twins Dipper (Jason Ritter) and Mabel Pines (Kristen Schaal) during their summer vacation in the town of Gravity Falls, Ore., as they help their great Uncle (aka Grunkle) Stan (creator Alex Hirsch) run the Mystery Shack. Basically, it's a tourist trap in the middle of nowhere.
Struggling to adjust to his new surroundings, Dipper stumbles across an elusive book filled with many of the town's hidden secrets, which hides an even greater mystery within its pages. Teaming up with his boy-crazy sister Mabel, the two embark on a journey to uncover all the weird and wacky secrets of Gravity Falls—even the ones their Grunkle Stan might be hiding.
Paste ranked Gravity Falls among the best animated shows of 2015. Filled with hidden messages, secrets and callbacks to past episodes that will have you wondering how you missed them the first time, it's the perfect show for repeat viewings, so don't miss your chance to own the whole thing. Again, our contest starts today, July 20, and you'll have two weeks to enter before the Aug. 1 midnight deadline.
Watch the trailer below to get a sneak peek at everything Gravity Falls: The Complete Series Collector's Edition has to offer.
Enter to win your copy right here!