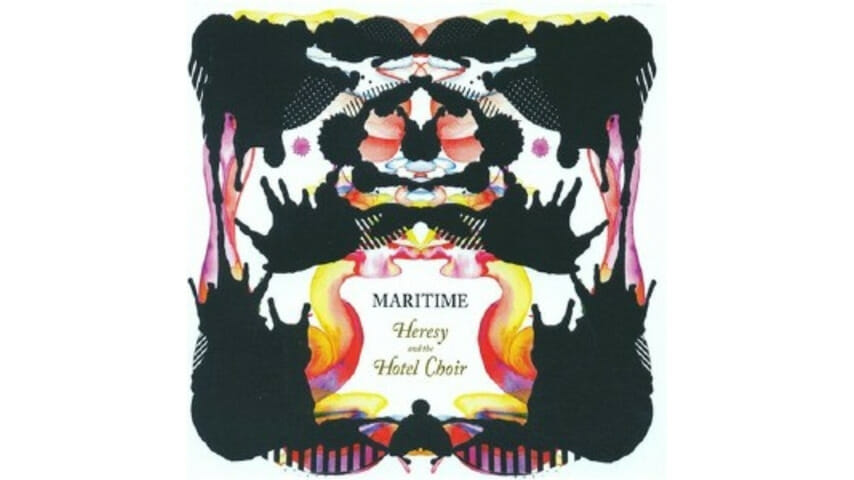 Welcome to the legacy
After a stumbling start and encouraging recovery, Maritime has finally, authoritatively, hit its stride. Heresy And The Hotel Choir, the band's third album, is the sound of a well-oiled machine operating at full capacity. It unfolds at a confident pace, easing in before exploding into a life-affirming second act and achieving the kind of compositional balance be?tting a band that's earned the right to measure its paces.
Maritime's ?rst offering, 2004's Glass Floor, suffered under the weight of high expectations. The band was formed by ex-Promise Ring members Dan Didier and Davey von Bohlen with ex-Dismemberment Plan bassist Eric Axelson; their collective pedigree seemed a recipe for instant success. But Floor was not what had been anticipated, and was subsequently Pitchforked to death before the boys ever knew what hit them. Axelson left, but the remaining members hung together, hitting back ferociously with We, The Vehicles, one of 2006's most heralded rock records. Didier and von Bohlen recruited occasional contributors Dan Hinz and Justin Klug to hit the road behind it and, after a year of touring, decided to take the lineup into the studio to collectively write and record Heresy—the ?rst Maritime album to benefit from a cohesive, road-tested unit.
The results are powerful. Album centerpiece "Pearl"—a near-perfect nugget of disaffected pop, with chorused guitar arpeggios that recall the best work of Johnny Marr—is a ?tting counterpoint to von Bohlen's disillusioned rasping. "First Night On Earth" is the kind of ballad that should make the general public quickly forget about all the Maroon 5 tomfoolery currently clogging the airwaves. And the album's last track, "Love Has Given Up," is among the best—likely to be the most hop-skippity-jump take on the end of a relationship to come out of your speakers this year.
There is something uniquely "roomy" (as in, four musicians playing in a small space together, making eye contact) about the arrangements here. Heresy is delightfully bereft of studio excess; each member seems to always play exactly what the song requires, no more and no less. Von Bohlen has established an inner vernacular for the band, mentioning the effects of "too much of yesterday's coffee," and some mysterious business about "onionskins," with a kind of subconscious recurrence that lends the album a well-de?ned sense of time and place. For Maritime, it is now and everything after.