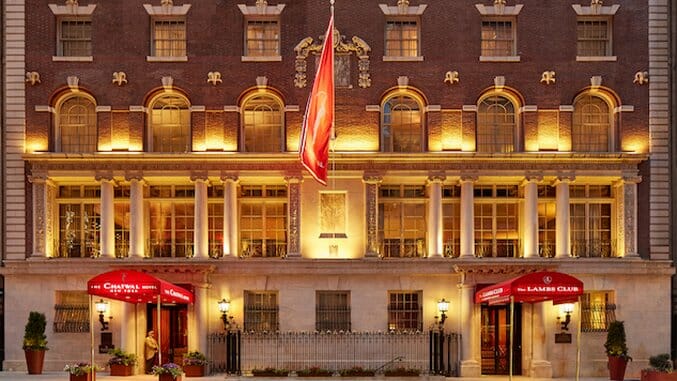 If you turn east on 44th street off Times Square, and push past the tacky pubs and overpriced delis, you'll be rewarded with a trip to old New York. Just past the block's halfway mark, The Chatwal lives in a building that can't help but catch the eye, and it's not because it towers above you or glows with flashy lights.
The structure was built in 1905 as the home of the country's first professional theatrical club, the Lambs. The landmark and former socializing, dining and sleeping spot for people like the Barrymores, John Wayne and Fred Astaire attracts a higher-brow type of traveler for the following reasons.
First Impressions
While it was restored in 2010, architect Stanford White's American Renaissance details remain. The six-story neo-Georgian brick building features a façade ornamented with columns, six ram heads and two ram profiles. Those walking like a true New Yorker—briskly into the building to escape the Times Square tourists—might miss the details, so be sure to look up upon arrival at the front door.
Bellmen in traditional getup open the doors to the past as you walk up a few steps into the Empire Art-Deco period of the 1930s. To the left is a small desk that serves as reception and to the right is a long lobby that leads to a bar. The space is filled with Art Deco elements like sharp angles (thanks to the massive upside-down triangular light fixture above and matching floor lamps) and mirrors—lots of 'em (apparently, Art Deco adapters were very narcissistic). While the lobby might be tight, in typical New York fashion it makes up for what it lacks in floor space with extra height by taking up two floors. A large mural that covers the back wall of the lobby/bar seating area depicts city buildings and reminds you of where you are, even though the peaceful hum of the lobby easily takes you out of bustling midtown Manhattan.
Behind the lobby is a restaurant—Geoffrey Zakarian's Lambs Club, which features a massive fireplace from the original building—and small seating area with old-school telephones, another fireplace featuring the building's original wood, and two elevators (heavily mirrored, naturally) that will take to you one of the hotel's 76 rooms.
The Room
The hallway lined with mirrors and photographs of old New York leads you to your chambers where dark wood, clashing textures and unique furniture await. Once you open the door, I highly recommend you run your fingers along the walls as you make your way in—feel that? It's suede. And it's all over. The walls of every room in this hotel are suede, which means the cleaning staff has to rub them down after every stay to make sure they don't have those weird lines or discolorations that suede tends to get when you touch it too much (oops). If that doesn't impress you, have you ever seen leather furniture? Well, now you will. The closet (which is a massive upstanding trunk built into the wall) and dressers are covered in leather. Clearly, the textures impressed me, but more on that later.
Next, head over to your huge window looking out at Manhattan. Then, channel Goldilocks and try out every seating option in the room; we have a feeling the retro chair and daybeds will call to you but do try out the custom plush bed with light white linens that contrast the Art Deco darkness of the rest of the room. Make your way to the bathroom to sit on the throne; every room features a Toto Toilet, with front and back washing, a heated seat, and a dryer. Don't want to leave, do you? Don't worry, the bathroom mirror features a built in TV screen so that Toto fanatics (aka, everyone) can sit comfortably with a little entertainment. Try out the Asprey lotion while you're in there, or rinse off in the raindrop shower or jetted tub.
The rooms pay homage to their hometown, with NYC-themed art along the walls and sparkling bathroom floors that are a more glamorous version of New York's sidewalks that shimmer with broken glass and city grit.
What Pops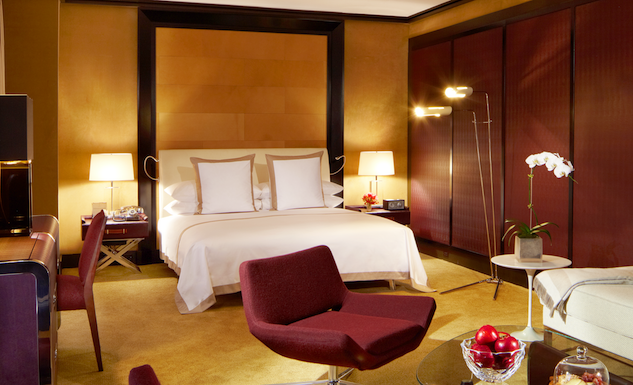 As expressed, the textures throughout this hotel are blended masterfully. From the suede walls to the leather closets to crystal lamps to the original wood, you won't be able to keep your hands to yourself during your stay here, and they are totally OK with that. Apparently, staffers rub down the walls "with love" after every guest checks out. I mean, who doesn't want to rub suede all day?
The high-end features are pretty impressive, too. Not many NYC hotels can say they have an award-winning spa, a gym, a salt-water lap pool, two bars, a celebrity chef, butler services and terraces (in certain rooms). The Chatwal makes use of every inch of space that they have in this crowded metropolis, but nothing feels cluttered or haphazardly placed—everything has a purpose.
The Locale
Times Square is around the corner. However, we wouldn't blame you if you hid in your glamorous room or mingled at the bar with non-cheesy vacationers all day instead of pushing through crowds of fanny-packed visitors in line to take pictures with the Naked Cowboy.
Maggie Parker is Paste Magazine's assistant travel editor.