How Complicated Is Beer Ownership? Let This 20 Minute Video Try to Explain It
Photos via The Mad Fermentationist
Drink
News
craft beer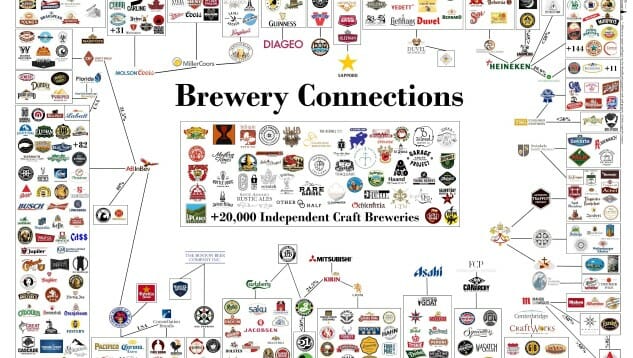 Sometimes, it really does seems utterly novel and hopelessly simplistic to look back on the craft beer landscape of 10, 15 or 20 years ago. The pure simplicity of the "us vs. them" narrative, the struggle of "the little independent guys" vs. the big corporate monoliths—it was such an easy story to pitch to the consumer. And for the most part, it was pretty easy to tell who owned what in the American beer market.
Oh, how those times have changed. For the average beer geek who cares about brewery independence or ownership, every trip to the package store has now become a meandering quest to remember who owns what. You stand there in the beer aisle, looking at labels, trying to remember, "What was that latest acquisition, again?" Was it AB InBev, MillerCoors or private capital? Does it matter which one it was? How strongly should we weight ownership by one party vs. ownership by another?
These are the questions that all beer geeks must answer for themselves, but being informed of all the connections between breweries in the first place proves to be just as Herculean a task. And the truth of it is that the vast majority of beer drinkers will never bother to inform themselves to such a degree, and you can't really blame them for that. The sheer degree of time and memory it now takes to hold onto all this information makes it an unreasonable burden to expect of the average consumer, and that's exactly what the AB InBevs, MillerCoors, Constellation Brands and Heinekens of the world have always wanted. Ultimately, this is how Big Beer won the battle for obfuscation—they successfully made the waters so murky and confusing, only a fringe group of committed geeks will ever bother to keep up to date.
The complicated nature of this subject is perfectly captured by the below video, which comes to us courtesy of beer writer and homebrewing expert Michael Tonsmeire, who does his work over at The Mad Fermentationist. In the video, Tonsmeire goes into depth breaking down a chart he first began constructing last summer, designed to visually illustrate which beer brands are owned by which worldwide conglomerates. This is of course much more complicated than it initially sounds, and it's ultimately a very informative 20 minutes before he can get through it all. The mere fact that the video would take that long to go through speaks to just how many things here there are to discuss.
Unsurprisingly, Tonsmeire's chart has needed to be updated a number of times since it was initially conceived, with sweeping revisions that added more parent companies, offshoots and reflected legal schisms, such as the international merger of AB InBev and SABMiller, which resulted in the spin-off of MolsonCoors and MillerCoors in North America. The chart can also be a little tongue-in-cheek at times, as when it describes the parent company of European Trappist monastic breweries as the Holy See in Rome.
Overall, even for seasoned beer writers, there are probably new facts to be gleaned from this video and this chart, which you can see in full here, or actually buy in poster form here. For instance, even given the years I've spent writing about beer at Paste, I either wasn't aware of the following ownership ties, or I'd long forgotten them.
— L.A.'s Angel City Brewery is owned by A&S Brewing, a subsidiary arm of Boston Beer Co.
— Heineken owns 30 percent of classic German brand Paulaner, which itself owns Hacker Pschorr.
— Asahi owns the U.K.'s popular Dark Star Brewing, along with classic brand Fullers.
Etc, etc, etc. And of course, the moment you're able to get the latest ownership straight, the next buyout will only makes things a bit more complicated. Still, with resources like the above chart and video, we can at least make a real effort to keep ourselves in the know.