Want to pull this guide up while you're out and about? Remember this link: tinyurl.com/thriftingwithpaste
Buying a purse from a collapsible table or a mobile tarp all but guarantees that "designer" good is faux. However, every once in a while the diligent shopper can and will come across a secondhand authentic designer bag that's grossly underpriced. That's when it's time to swoop in with an arsenal of authentication knowledge. (Trust me on this. I made a New Year's resolution to not buy purses. I'm almost too good at buying them.) This guide is not just for the accessory-obsessed, either. Scooping up a high end bag on the cheap can lead to big bucks on eBay. So here's a quick and dirty—but not in the counterfeit way—guide to help you wise up for the next time you're confronted with the designer bag of your dreams at a flea market or yard sale.
In General:
Occasionally you'll come across a bag that you know is kind of a big deal, but you're in the dark about its signature characteristics. Here are a few basic signs to test if an item is worth your hard-earned dough.
Tags: You might come across a bag with the tags still attached and rejoice. But stop right there! Often, designer bags come with price tags slipped inside of pockets rather than attached with good 'ole plastic loops because, taste.
Texture: Dreamy, non-leather designer bags exist, (hello, Stella McCartney!), but many are made from the material. So if the "leather" feels like plastic or crunchy, or just doesn't smell like leather, pass on it.
Hardware: Lots of fakes use brass with a layer of gold paint. Look and weight will almost always give away this faux detail.
SPI: Stitches per inch is exactly what it sounds like. The smaller the stitches, the higher the quality of the bag.
Structure: Most expensive bags should have the skeleton to stand up on their own, even when empty. A bag should never look like it's wilting!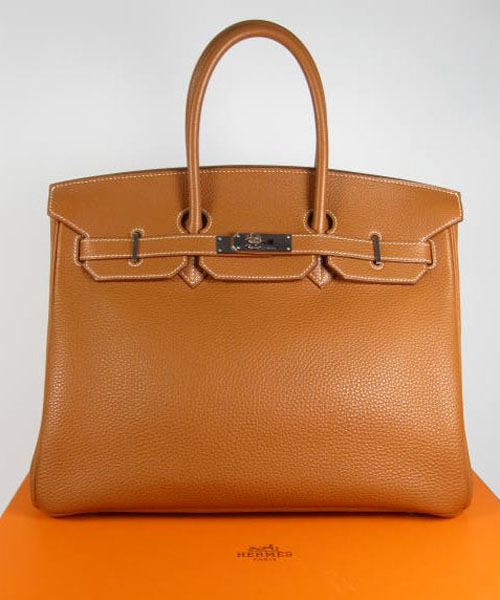 Hermes Birkin bag:
This is the ultimate in covetable handbags. In 1981, Hermes chief executive Jean-Louis Dumas was inspired by Jane Birkin to create a stylish weekender after watching her bag spill her belongings on a flight. Now we can thank Jane for years-long waiting lists for bags that share a price range with cars. So if you spot one for a deal, that bag is probably faux. But, you can always dream (and know the signs of the real-deal).
Crisp shape: Authentic bags have an even surface and won't bulge while set down or holding items.
Clasp logo: The "HERMES PARIS" on the bag's hardware should be in a thin and delicate font.
Lock: The "HERMES" along the top will, again, be in a thin and delicate font, with a number in the same font as on the bottom. The lock's key slot points upward.
Stores only: You won't find e-commerce on the Hermes site for the Birkin. The fashion house only sells new bags in store.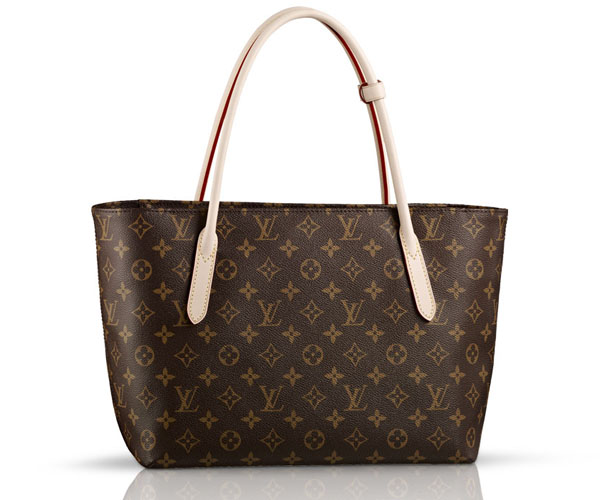 Louis Vuitton monogram bag
Even those who can't tell a saddlebag from a hobo can spot the legendary monogram on the street. Its popularity also means the counterfeit bag market is flooded with imitations.
Monogram: The logo should be printed in gold with visible brown lines of leather peeking through. Beware of green-tinted or slanted monograms. Some authentic designs have upside-down logos on the back because of the continuous printed pattern. Regardless, the pattern should also match up along seams.
Handles: There's no need to wrap the bag's handles in plastic. Its oxidizing cowhide leather handles don't require that protection.
Zipper: Depending on the style, (LV lists 46 monogrammed styles on its US site), the zipper should either have the brand name or logo stamped on it.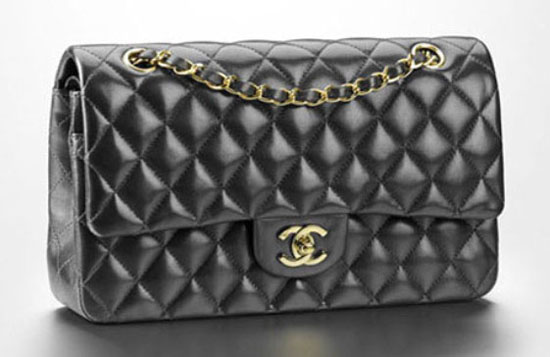 Chanel 2.55 Reissue bag
Good luck browsing a street style photographer's images without spotting one of these classic shoulder danglers that Coco herself carried. (The "2.55" stands for the reissue of the design first produced in 1955.) The chic little quilted design is one of those bags that you won't have to lie about when you tell yourself you'll carry it for life. (That's the oldest line in my book.)
Quilting: It shouldn't be too puffy and remain consistent throughout the design. That means lining up along the seams with neat, even stitching.
Back Pocket: The back pocket shouldn't overwhelm the purse's back panel. Quilting should also line up with the back surface of the purse.
Lining: Inside the second flap (you read that right), there's crimson lining with the interlocking C pattern. The C's shouldn't be too skinny or fat, just right.

Balenciaga Motorcycle bag
This is another one of those bags you've probably seen everywhere. Nicolas Ghesquiere (former Balenciaga head, Kristen Stewart buddy, and current Louis Vuitton women's creative director), designed the bag to appease company brass. They hated it. Models loved it. So now we love it.
Leather: It should appear "veiny" with lots of lines, as it's treated less to retain more of a natural texture. Beware of printed veins or a super-shiny surface.
Stitches: The thread is dyed to match the leather and stitching should be even.
Zipper: Balenciaga uses the brand Lampo for its zippers. The underside of the zippers should be marked with the brand name.
Lining: A thick, black material that has the texture of khakis lines the bag.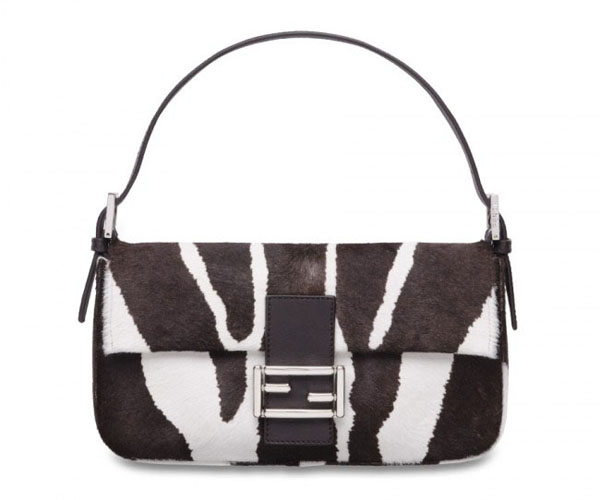 Fendi Baguette
This little number became Carrie Bradshaw's signature on "Sex and the City." (It's the one the mugger took from her during a solitary mid-day stroll in that one episode.) Uncle Karl (Lagerfeld) designed the house's signature double-F logo during his tenure there. Note: The bag is even available with a painter's kit!
Stitches: The color should match the color of the bag or only have a slight difference in color.
Hardware: The signature double-F logo design should be engraved, not stamped, on the bag's clasp.
Authentication card: If it has "FOG" in it, you know this one's a faker.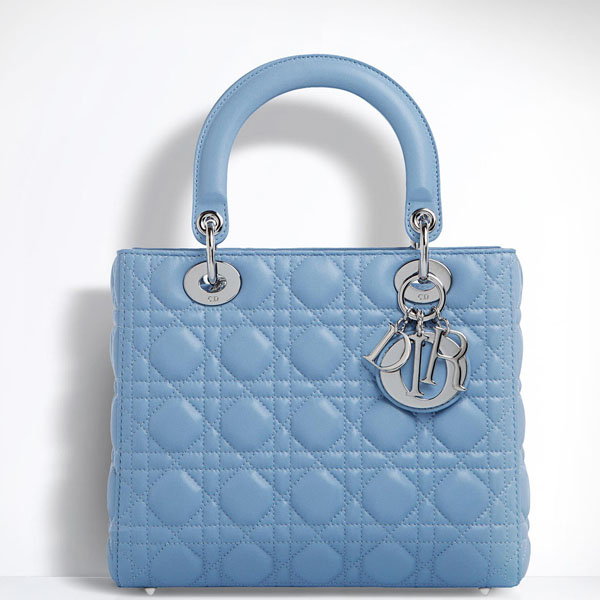 Lady Dior bag
Perhaps the most ladylike bag on the list, this dainty purse takes quilting to the extreme with an intense pattern. I'm sure Jennifer Lawrence (current Dior ad model) would agree it's the perfect size to carry your best accessory, a McDonald's cheeseburger.
Stitches: The Dior "Cannage" stitching is harder to duplicate than regular quilting.
D font: The D for Dior font should be correct on both the bag's connecting hardware and hanging D.
Hardware: If the hardware is super shiny, stay away. It should appear slightly aged.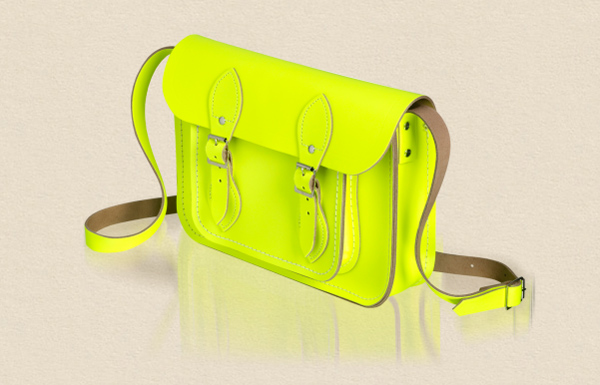 The Cambridge Satchel bag
When it comes to designer bags, this is on the lower end of the price spectrum and won't cost you a month's rent. (If that's not the case, I'll be your new roommate.) Plus, this classic look is guy- friendly for even the most masculine dudes.
Bi-colors: Unless it's an exclusive collaboration, (like with ASOS or a designer), these satchels only come in a solid color.
Embossed lines: The original satchel and batchel (briefcase) have subtle embossed lines on the edges of the strap and the bottom of the front flap.
Continuous piece: One piece of layer makes up the bag's body. Knockoffs may have sewn-on bag flaps.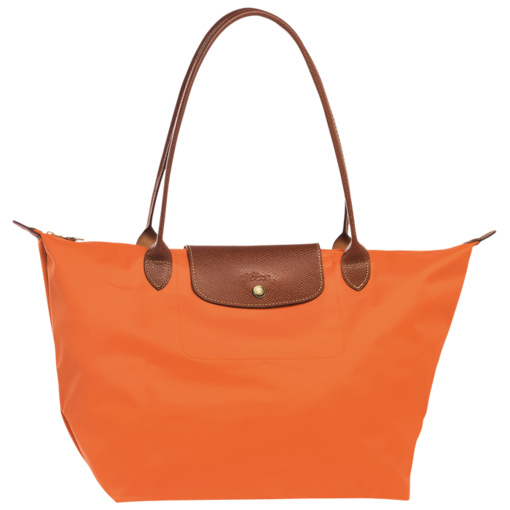 Longchamp Le Pliage nylon bag
This should look familiar, as it's the de rigueur carryall for sorority sisters (and most everyone else). They're durable and hold up well even after getting caught in a downpour. Meaning, they're the best and there is a multitude of fakes out there. (There are also leather versions.)
Flap texture: The flap has a crosshatch pattern. Fakes will have a smooth, or pebble-like texture.
Logo: The back of the flap should be smooth, with the brand's hot stamped jockey logo indentation visible.
Snap: The underside of the snap should read either "ORIGINAL PRYM 6/4B" or as or 2013,"LONGCHAMP" twice.