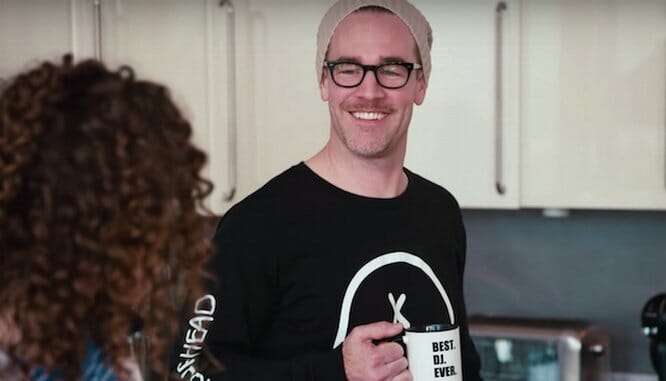 There was a time, not too long ago, when the name James Van Der Beek was synonymous with the well-meaning, all-too-earnest and perhaps a tad insufferable young cinephile at the heart of the WB's teen drama, Dawson's Creek.
Actually, scratch that.
For better or for worse, Van Der Beek will always be Dawson to many of us. Where the rest of the cast members have successfully shed their association with the show, whether through high-profile marriages (Katie Holmes), cult sci-fi dramas (Joshua Jackson), and a string of Oscar-nominated performances (Michelle Williams), Van Der Beek has carried with him the ghost of Dawson Leery for close to two decades now. Thankfully, he embraced self-parody as a way to live with the legacy of that teen boy while becoming, in the process, one of the funniest actors on television. Which is precisely what matters in his newest role, as a fictionalized douche-bro-ey version of Diplo, in Viceland's What Would Diplo Do?
Following the teary Dawson's Creek finale, Van Der Beek spent the early 2000s guesting in shows both good (Robot Chicken, Ugly Betty) and, let's say, less good (Criminal Minds). It wasn't until 2011, when he fully relented to the fact that he'd become, quite literally, a meme, that he tapped into the persona that has driven much of his more recent, and better, work. With Funny or Die, the actor released three ready-made viral videos in January of that year that gleefully poked fun at both his washed-up shtick and weaponized it for comic gold. In "Vandermemes; for example, he shilled for his newest venture, by which he hoped to capitalize on the ubiquity of the "crying Dawson; GIF that had been making the rounds. Sat in front of a computer and playing his own salesman, he shares with the audience what he realized the Internet was clamoring for: "more intense emotional close-ups of my face." In "Assholes for Hire; he addresses those men who may not have watched Dawson's Creek, but whose girlfriends did. "And she's been secretly comparing you to a completely unrealistic standard," he clarifies. Which is why he wants to help guys break free of that standard, offering himself for hire to show their significant others that Dawson has gone full douchebag, making the guys look good by comparison.
That same spirit of self-parody is what he brought to his next big role, as "James Van Der Beek," in the short-lived ABC sitcom Don't Trust the B— in Apt 23. Playing an outsized version of himself—"The Beek from the Creek, Le Beek C'est Chic," as Krysten Ritter's Chloe refers to him—Van Der Beek found his groove sending himself up in increasingly hilarious. When we meet him in the pilot episode, for example, we see him seducing a fan who swoons over his flannel shirts and loves listening to the theme song from his teen drama (that'd be Paula Cole's "I Don't Want to Wait"). In the world of Don't Trust the B—, set in New York City, Van Der Beek is full of himself in ways only a former would-be teen idol could be. And so, whenever he's not involved in the shenanigans in apartment 23, where Chloe lives to terrorize and help out her roomie (Dreama Walker's June), we see glimpses of the rather dour career prospects the actor is left to entertain. These include a body-swap comedy that looks horrible and a stint on Dancing with the Stars.
As with his Funny or Die videos, the specter of Dawson looms large. But this fictionalized version of Van Der Beek is all too happy to take shots at himself in stride. When the possibility of a Dawson's Creek reunion comes around, he goes from being horrified by the idea—he'd made a habit of being smug about saying no to Katie, Michelle and Josh—to warming up to it when June creates a PowerPoint presentation about how much the show meant to her as a teenage girl. Rarely able to see beyond how this revolves around him, he ends up seeing the opportunity as a chance to showcase his talent. "My body's better. My accent work is better," he reasons. "Everything's better. Everything's tighter!" It's moments like those that pushed Van Der Beek to shine, allowing him to own the self-serving, narcissistic streak actors are so often disavowing in public. Of course, it all ends up going to his head. "Listen, they can win all the Oscar nominations that they want," he muses, "but you don't put The Beatles back together without John Lennon. And I'm Lennon and McCartney, bitch." Where he'd excelled at playing self-tortured and melancholy in Dawson's Creek, Van Der Beek found in himself, oddly enough, the character that best played to his comic sensibilities.
That penchant for playing an over-the-top artist who needs to be coddled and praised at all times is no doubt what makes him such a perfect actor to tackle the role of the real-life DJ behind Major Lazer—most recently featured in the thirst-inducing video for Charli XCX's latest single, "Boys." As "Diplo," Van Der Beek may have crafted his most assured character to date: He's got everything down, from the bro-ey almost-stache that adorns his face to the dopey faux-zen-like cadence that characterizes his vacuous platitudes. He is nothing if not committed to inhabiting the fractious insecurity that runs beneath the surface of his man-child DJ, who wears tees that read "Mad + Decent," who doesn't hesitate to take a call while playing a professional baseball game, and whose idea of "making new sounds" is grinding instruments in a blender. As one character on his team puts it, his head is like a small oven that only bakes bad ideas.
But what makes Van Der Beek's performance as Diplo all the more laudable is the way it's so nakedly earnest. The show may be constantly winking and arching its brow, but he's committed to its bonkers visual gags (like seeing Diplo's anger manifest itself as a series of ninjas he needs to fend off lest he go at his erstwhile nemesis Calvin Harris on Twitter) as well as to its deliciously vapid dialogue ("Impossible? Impossible can get on its knees and suck my dick"). After close to two decades of being much too closely associated with the meme-ready Dawson, Van Der Beek has found a way to plumb white guy entitlement not for teenage tears but for satirical laughter. Now, for the first time in a long time, he's doing it without references to Joey, Pacey, or his same-named Creek. He's finally heeded the advice Mark Paul-Gosselaar gives him at one point in Don't Trust the B—: "We can't let a role define us."
What Would Diplo Do? premieres tonight at 10 p.m. on Viceland.
---
Manuel Betancourt is a New York-based writer who has contributed to
Film Comment, Los Angeles Review of Books, The Atlantic
and
Esquire.