Jim James Announces The Future Is Voting College Tour
The tour will take place at college campuses located in electoral swing districts
Images via Kevin Ratterman, HeadCount
Music
News
Jim James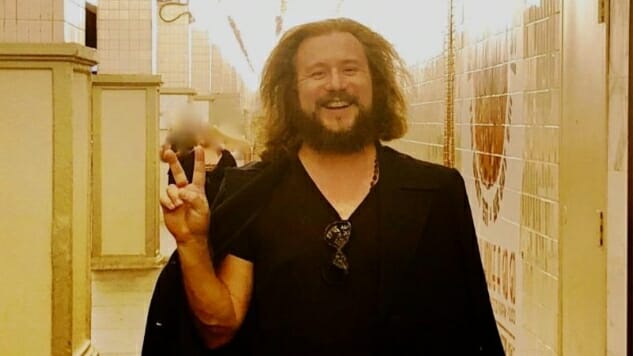 Jim James, stalwart frontman of My Morning Jacket and even more stalwart democratic engagement activist, has announced his The Future Is Voting Tour to promote voter participation. The tour, a team-up between James and voter engagement nonprofit HeadCount, will be made up of six non-partisan, multi-artist shows in college towns located in electoral swing districts.
Billed as "part concert, part town hall meeting," the tour will consist of solo acoustic sets from James, followed by forums where "candidates and their representatives will be invited to speak directly to students and take their toughest questions." Joining James will be Benjamin Booker, Made of Oak (Nick Sanborn of Sylvan Esso) and more. Most of the dates will be free of charge for college students.
James first dipped his toes into the waters of democratic activism with 2016's Eternally Even, a pre-Trump, election-era plea for leftist hippies to turn out to the polls in November. It didn't exactly have the intended effect, clearly, but James has remained committed to his mission. "The importance of getting involved at this moment in time cannot be overstated," James said in a statement. "This is a learning moment aimed at college students to motivate them to vote, regardless of where they fall on the political spectrum."
The full list of dates can be found below. While you're down there, check out Paste's 2013 interview with James, as well as a live My Morning Jacket performance of "Slow Slow Tune" from 2011. You can support James' voter engagement efforts here.
Jim James The Future is Voting Tour Dates:
October
07 – Austin, Texas @ Emo's (open to the public)
09 – San Marcos, Texas @ Texas State University (students only)
10 – Milwaukee, Wis. @ University of Wisconsin Milwaukee (students only)
15 – Athens, Ga. @ Georgia Theatre
16 – Indianola, Iowa @ Simpson College (students only)
17 – Urbana, Ill. @ Canopy Club