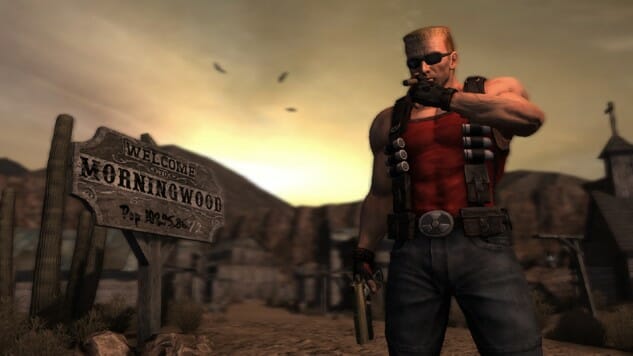 For the "movies that nobody ever asked for" file comes this impressive contender: An adaptation of the old Duke Nukem series of first person shooter videogames, starring the WWE's own John Cena. According to Variety, the actor/athlete is in talks to star as the titular hero for Michael Bay's Platinum Dunes, with no writer or director yet attached—but my god, imagine what Bay's own take on this thing would look like.
Duke Nukem first arrived in the cultural consciousness via a classic MS-DOS game in 1991, and quickly became an early '90s pop cultural staple as a parody of the hyper-macho, masculine action movie hero. Sequels Duke Nukem 2 and Duke Nukem 3D followed in 1993 and 1996, before the series ran out of steam and eventually became a punchline in the gaming world due to the neverending wait for a final installment, the fabled Duke Nukem Forever. In production for a whopping 15 years, redesigned multiple times and passed from studio to studio, Duke Nukem Forever was a go-to example of the concept of "vaporware" before it was finally (and surprisingly) released in 2011 to little fanfare. In reality, the game was mostly savaged by critics after its release as an outdated, misogynistic relic of a bygone era.
… which begs the question, why does John Cena want to attach himself to this kind of project? After all, the majority of his film appearances, such as in the recent Ferdinand, have been on the family friendly side. Does he have no actual familiarity with the series? This wouldn't exactly surprise us, but if he's not aware that the character of Duke Nukem is mostly known for making bad one-liners and paying strippers and prostitutes, he should probably find that out pretty soon.
Cena (who will be in the WWE's Royal Rumble next weekend) will next be seen on screen in Paramount's upcoming Transformers prequel, Bumblebee: The Movie, co-starring with True Grit actress-turned pop star Hailee Steinfeld.