How Disney Channel's Live-Action Kim Possible Updates a Beloved Character for a New Generation
Photo: Disney Channel/Jeff Weddell
TV
Features
Kim Possible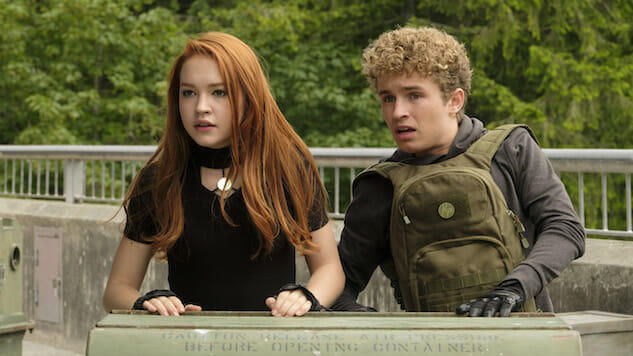 In 2001, Robert Rodriguez brought his bonkers action comedy Spy Kids to the big screen. In his review for The Washington Post, Stephen Hunter called it "great fun," and "a piece of almost dadaist filmmaking." "An exuberant, colorful extravaganza," Roger Ebert wrote in his glowing three-and-a-half star review. "The more you like movies, the more you may like this one."
A year later, when Disney Channel launched its own bonkers teen-spy action-comedy, the animated series Kim Possible, the critical response was similarly enthusiastic: "Cross Buffy the Vampire Slayer with […] Alias, add some bright colors and you'll get […] Disney Channel's infectious new animated series," Rob Owen wrote in the Pittsburgh Post-Gazette. "She's so retro she may actually be cool," mused Julie Salamon in The New York Times. "The superhero trailer everyone's been waiting for!" comedian Patton Oswalt tweeted last… December? "So excited to get to play Dementor in the flesh!"
Yes, that's right: Seventeen years after her debut, the aughts' favorite red-headed teen action heroine is back. She's back, she's live, and in the ambitiously dada hands of directors Zach Lipovsky and Adam Stein and writers Josh Cagan, Mark McCorkle and Bob Schooley (the last two are also the animated series' creators), she's living the Spy Kids/Kim Possible mashup dream you never knew you always had.
Telling the story live, and in 2019, meant a few details of Kim Possible's whole sitch (beep beep be-beep) had to be slightly adjusted—fewer belly-baring shirts, more social anxiety, her holographic communicator embedded in a choker rather than a watch—but on balance, newcomer Sadie Stanley is the action-packed, crackerjack Kim Possible fans already know. This familiarity extends to her family, which includes Alyson Hannigan and Connie Ray as her neurosurgeon mom and ninja Nana, respectively; her kid-genius friend, Wade (Raven's Home's Issac Ryan Brown); her comically broad arch-nemeses Professor Dementor (Oswalt), Dr. Drakken (Todd Stashwyck) and Shego (Taylor Ortega) chewing up scenery like it's bubble gum; and, of course, her sidekick/BFF Ron Stoppable, played here with such gooberific earnestness by The Goldbergs's Sean Giambrone that you'll wonder if you aren't maybe watching a cartoon after all. It also extends to her public profile (notable), her casual friendships with celebrities (Christy Carlson Romano's Poppy Blu) and even the surreal oddness of her school—it wasn't until seeing the movie's punny school signs ("Assembly Required" being one standout) that I remembered that detail as a signature of the original series, but the moment I did, I appreciated even more deeply how sharp the whole Kim Possible team was with the live-action adaptation.
The only major way in which Kim Possible, the TV movie, diverges from Kim Possible, the TV series, is, in fact, the very thing which primes the engine for the movie's main emotional arc: High school, for this Kim, is hell.
Well, this is Disney Channel, so it's not hell, exactly—but it definitely isn't a jet-pack ride in the park. Whereas the series' Kim was a whiz at everything she did, finding friction in her daily life only through her fractious interactions with queen bee Bonnie (played here by Erika Tham), the movie sees Kim attempt to sail into her first day as a high schooler on the winds of her own past excellence, only to crash and burn. She can't get to a single class on time. No one finds her heroics at all interesting. Cheerleading is out, soccer is in, and Bonnie's the team's gatekeeper. By the end of the first day, when a shellshocked Kim stumbles on a weeping Athena (Ciara Riley Wilson)—the only freshman who seems to have had in worse than her, and the only one in the whole school who turns out to be a Kim Possible superfan—well, naturally Kim is ready to barrel into playing the hero by becoming Athena's friend.
I won't spoil for you where Athena's story goes from there—let's just say I was dead serious when I invoked Spy Kids and all its cartoonish grotesqueries—but I will say that, in introducing something for Kim's usually robust sense of self-assurance to trip on, Kim Possible raises the emotional stakes in exactly the smart, careful, fun way that only the best Disney Channel Original Movies can. (If you haven't yet seen the sublime Teen Beach Movie, fix your life.)
Still, while I won't (honestly, couldn't) spoil the surreal adventure that is Kim Possible, I can tell you that everything you will love about the movie, stars Sadie Stanley and Sean Giambrone love, too. Catching up with the two by phone in the middle of their whirlwind press tour, Paste got some of the inside scoop about what it was like to jump into such a beloved franchise from a whole different generation.
"I was really familiar [with Kim Possible]," says Giambrone, who was three when the animated series debuted. "I didn't see [it] when it premiered. I hopped in like halfway through the run. [But] I was a fan. I had one of the action figures! So being a part of this movie has just been unreal. It's fun to think like a character you've loved forever."
Stanley was less familiar with the series before auditioning, but once she was cast, she went home and binged the whole thing. To hear her talk about it, the movie's take on Kim's interior life is even better than the action-driven stories central to the animated version. "Everything she's going through is so relatable," Stanley says. "I hope kids feel understood and inspired after watching it. I hope they take away the idea that it's OK to not be perfect all the time."
If that sounds unbearably sweet, just thank the adult members of the cast for setting a precedent. Working with Hannigan, Oswalt, Carlson Romano and the rest, Stanley and Giambrone, were both blown away. "I really looked up to all of the adults who were a part of the production," Stanley says. "As soon as it was announced that I booked the role, Christy reached out to me and immediately threw her support towards the project. She was so genuine and happy for me. [A]nd she never made me feel like I needed to portray Kim a certain way. She knew I needed the space and freedom to figure her out myself and make Kim my own."
Giambrone, for his part, waxed ecstatic about a moment in which Hannigan stepped in to save him from wearing out his vocal cords in a fan-blown falling scene, even though she wasn't part of the scene and didn't need to be on set looking out for him. And while he didn't get the chance to bond with Will Friedle (the original Ron Stoppable) in this production, he did have his own surreal, alternate-self experience by getting to be on set with Patton Oswalt, who voiced the adult version of Giambrone's Goldbergs character, but who Giambrone had never actually worked with in person. "I'd met him once," he explains, winding up with the kind of keyed-in enthusiasm that makes it obvious why he was cast as Ron. "But getting the chance to actually be in a scene with him was like a dream. Just getting to see how he works in a scene—he has the script, but he ad libs too—what a funny guy!"
Dementedly funny, one might say. But you won't know for sure how much until you catch this newest incarnation of Kim Possible for yourself.
Kim Possible premieres tonight at 8 p.m. on Disney Channel.
---
Alexis Gunderson is a TV critic and audiobibliophile. She can be found @AlexisKG.